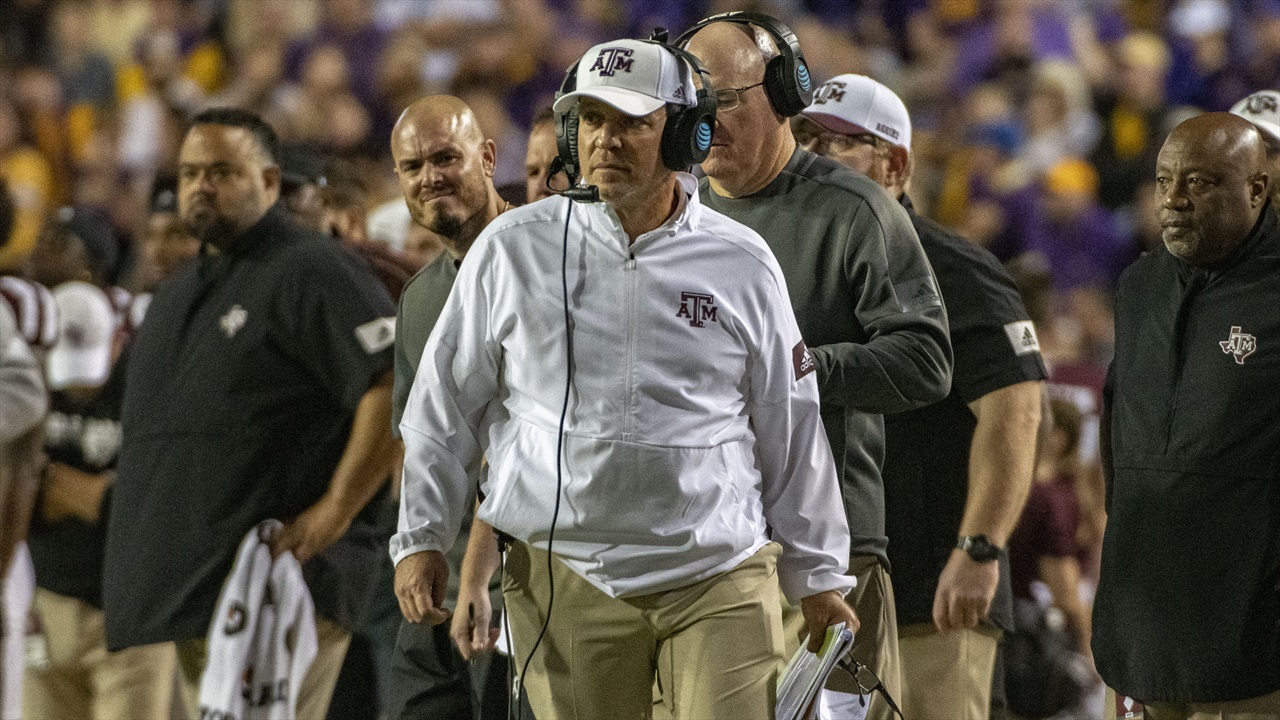 Photo by Lia Musgrave, TexAgs
Texas A&M Football Recruiting
Jimbo Fisher analyzes signees from Texas A&M's 2020 class
---
Key notes from Jimbo Fisher interview
We've hit a lot of needs in the class. We've hit a lot of big physical people on both fronts. Where we are going, I really like the skills guys. Got a phenomenal quarterback, the number one quarterback (Haynes King‍) in the country, in the class. We have hit a lot of needs, but also, I think we have found the right guys in everything we do. You never get everything you want, but this class has really come together, and those guys have recruited each other. That group of guys has gotten really tight, and I think there are going to be a ton of them coming in. Hopefully, we'll be getting them in in the spring and get them ready to go.

These kids are coming in more ready to play physically. It gets down to the number of reps, and the situations we can get them in to get them on the field. Coming in early gives you a considerable advantage in that regard, especially from a terminology standpoint. A lot of it is, and former players will tell you that it's not that I can't do the assignment. I have to understand the terminology and process it in my head really quickly. Getting there in the spring — even though there will be some struggles there — getting those 15 practices and meetings in means that when summer comes and fall camp begins, it's like they've already been here a year. Their impact quickly can really be in hand.

I'll say this, I know Devon Achane‍ has 114 touchdowns in three years, and they have him as a three-star. He's going against great defenses — the fastest kid in the 200-meter in the country. We really got the guys that we wanted. These are guys that we wanted. They're not fall back guys in any way, shape, or form. He's a lower-ranked guy that I think can change the game in so many ways. Muhsin Muhammad III‍ has that, and Devin Price‍ has a tremendous upside. He has a big body that can run and play over the top and does some tremendous things. From the O-line point, you've got Josh Bankhead‍ and that whole group of lineman are very, very talented and good. I love this entire group. I think there are some really talented people in this group. They have great size and length.

I mean, Jaylon Jones‍ is as complete a player as you'll see. You watch his film on offense and defense- He's got the instinct, length, size, quickness, and ball skills. I think it's going to be through the roof. Joshuah Moten‍ is a young guy who can play nickel or corner and has great length and size. Brian George‍ is an exceptional player. He can run, he can burst, he can return kicks. He's a mature competitive guy. It gives you three guys — two corners and a nickel — to play with. Everyone is over six feet tall. That's what you have to play that. They're a very excellent group in that regard.

First of all, Haynes King has lost two games as a high school player. The competitive nature of who he is and his toughness and his intangible skills, like his intelligence and unbelievable toughness and competitiveness and his effect on other guys, are as good as anywhere I've ever been around. This guy has the 'it' factor. When your quarterback is tough, your team is tough. When he is competitive, your team is competitive. Those guys are going to want to die to get the ball back for him on defense or on offense to protect him. His physical skills; he throws a discus 170 feet and as a 190 lbs kid in high school. How many QB's throw the discus? He's a guard in basketball. He's so twitchy, and he can run. He can throw the football. He threw for 4,200 yards last year and 40 some touchdowns and four picks. This year loses everybody and still takes his team undefeated. His dad is a great coach. He has been coached hard and been coached tough, and he understands how he can affect teams and the role he has to play. The physical skills checked all the boxes, but the intangibles and the personality and the person is even above them.

People ask me which is more critical: coaching or players? I say, 'yes.' I've never seen anybody win a Kentucky Derby with a donkey. We're in the SEC West. Look at the rankings, and everybody is right there with us. It gives you the players you have to match up. The depth too. You have injuries and banged up and bruises and wear and tear within the game. People don't realize that creating that competition within a practice — the ability to get on the field. Our greatest competitiveness has to be in practice. We have to have guys that know if not I'm on top of my game, somebody is here to take my job. It's not that we want to lose guys, but now we can play three guys because they're all ready to play. It creates team chemistry and depth. And creates competitiveness and changes the culture of your team.

You don't change the culture on Saturdays. You change the culture all year round. If that culture changes, then those fall Saturdays make a difference. It has to come from within and from the competition as a team. It has to come from depth and competition from positions and guys who look forward and say, 'I want to come to a tremendous school academically and what they can do after playing ball and all that.' I don't care how many good players they got. I've never been around a good player that was worried about the depth chart. Those great teams I've been around in the past didn't care. Do you have what I need, and can you get me where I want to go? I want to come to compete. Hopefully, that changes the culture and how we play the game.

I'm pleased with the size and athleticism there on the offensive and defensive line. That's what separates us. There is more of everything in this league, but the guys up the front make a difference. I'm extremely happy with it the skill level, size, and athleticism on the offensive line. The defensive line is the same way. Have to find ways to pressure the quarterback more and play the run. Having those great players, I'm extremely happy with the guys, I really am.

We'll have 2-3 scholarships that will be freed up for the second signing class. There are still quite a few guys out there that we're that can really top of this class with some big-time guys.
Never miss the latest news from TexAgs!
Join our free email list