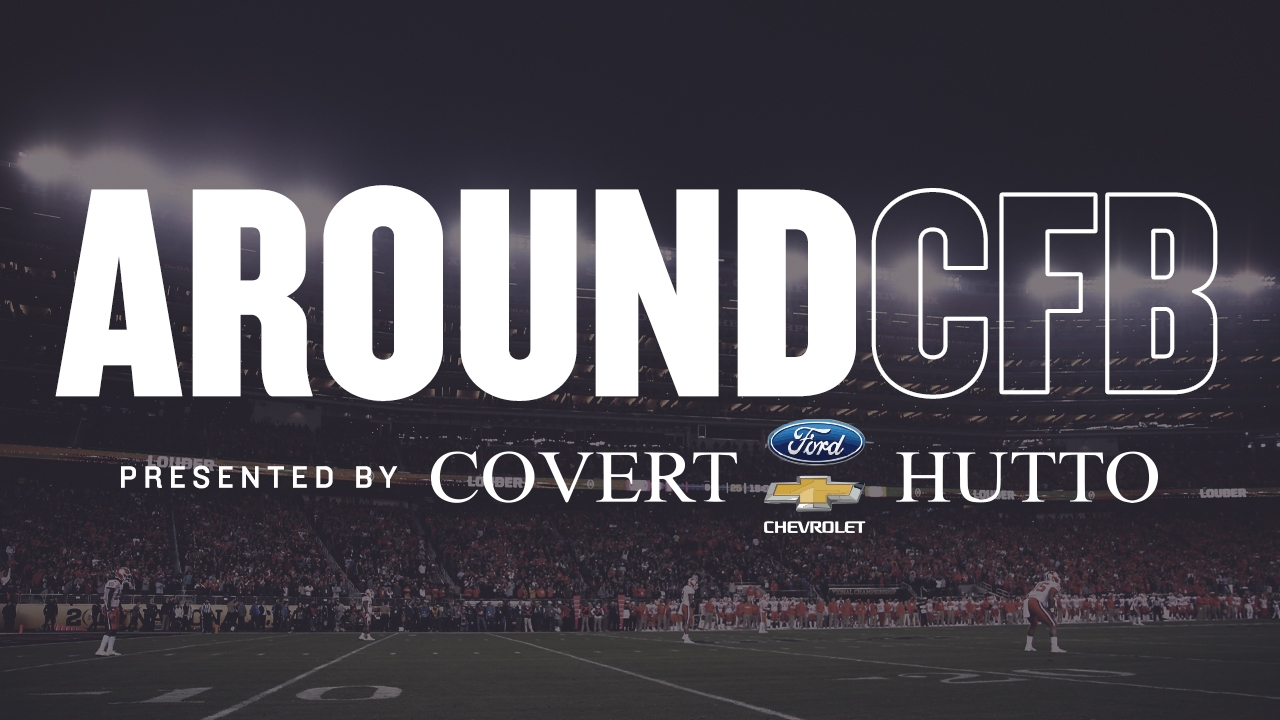 Photo by Mark Rebilas-USA TODAY Sports
Texas A&M Football
Around CFB: Trio of well-known QBs should lead the 2019 Heisman race
---
Heisman Trophy history likely will be made this football season.
Quarterback Trevor Lawrence could become Clemson's first Heisman recipient.
Tua Tagovailoa could become the first Alabama quarterback to win the Heisman.
Jalen Hurts could be the first former Alabama quarterback to win it, the third consecutive Oklahoma quarterback and third straight transfer to win it. That might sound crazy, but Hurts has a better chance to capture the coveted trophy than many may realize.
First, remember that although Hurts lost the starting quarterback job to Tagovailoa at Alabama, he's still very good. He reminded everyone of that when replacing Tagovailoa late in the fourth quarter of the SEC Championship game and rallied the Crimson Tide to a 35-28 victory over Georgia. Hurts completed 7 of 9 passes for 82 yards and a touchdown and rushed for 28 yards and a game-winning 15-yard touchdown. He converted four third downs in the two touchdown drives he led. He did that in about six minutes. Against the nation's No. 13 ranked defense.
Also, remember that although Hurts was not great as Alabama's starting quarterback, he was very good. In two seasons he passed for 4,961 yards and 40 touchdowns, while rushing for 1,809 yards and 21 touchdowns. He accomplished that against some of the nation's best defenses and defensive talent.
He won't see that in the Big 12. As much as Big 12 Commissioner Bob Bowlsby wants you to believe his conference plays strong defense, the fact remains that TCU (No. 24) was the only Big 12 team ranked among the nation's Top 30 in total defense last season. Eight Big 12 teams were ranked between 67 and 114th.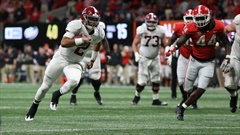 Brett Davis-USA TODAY Sports
Further, in the last four NFL drafts, a total of 32 defensive players from the Big 12 were taken. Only West Virginia safety Karl Joseph (2016) and TCU defensive end L.J. Collier (2-19) were selected in the first round.
Meanwhile, the SEC defenses that Hurts faced produced 31 defensive picks in 2019 draft alone. Seven of those were first-rounders.
Hurts is most dangerous when he breaks out of the pocket and scrambles. At Alabama, he was being chased by linebackers and defensive backs typically with 4.5 and 4.6 speed. In the Big 12, he'll be running in the open field with 4.7 and 4.8 defenders in pursuit.
Further, at Oklahoma his receivers likely will be much better athletes than the defensive backs covering them virtually every week. In last year's draft 42 defensive backs were taken — 10 from the SEC — before Kansas State's Duke Shelley was picked in the sixth round. He was the first Big 12 defensive back taken.
Of course, one might argue that the Big 12 defenses might be better this season.
Could be, but ESPN Draft Analyst Mel Kiper Jr. currently ranks just five Big 12 defensive players among his Top 5 seniors and Top 5 underclassmen at their position: TCU defensive tackles Corey Bethley and Ross Blacklock and cornerback Jeff Gladney, Texas safety Brandon Jones and Iowa State Greg Eisworth.
That data would suggest that Hurts, whose passing may well improve under OU coach Lincoln Riley's tutelage, will routinely face weaker defenses while he's surrounded by superior talent.
He put up good statistics at Alabama. He could put up Heisman-winning numbers at OU.
Though, still look for Lawrence to give Clemson its first Heisman.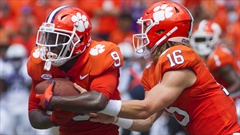 Joshua S. Kelly/USA Today Sports
Preseason Heisman picks
1. Trevor Lawrence, Clemson, QB: He led Clemson to a national championship while passing for 3,270 yards and 30 touchdowns as a true freshman despite not starting the first four games. He should put up huge numbers and victories against mundane ACC defenses.
2. Tua Tagovailoa, Alabama, QB: He might have won it last year if not for a late injury that slowed him down. He passed for 3,966 yards and 43 touchdowns and likely will improve those numbers throwing to arguably the best group of receivers in the nation.
3. Jalen Hurts, Oklahoma QB: He's won and accumulated impressive statistics in the SEC. He'll win bigger and compile even gaudier stats in the defense-challenged Big 12.
4. Jonathan Taylor, Wisconsin, RB: In two seasons Taylor has rushed for 4,171 yards and 54 touchdowns. He led the nation with 2,194 rushing yards last season. Expect him to lead the nation in rushing again this year.
5. Travis Etienne, Clemson RB: Though all the attention is on Lawrence, don't forget Etienne is a big-play threat, too. Last season he rushed for 1,658 yards and 24 touchdowns while averaging better than 8 yards per carry. He, too, will face lackluster ACC defenses that probably will be preoccupied with the passing game. He had 23 runs that covered 20 yards or more last season. He's a good bet to surpass that total.
Predicted playoff participants
1. Clemson: If the Tigers get past early games with Texas A&M and Syracuse they probably won't be seriously challenged until the ACC championship game. If then.
2. Alabama: The Tide is loaded and motivated. How often is an Alabama team looking for redemption?
3. Michigan: Urban Meyer is gone and Ohio State has an unproven transfer at quarterback. If not this year, then when?
4. Oklahoma: The Sooners have a better chance to go unbeaten than Georgia, which faces a much more challenging schedule. However, if they both finish with just one loss, the committee would likely take the Bulldogs.
Idle Thoughts
• Florida quarterback Feleipe Franks was merely serviceable in an opening 24-20 win over Miami. That game might have turned into a blowout had Franks not lost a fumble on first-and-goal early in the second quarter. Still, the Gators offensive line is a bigger worry than their quarterback play.
• Hawaii committed six turnovers and still managed a 45-38 victory over Arizona. Hawaii's Cedric Byrd tied a school record with four receiving touchdowns while catching 14 passes for 224 yards. Dating back to the end of 2018, Arizona has now allowed more than 40 points in its last three games.
• By the way, Arizona's recruiting class is currently ranked 83rd in the nation by 247sports.com. The Wildcats' highest-ranked recruit is … wait for it … a tight end — Drake Danny of Cypress Ranch.
• Arizona's loss was a blow to the Pac-12, which is hoping to upgrade its national profile. The Pac-12 desperately needs No. 11 Oregon to defeat No. 16 Auburn in Arlington on Saturday.
• Big 12 proponents frequently boast about playing nine conference games and bash other conferences, the SEC in particular, for playing easier non-conference competition. But seven Big 12 teams open with FCS opponents. The Big 12's only first-week Power 5 matchup is Oklahoma State against Oregon State, which finished 2-10 last season.
MESSAGE FROM OUR SPONSOR
Call or text Chad at Covert Ford in Hutto at 512-633-4819 For new Fords, Chevys and over 900 pre-owned vehicles. Thanks and Gig 'em.
Never miss the latest news from TexAgs!
Join our free email list
PRESENTED BY