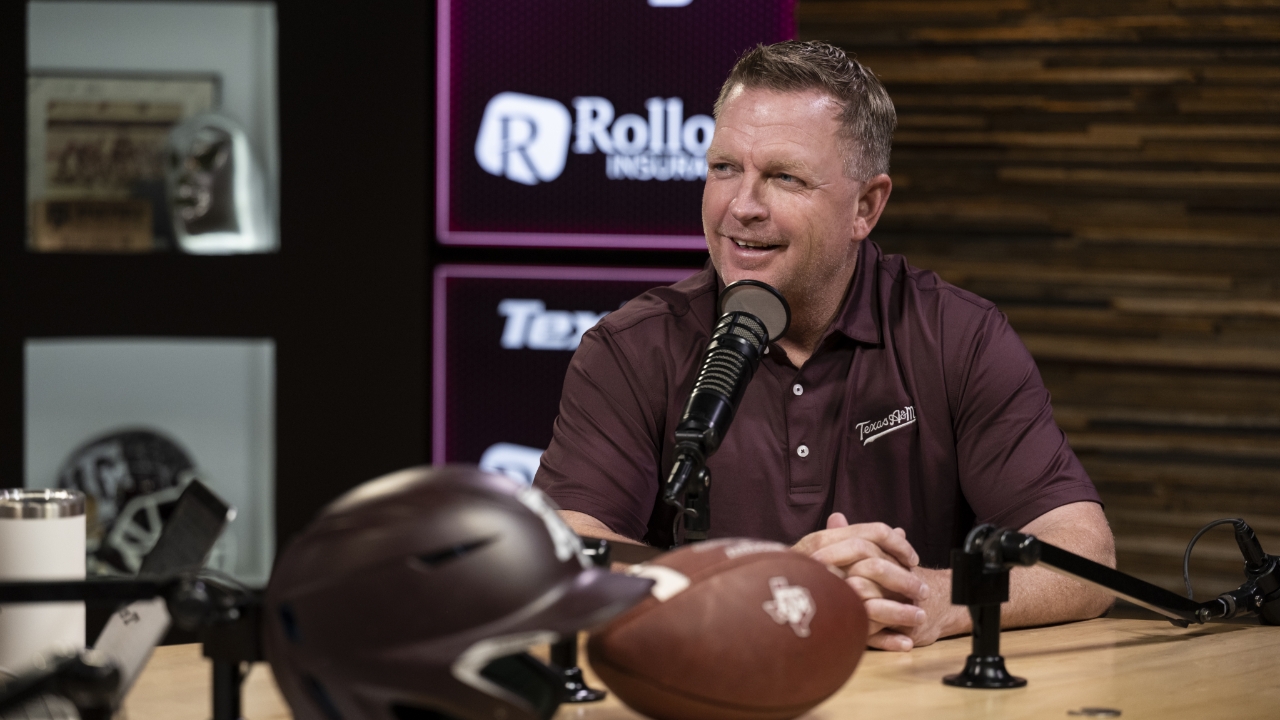 Photo by Jamie Maury, TexAgs
Texas A&M Baseball
Jim Schlossnagle provides program update after a 'successful' fall
---
Texas A&M baseball wrapped up its fall schedule after two scrimmages with Houston Christian and Houston. On Wednesday's edition of TexAgs Radio, head coach Jim Schlossnagle joined the show to detail the state of the program and provided an update on the 2024 roster.
---

Key notes from Jim Schlossnagle interview
I thought fall ball went really well. We started hard in August. We got into fall practice. We did something I haven't done in 35 years of coaching. We shut it down with three or four practices left. After the Houston game, I thought anything we did afterward would be counterproductive.

Our hitting and pitching was good. We started skill work and are really getting after it in the weight room. We want to give our new strength coach four to five weeks to really get strong.

I believe in Max Weiner and everything we are doing. The game will tell you who we are. Against Houston, I am not a fan of 23 punchouts offensively. If you don't give up free bases, it is tough to lose games. I feel good about where we are at.

I know we are better in the outfield. We have talent on the infield. Playing like Hunter Haas at shortstop and Trevor Werner at third is a tall task. We also set a school record for walks last year. Maybe we will land somewhere in the middle with limiting free bases and playing solid defense.

We don't have that much SEC experience, and that matters. Ryan Targac is a switch hitter who plays multiple positions. You need that veteran presence. He is progressing great. We just need him healthy for the season.

Our offense is versatile. If Targac is in, that gives us another runner. Travis Chesnut is an elite runner. Six or seven of the nine spots are guys you can do things with. There should be good defined balance between righties and lefties. I don't know that we have a true leadoff hitter. Teddy Burton hit the leadoff in the scrimmage. Gavin Grahovac could be an option. You need a good hitter there.

A lot of Braden Montgomery depends on Targac. As a freshman, Montgomery walked 18 times. Last year, he walked 51. He has been aggressive in swinging the bat. Jace LaViolette drew a lot of walks in the back half of the season.

LaViolette is at a really good place. Knock on wood. He had three hits with a homer against Houston. He is really talented. He is confident. We do a leadership council, and the guys told me that LaViolette needed to be a part of it. He is a signature guy for the program.

Grahovac is a really good catcher. He is good at just about anything. Hank Bard had as good of an offseason I've seen and hit .450 and caught better. This is the best position we have been in at catcher. Against Houston, I was pleased with how we caught.

Jaxson Appel won't steal too many bases, but he will work counts. Ali Camarillo, too. Max Kaufer got on base a lot.

Blake Binderup will be a great story. He was a guy who barely made our roster, and now I can't say that he wouldn't at least DH. Let's wait and see.
Never miss the latest news from TexAgs!
Join our free email list