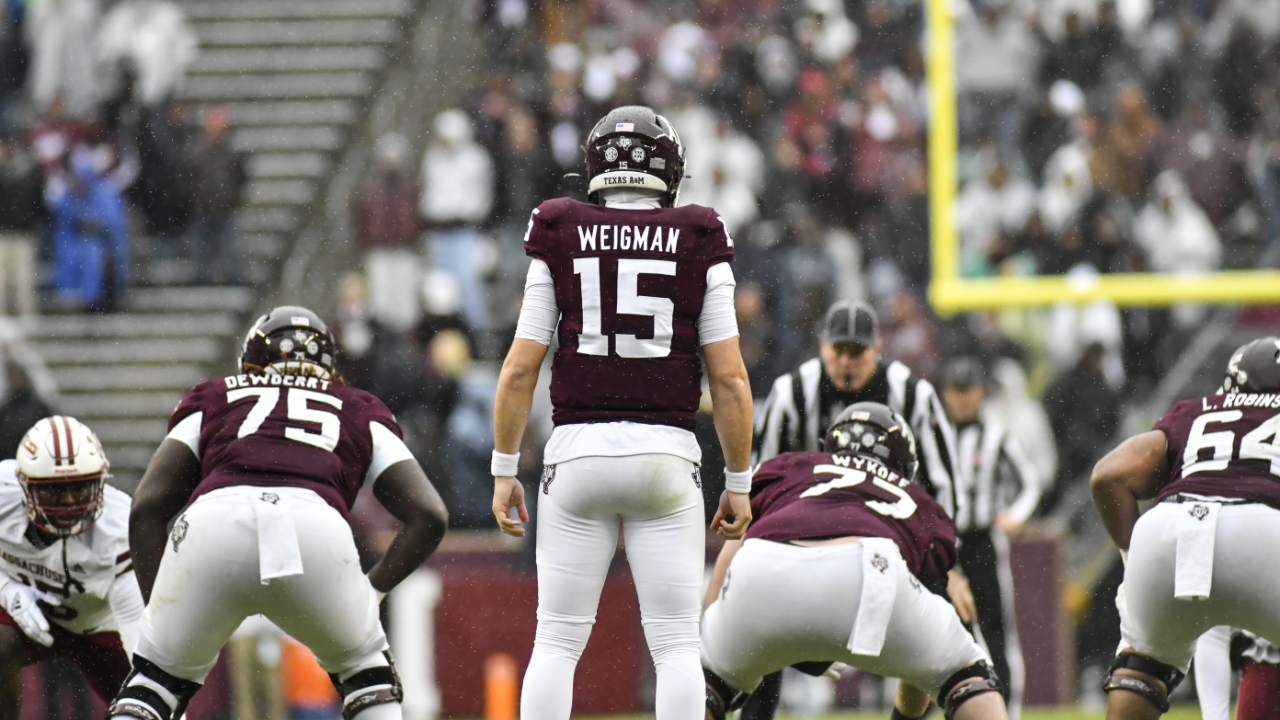 Jimbo Fisher
Ainias Smith
Demani Richardson
Texas A&M Football
Weigman has potential to enter Heisman discussion this season
---
Just 72 seconds into his Monday press conference, Texas A&M football coach Jimbo Fisher named sophomore Conner Weigman the Aggies' starting quarterback.
The announcement came as no surprise. Frankly, I wouldn't be surprised if Weigman emerges as a Heisman Trophy candidate by November.
That might seem like a "Hail Mary" for a guy who has made only four starts and thrown for just 896 yards as a collegian.
Even guys as talented as Weigman need more time and growth to contend for the most acclaimed trophy in college football.
Well… that's how it used to be. It's become rather commonplace for relatively obscure players to surface in the Heisman discussions.
Need examples?
Johnny Manziel was largely an unknown redshirt freshman, but won the Heisman in 2012. The same for Jameis Winston in 2013.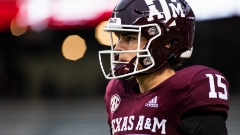 Jamie Maury, TexAgs
Louisville quarterback Lamar Jackson was a 100-to-1 long shot to win the Heisman in August of 2016. Of course, he won it in December of '16.
Kyler Murray threw 21 passes in 2017 before winning the Heisman in 2018. There were no preseason odds on 2020 recipient DeVonta Smith. TCU quarterback Max Duggan, last year's runner-up, could not be located on any preseason list of contenders.
Recent history indicates a rather obscure figure on a national scale will rise to prominence. Why not Weigman?
We saw hints of brilliance from him last season. He passed for 338 yards and four touchdowns against Ole Miss in his first career start. He threw a pair of touchdown passes in A&M's 38-23 upset of LSU.
Overall, he threw for 896 yards and eight touchdowns with no interceptions.
He did that in a moribund offense, behind a suspect line and often without A&M's best receivers. Ainias Smith was lost to injury well before Weigman played. Moose Muhammad did not play against Auburn. Evan Stewart did not play against Massachusetts.
Weigman figures to be in a much more advantageous position this year.
In 12 starts, last year's numbers would increase to 2,688 yards and 24 touchdowns. But he could — arguably should — be much more productive than that.
Weigman should be considerably improved in his second season. Fisher expects him to be.
"I think now in the (second) year you really understand the offense a lot more," Fisher said. "You're able to help the running back, help the offensive line if they don't get a call sometimes or a receiver. Sometimes they have questions.
"He knows he can play, so that kind of can go into your other players more. They can lean on him."
"You can take a lot more of that load upon yourself as you grow in your offense and you know you can play. He knows he can play, so that kind of can go into your other players more. They can lean on him.
"Sometimes when you're a freshmen like he was last year him trying to help other guys … you do it, but I've got to take care of your own. I've got to prove I can play out here."
Weigman also figures to be better because the offense he's directing should be much better.
Smith, Muhammad and Stewart form one of the potentially more explosive receiving corps in the country. Not only are they accomplished receivers, but all run extremely well after the catch.
Offensive coordinator Bobby Petrino will scheme to "feed the studs," who can turn short passes into long gains. A 10-yard catch and a 40-yard run goes down as 50 yards of passing offense.
In 2010, Petrino's Arkansas offense featured four receivers who combined for 170 catches, 2,890 yards and 23 touchdowns.
Not coincidentally, Arkansas quarterback Ryan Mallett finished seventh in the Heisman voting.
If Smith, Muhammad, Stewart and Noah Thomas could duplicate those numbers, Weigman could get Heisman traction, especially if the Aggies are also contenders in the SEC West.
Of course, nowadays, quarterbacks are also expected to run.
Weigman flashed that ability with 97 rushing yards, primarily on scrambles. The Aggies have only gotten a glimpse of what he can do as a runner.
That will only produce more highlights. Heisman contenders always have a lot of highlights.
This isn't meant to imply Weigman will win the Heisman or even be a finalist.
But with his ability, his receivers and Petrino's influence don't be surprised if Weigman gets in the discussion.
---
NOTES:
Fisher seemed to indicate third-year sophomore Trey Zuhn and true freshman Chase Bisontis will be the starting offensive tackles in the season opener against New Mexico.
Center Bryce Foster practiced all last week. Fisher did not say whether he was ready to start, but indicated he'd be comfortable with Mark Nabou or Remington Strickland starting there if necessary.
Fisher also expressed confidence in the linebackers, which was an area of concern last season: "They've had good camps. We've got good experience with Coop (Edgerrin Cooper) and Chris Russell. I think Martrell (Harris) has made tremendous strides in camp. The young guys have played real well. I think transfer JD Davis has really come on and really helped us."
Fisher particularly praised freshman Taurean York for his maturity for making defensive calls.
Receiver Ainias Smith said he expects to continue returning punts and maybe get some chances to return kickoffs.
Never miss the latest news from TexAgs!
Join our free email list
SPONSORED BY