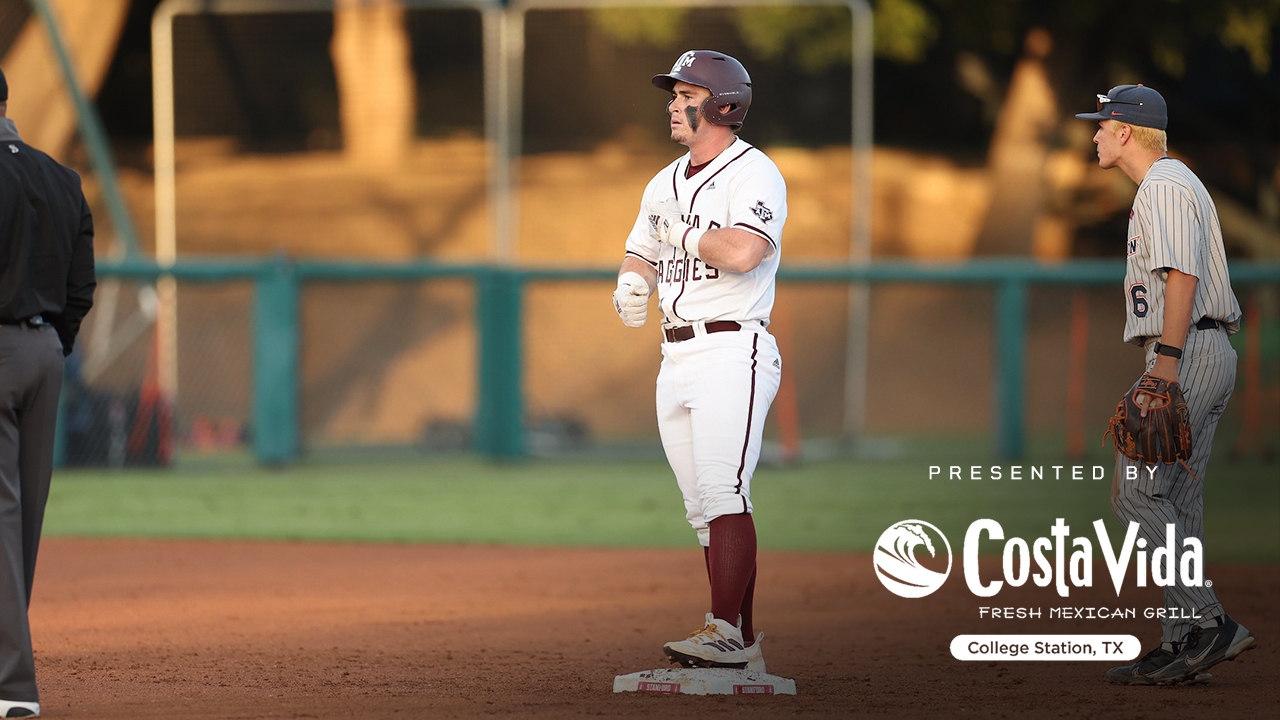 Texas A&M
Cal State Fullerton
Texas A&M Baseball
Texas A&M downs Cal State Fullerton in Stanford Regional opener, 12-7
---
Game #62: #2 Texas A&M 12, #3 Cal State Fullerton 7
Records: Texas A&M (37-25, 14-16), Cal State Fullerton (31-23, 20-10)
WP: Shane Sdao (4-1)
LP: Tyler Stultz (7-5)
Box Score
---
One down. On to the next.
Texas A&M continued its winning ways with a 12-7 victory over Cal State Fullerton to open the 2023 Stanford Regional on Friday night in Northern California.
"Good win," A&M head coach Jim Schlossnagle said. "I feel really good about the win. Ready to move on to tomorrow."
A&M advances to face Stanford in Saturday's 1-0 game at 8 p.m. CT in a ballgame that will feature a pair of clubs that reached last year's Men's College World Series.
"This time of year, winner's bracket of a regional at Stanford? Two really good teams," Schlossnagle said. "Whoever plays the best will probably win the game."
Should that be the case, Schlossnagle will likely hope for a clearer night against the Cardinal than the Aggies turned in vs. Fullerton.
A string of 11 unanswered runs was required to erase an auspicious start.
A sensational Shane Sdao steadied what was a shaky beginning from Will Johnston.
An uncharacteristic defensive performance that saw A&M commit four errors was covered up by timely hitting and 12 walks from Titan pitching.
"His fastball looked really good. He was throwing everything for strikes. When you're a left-handed pitcher that's able to locate three pitches consistently, that's going to win you a lot of games."
Still, a win is a win, and navigating the winner's bracket suits the Maroon & White much better than the alternative.
Cal State Fullerton pulled ahead early with a three-run second, capitalizing on a rare Hunter Haas error to plate a pair of unearned markers.
"That's an outlier game from us from a defensive standpoint," Schlossnagle said. "Will wasn't commanding it. I think he threw one off-speed pitch for a strike in his entire outing.
"They have a good offense. They have a good team, and I'm sure they'll be heard from later on in this tournament."
Johnston's abbreviated outing ended with two down in the second, as Sdao retired the first of eight straight Titans to limit any further damage.
"Sdao has been outstanding," Schlossnagle said. "He has been a great strike-thrower.
That began a run of stellar four scoreless innings by Sdao to turn the game around.
A true freshman from Montgomery, Sdao did not allow a hit, walking two and punching out four en route to the victory.
His brilliance coincided with a relentless offensive takeover.
"His fastball looked really good," catcher Max Kaufer said. "He was throwing everything for strikes.
"When you're a left-handed pitcher that's able to locate three pitches consistently, that's going to win you a lot of games."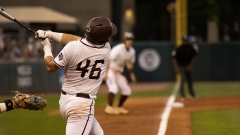 Chris Swann, TexAgs
A&M scored five in the second and three in both the third and fourth to build a commanding 11-3 advantage.
"It's a good thing to see," Ryan Targac said. "It's just about getting our pitch to hit. If not, we're going to pass the bat and trust that that guy will do the job."
Along with Sdao's standout showing, Kaufer, a fellow freshman, enjoyed a career night.
"The game knows," Schlossnagle said of Kaufer. "The game respects good people that work hard and respect the game and help their team in more ways than just hitting. He is being rewarded for that."
The 18-year-old backstop finished 3-for-5 with a trio of run-scoring singles, one of which came in the five-run second and trimmed a then-deficit to 3-2. He also added an important insurance run in the eighth.
"The more at-bats I'm getting, the more comfortable I feel," Kaufer said. "I'm just hoping to keep contributing to the team."
Kaufer's big night raised his average by over 20 points and serves as a tremendous sign for the nation's youngest player.
"I'm just sticking to our approach and hunting fastballs," Kaufer said. "That's about it."
While A&M's pitching shined in Hoover, the offense was anemic at times.
That wasn't the case Friday.
A&M ultimately took the lead on Jack Moss' two-run single in the second and never looked back as the "Professional Hitter" posted a three-hit night.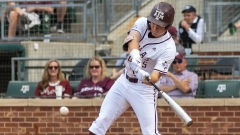 CJ Smith, TexAgs
Hunter Haas notched two knocks to go along with three walks. Jordan Thompson earned a trio of free passes that he parlayed into three runs. Austin Bost and Brett Minnich each walked twice, with the latter driving in two on a third-inning single.
Targac also enjoyed a two-hit night, the second of which was a no-doubt two-run blast to left field.
"The last couple of weeks, I've just had an unreal flow of trust come through me," Targac said. "That has helped from (Schlossnagle) to Mike Earley just telling me to stick to my approach and trust my routine."
When Fullerton offered freebies, the Aggies happily accepted as they cruised for much of the evening.
Yet it was reliever Jason Blood that stopped the bleeding for the Titans, stimying A&M across four innings of work.
Behind Blood's solid relief work, Fullerton attempted to mount a ridiculous comeback. Though, they never got closer than four runs as Brad Rudis and Ty Sexton surrendered one and three runs, respectively.
With the Aggie win, a showdown now looms.
"Stanford's got a great team," Schlossnagle explained. "They're playing with incredible confidence. Lot of power. Not your typical west coast club. They're more of an SEC-type team.
"You better make pitches, or they'll bloody you pretty quick. We'll show up and try to hang with them."
Never miss the latest news from TexAgs!
Join our free email list
PRESENTED BY