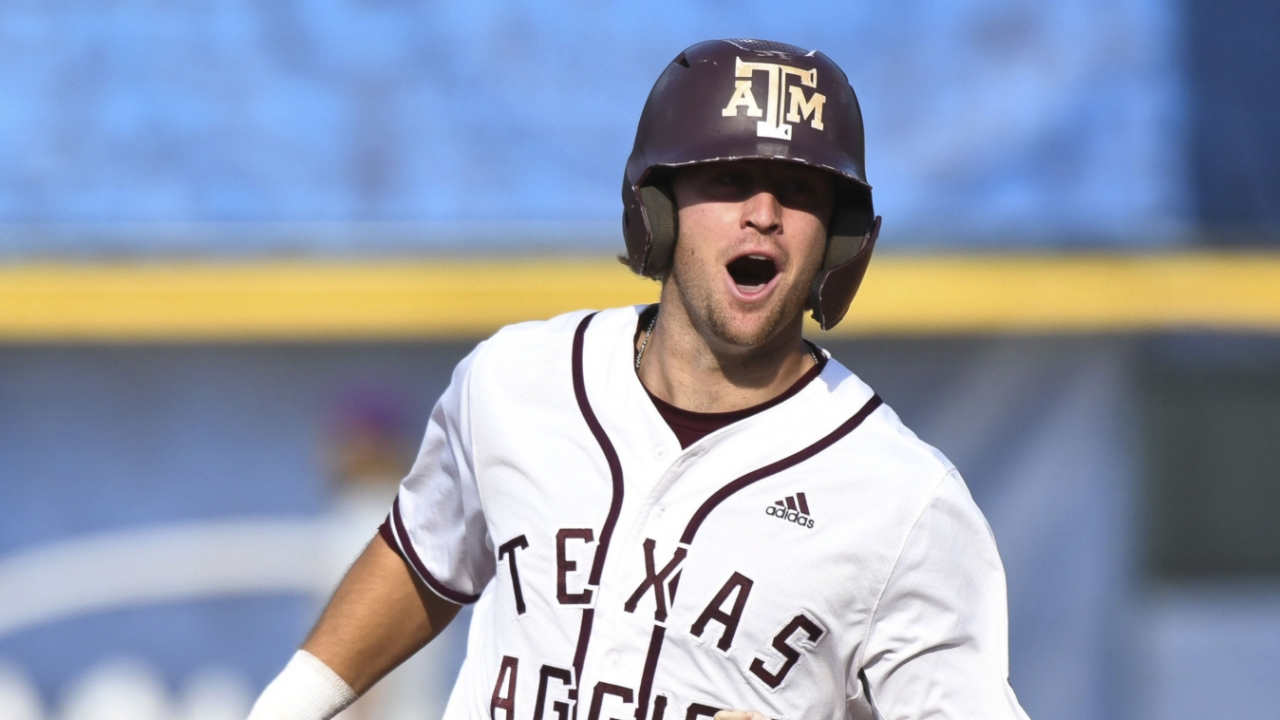 Texas A&M Baseball
Like a Haas! Three-run bomb boosts A&M past LSU, into SEC semifinal
---
Press conference video courtesy of the Southeastern Conference
Game #59: #10 Texas A&M 5, #3 Louisiana State 4
Records: Texas A&M (35-24, 14-16), Louisiana State (43-20, 19-10)
WP: Evan Aschenbeck (8-1)
LP: Griffin Herring (3-2)
Box score
---
Hats off to Hunter Haas.
Sitting on a hat trick of strikeouts on the afternoon, the Aggie shortstop stepped to the plate for a critical seventh-inning at-bat.
Leading 3-2, LSU's Jay Johnson countered with Sam Dutton for a right vs. right matchup.
On an 0-1 pitch, Haas delivered the decisive blow in Texas A&M's 5-4 victory over the fifth-ranked Tigers at the SEC Tournament.
Getting a hanging curveball from Dutton, Haas launched a three-run homer over the left field wall.
"The way the ball has been flying all week here in the morning, and the afternoon hasn't been carrying, so I didn't really know if it was out or not," Haas said. "I was kind of hustling out of the box but obviously very excited to see it go over the fence."
Haas was the only batter Dutton faced.
His 10th longball of the season helped keep the Aggies alive in Hoover.
"I struggled obviously at the beginning of the game, so I kept telling myself, just keep competing," Haas said. "Don't think about anything else, just keep competing, and you're going to get a big one."
"I struggled obviously at the beginning of the game, so I kept telling myself, just keep competing. Don't think about anything else, just keep competing, and you're going to get a big one."
That wish was granted.
The three-run bomb capped off a four-run seventh that also included a Brett Minnich sacrifice fly.
Other than the big inning, A&M's only other run came on back-to-back doubles by Jordan Thompson and Ryan Targac to lead off the second.
The big seventh was backed up by yet another gutsy performance from two more left-handed pitchers.
Will Johnston turned in an excellent start, navigating threat after threat throughout six innings.
Johnston's performance was the third quality start by an Aggie hurler in four days after they did not have one during the SEC regular season.
"Our starting pitching has been so erratic for a lot of reasons," Schlossnagle said. "I'd just like to think that it's either the head coach's fault that we're not at this point already or our best baseball is ahead of us. So, if (Troy) Wansing can build on his outing, (Justin) Lamkin has been super consistent, now Will should have a lot of confidence. (Evan) Aschenbeck is kind of our all-time pitcher."
Going toe-to-toe with Ty Floyd, Johnston's outing is the longest of his career as he allowed just three runs despite surrendering eight hits and three walks.
"They're great hitters vs. left or right," Schlossnagle said. "There's no question, but the numbers are way different vs. lefties than they are righties, and our best pitchers are left-handed.
"We knew we were developing Will as a starter, Evan (Aschenbeck) hasn't pitched in a couple of days, so he was pretty rested."
Johnston stranded Tigers in every inning except the first, limiting LSU to singular runs in the second, fourth and fifth frames.
Perhaps his biggest spot of the afternoon was the LSU fifth.
With a run home and men at second and third, Johnston punched out Jared Jones before fielding his position well to foil a safety squeeze attempt. He then induced a ground out to wiggle out of that jam.
"The game taketh away, and it giveth," Schlossnagle said. "I thought LSU had a grip on the game. Floyd was outstanding. They had runners on base. Will made some good pitches, made some plays, had a good PFP on the safety squeeze to keep the game close."
LSU finished the afternoon 0-for-5 with runners at third and less than two outs. They were 3-for-20 with men in scoring position.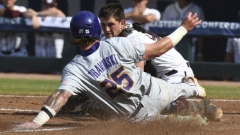 Gary Cosby Jr.-Tuscaloosa News / USA TODAY NETWORK
After 92 pitches, Johnston gave way to the ever-consistent Aschenbeck, who also stranded runners in each of his three frames.
"A guy like Evan is usually more effective against the better teams," Schlossnagle said. "When we pitch him maybe in the mid-week games against teams of different — not outside of the SEC, he actually hasn't had as much success."
Even after Haas put the Ags ahead, LSU never went away.
The Tigers attempted to rally in the ninth, and an Aschenbeck wild pitch allowed Hayden Travinski to score a proximity run with only one out.
Yet, with men at the corners, Aschenbeck struck out Gavin Dugas before Brayden Jobert's foul out sent the Maroon & White to Saturday's semifinals for the second-straight year.
"Evan had to make a great pitch to get him there in the end, and Jobert had been staying on the ball," Schlossnagle said. "Evan just continued to make good pitches, and we were able to win the ballgame."
For the Aggies, their best run of pitching has earned them a rematch with No. 4 Arkansas at noon tomorrow. A&M is 0-4 against the Hogs this season.
"I expect tomorrow to be another really competitive game, and I'm looking forward to it," Haas said.
That same run of pitching has earned them so much more.
This long run in Hoover is also preparing them for a much-more important postseason that begins next week.
"We've got some guys that haven't pitched in a while," Schlossnagle said. "We're going to have to run some different arms out there because I'm feeling pretty confident that we're in the NCAA Tournament, so I don't want to hurt anybody or stretch anybody too much."
Never miss the latest news from TexAgs!
Join our free email list