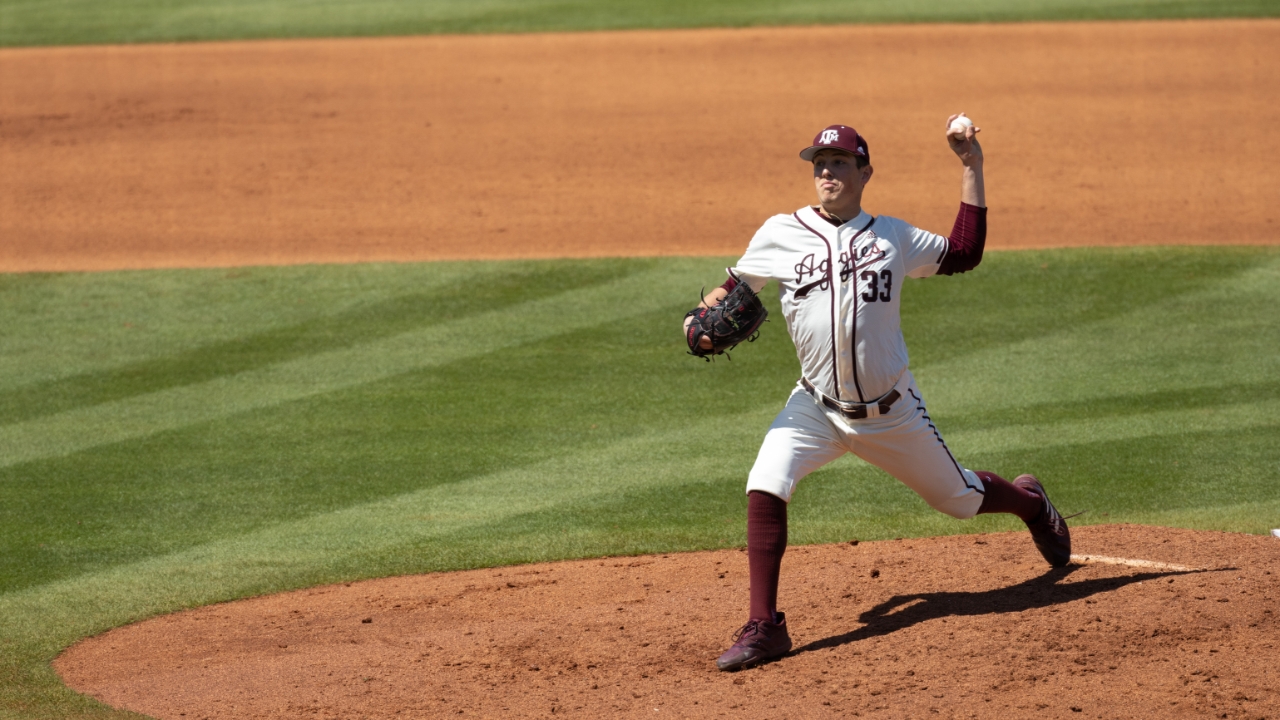 Texas A&M Baseball
LamKKKKKKKKKin's longest start blanks Gamecocks in Hoover, 5-0
---
Press conference video courtesy of the Southeastern Conference
Game #58: #10 Texas A&M 5, #6 South Carolina 0
Records: Texas A&M (34-23, 14-16), South Carolina (39-19, 16-13)
WP: Justin Lamkin (3-3)
LP: Jack Mahoney (6-3)
Save: Matt Dillard (3)
Box Score
---
What has gotten into Texas A&M's left-handed starters?
Two days after Troy Wansing's one-hitter vs. Tennessee, true freshman Justin Lamkin attempted to one-up his teammate.
Lamkin only went seven scoreless innings in a 5-0 shutout that eliminated South Carolina from the SEC Tournament, whereas Wansing tossed eight on Tuesday.
"The pitching staff is doing great right now," Lamkin said. "At the start of this tournament, Troy set the tone for us, and we're just trying to do as good as him or better, and that's what we're trying to do these games and go from there."
South Carolina's lone hit was a fifth-inning infield single that Hunter Haas nearly took away with a diving stop.
"He's a great strike-thrower for us and has a great future. [We're] building this program around guys like him."
Other than that blemish — and three walks plus a hit batter — LamKKKKKKKKKin was incredible.
The Corpus Christi Calallen product punched out nine, and his dominant outing began almost immediately as he fanned five of the first six batters he faced.
"Really proud of Justin," A&M head coach Jim Schlossnagle said. "Had a great feel that he was going to be ready to go when I walked down. I thought I was going to be the first guy at breakfast this morning, and he beat me there, so I knew he was ready to pitch.
"He's a great strike-thrower for us and has a great future. [We're] building this program around guys like him."
Needing 99 pitches to complete his morning of work, Lamkin's heroics kept the Aggies alive in Hoover. His sparkling start also gives A&M another reason to be confident once the NCAA Tournament begins.
"I think it's unique to each individual pitcher," Schlossnagle said. "I think Wansing, maybe pitching out of the bullpen at Mississippi State, was his breakthrough moment. Lamkin and (Shane) Sdao are just guys who — they've pitched enough. We've had to use them so much because of our situation that now they have some confidence, and they're not afraid to throw the ball in the strike zone, which is scary to do in this league. I get it. I get it, some of the guys you're facing and the talent.
"It starts with those guys."
It is the second time in three days that Texas A&M pitching has combined to toss a one-hitter, the seventh such ballgame in SEC Tournament history.
It is also the second time in as many weeks that Lamkin has been an effective starter following a five-inning performance at Mississippi State last Friday.
Lamkin attributes that growth to his growing knowledge of how to pitch in the SEC.
"Being smarter, growing as a pitcher, watching games, pitching in games, learning from previous outings and just going from there," he said.
Perhaps the pitching brilliance was aided by early run support. While Lamkin only needed one, his teammates got him five.
Trevor Werner's two-out triple in the third — that was very nearly caught at the wall by centerfielder Evan Stone — opened the scoring.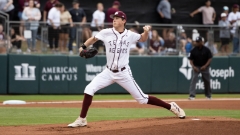 Chris Swann, TexAgs
"I thought it was gone. I thought it was out for sure," Werner said. "I thought the guy caught it at first but kept running, and he almost made a really great play."
Werner finished 3-for-4. Haas joined him with a multi-hit afternoon, going 2-for-4.
"(Werner has) really stepped forward, not just as a great player — he's always been that — but as a leader on our team, both with his words and with how he plays," Schlossnagle said. "It doesn't surprise me that he's driving in runs for us."
Austin Bost doubled home another in the fourth, followed immediately by Brett Minnich's RBI groundout and Max Kaufer's sacrifice fly.
Jordan Thompson's fifth-inning sacrifice fly rounded out the scoring, but there were still some late dramatics.
Entering in the eighth, Chris Cortez quickly recorded the first two outs of the frame. However, three-consecutive walks loaded the bases, forcing Schlossnagle to call upon Matt Dillard.
In a left-on-left battle, Dillard got Gavin Casas looking and ended South Carolina's only threat of the day.
With a second victory in Hoover, A&M's NCAA Tournament resume has undoubtedly been bolstered as a bid in the field of 64 is now almost guaranteed.
"The goal of teams, especially this time of year, is you want to be playing your best baseball going into the postseason and at the end of the regular season," Werner said. "I feel like that's where we're at right now with our pitching staff and offense, and we played great defense all year. Just feels like things are finally coming together."
Still, the Aggies have earned another opportunity to impress the selection committee on Friday.
They'll face either No. 4 Arkansas or No. 5 LSU at 3 p.m. CT tomorrow.
Oh, and Schlossnagle will hand the baseball to another left-handed starter.
Never miss the latest news from TexAgs!
Join our free email list
PRESENTED BY