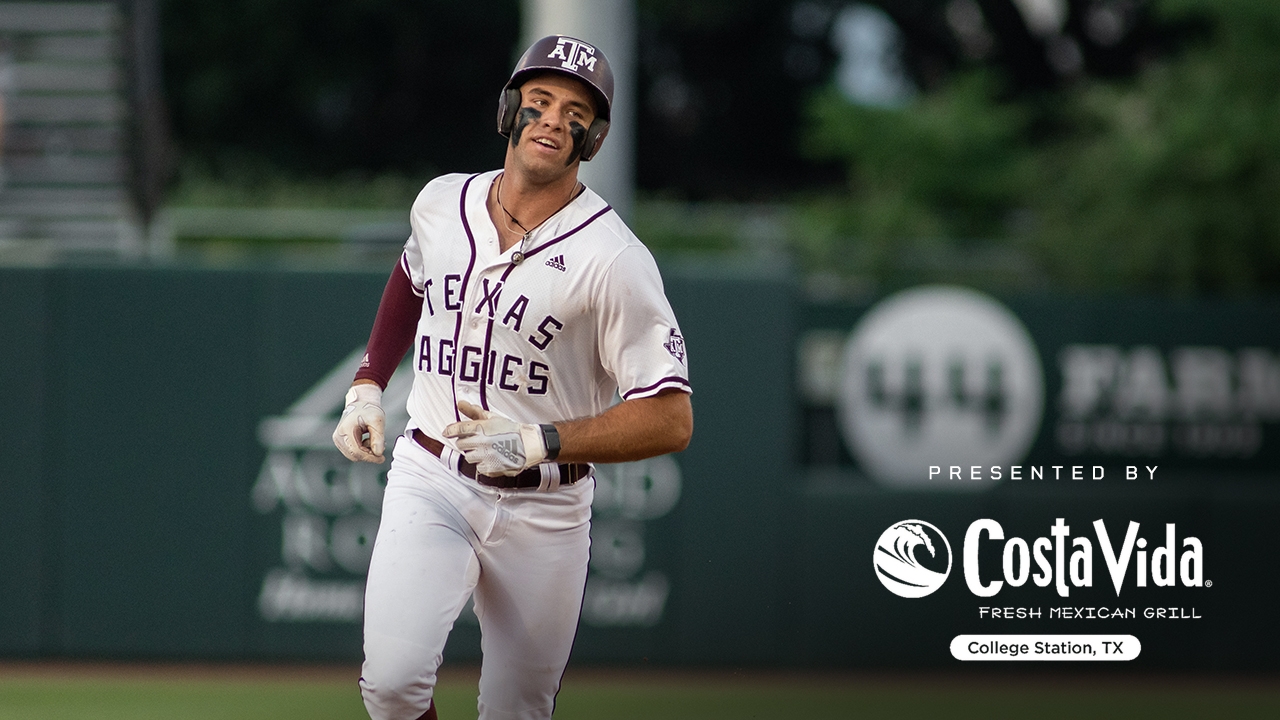 Jim Schlossnagle
Trevor Werner
Brett Minnich
Texas A&M Baseball
Werner leads power surge in A&M's 11-5 series-opening win over Alabama
---
Game #50: Texas A&M 11, Alabama 5
Records: Texas A&M (30-20, 12-13), Alabama (33-17, 11-14)
WP: Evan Aschenbeck (7-1)
LP: Luke Holman (6-3)
Save: Brandyn Garcia (1)
Box Score
---
Blue Bell Park launching pad.
Hitting a half dozen home runs, Texas A&M slugged its way to a fourth-straight victory as the Aggies took Friday night's series opener from Alabama, 11-5.
Leading the way was Trevor Werner, who enjoyed a career night with a trio of two-run blasts.
"It's always good when you're in the zone," Werner said. "Just being super locked in, and you feel like you can't miss. It's awesome when you're there, and when you're not there, you're always trying to find it."
Werner's three-homer game is the first by an Aggie since Dell Lindsey's on April 2, 1999, vs. Nebraska.
"It's pretty special," Werner said. "That was pretty cool. That was before I was even born, so that's crazy too."
He finished 3-for-5 with six RBI and now has 12 home runs on the year.
"Since that Arkansas thing, he has been a different person in a positive way in terms of taking charge of the team, putting together great at-bats, being right there and playing awesome defense," A&M head coach Jim Schlossnagle said of Werner. "He's really coming into his own as a player.
"I'm afraid to talk about it because I don't want to jinx it, but he's the most tooled-out player that I've coached on a college team."
"I'm afraid to talk about it because I don't want to jinx it, but (Trevor Werner)'s the most tooled-out player that I've coached on a college team."
Of course, "that Arkansas thing" refers to Werner calling an impromptu meeting on the field during the fifth inning of a Sunday loss in Fayetteville.
"Things were spiraling out of control," Werner recalled. "Leadership is two parts; leading by example and holding other guys accountable too."
He's certainly leading in more than one facet.
Since that moment, the Aggies have outscored opponents 59-21, and Werner is 9-for-28 with 14 RBI.
A&M's Friday power surge began in the first when Brett Minnich floated a two-run shot snuck over the left-field wall.
"I'm a big believer that everything happens for a reason," Minnich said. "There is a plan for me in my life and things like that. It was hard at first, but I was doing what I can do in the training room to get back to playing.
"I'm just trying to be out there for my guys and do what I can."
It was Minnich's first at-bat since separating his right shoulder against Tarleton on May 2.
"I'm really happy for him just to be out on the field again," Schlossnagle said. "He's been through a lot, and he's only going to get better."
With the wind blowing out to left, A&M took further advantage.
Werner's first two blasts appeared to be pop-ups that drifted over the fence. His third was crushed off the batter's eye.
"I guess you could say it looked like a beach ball," Werner joked.
Attempting not to be outdone, Jace LaViolette launched a pair of no-doubt solo shots. The freshman now has a team-leading 14 round-trippers.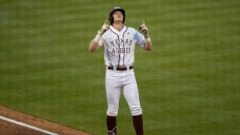 Cade Ingersoll, TexAgs
"I told Jace that's awesome," Schlossnagle joked. "Two homers are really cool, but what's even cooler is three homers."
Jack Moss' RBI single in the eighth scored A&M's lone run that did not come via the long ball.
A&M's big bats chased Alabama starter Luke Holman after 4.1, tagging him for six earned runs.
"Tough night to pitch," Schlossnagle said. "Our first couple homers were pop-ups that blew out of the ballpark.
"I thought (Nathan) Dettmer did okay. He just didn't finish the hitters he had a chance to finish and gave up to extra-base hits with two strikes that were hit hard."
Those big bats also covered up a trio of Tide home runs allowed by Dettmer in his 4.2 innings.
Colby Shelton had two dingers, and Bryce Elbin hit a two-run homer.
Dettmer allowed four runs, three of which came with two outs in the fifth.
"He's up to 95. I thought he had really good stuff," Schlossnagle said. "He just made a couple of bad pitches with two strikes and then got behind hitters. You just got to do better. He's got to get the lefties out."
Behind Dettmer, Evan Aschenbeck provided length, allowing just one unearned run across three frames. Needing 52 pitches, Schlossnagle expects Aschenbeck to be available later in the weekend.
A highly-efficient Brandyn Garcia nailed down a four-out save on just eight pitches.
Yet, A&M's offensive fireworks stole the show on a night that featured a literal postgame fireworks display.
They've now scored 11 or more runs in three of their last four.
And Werner & Co. seem intent on keeping this surge going.
"Hopefully, we can get back to doing our thing tomorrow and keep playing our brand of Aggie baseball," Werner said.
Weather permitting, the series resumes at noon on Saturday.
Never miss the latest news from TexAgs!
Join our free email list
PRESENTED BY