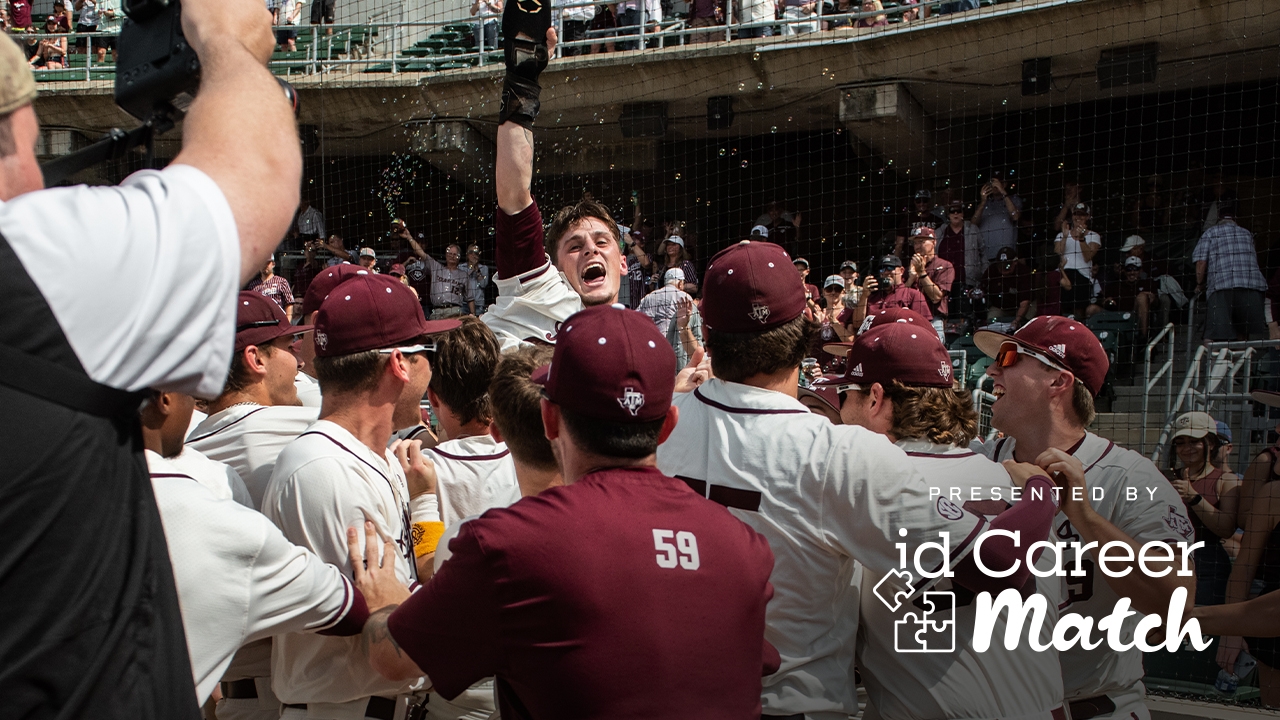 Jim Schlossnagle
Will Johnston
Trevor Werner
Texas A&M Baseball
Balk-Off! Aggies use magical finish to take series from No. 4 Florida
---
Game #48: Texas A&M 3, No. 4 Florida 2
Records: Texas A&M (28-20, 11-13), Florida (37-12, 15-9)
WP: Brandyn Garcia (2-2)
LP: Brandon Neely (1-1)
Box Score
---
A balk-off series winner.
With the game tied in the bottom of the ninth and runners at second and third, Florida pitcher Brandon Neely flinched to balk pinch-runner Travis Chestnut home to give Texas A&M a 3-2 win and a series victory over the fourth-ranked Gators.
After being swept last weekend at Arkansas, the Aggies were able to get back on track and have now won five of their last six series. A&M is now 11-13 in the SEC with two weekends left to play.
"Given where we are in our season, any win is a huge win." A&M head coach Jim Schlossnagle said. "This conference, I've only been in it a year and a half, but as soon as you think you have it figured out, good luck."
Despite the streak of no wins for a starting pitcher increasing to 33 games, the starting pitching was an asset for the Aggies in the game.
In his second start of the season, Will Johnston pitched a career-high 4.1 innings, yielding one run on three hits and two walks. Johnston also struck out five Gators.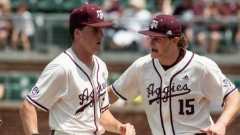 Jamie Maury, TexAgs
"He did a nice job given where we are," Schlossnagle said of Johnston. "He probably deserves to be in there some more. We're just trying to win them one at a time. Starting pitching really hasn't been all that great, and so when we have an opportunity to win a game, normally Will (Johnston) can do it."
Johnston made it through two innings before the Gators made it 1-0 on Tyler Shelnut's lead-off blast in the third inning.
That was all Florida could muster against Johnston as he retired seven of the next nine batters.
After Kasen Wells' bases-loaded walk tied the game in the fourth, Johnston handed the ball to Evan Aschenbeck with one out in the fifth.
Aschenbeck promptly defused a short-lived threat with back-to-back punchouts.
Another leadoff blast put Florida back in front 2-1 in the sixth, as Wyatt Langford smashed one over the left field fence.
From that point on, only two more Gators reached base as the Aggie pitching stood firm.
The Aggies tied the game at 2-2 in the sixth.
After Jace LaViolette came inches away from tying the game himself with a triple off the wall, Ryan Targac drove him home on a sacrifice fly.
Standing strong on the mound, Aschenbeck was relieved after 3.1 innings, allowing the one run on two hits and one walk while striking out five.
"He just plays off everybody," Schlossnagle said of Aschenbeck. "He can throw any pitch in any count at the bottom of the strike zone.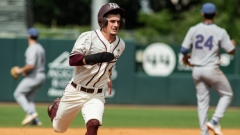 Jamie Maury, TexAgs
"You don't see guys like him in this league very much, so he changes the look. Most of the teams we face, they don't have a soft-tossing lefty. …The better the team is, the better he is."
Brandyn Garcia took over with two outs in the eighth, getting the powerful Jac Caglianone to line out on his first offering. Garcia retired all four batters he faced en route to the win.
With the emergence of Garcia out of the bullpen, it gives Johnston an opportunity to possibly slide into a starting role late in the season.
"He's evolved into somebody you can really, really trust in the backend of the game," Johnston said of Garcia. "He's got monster stuff, and he's filling it up and making pitches and doing different things. With the confidence in Brandyn (Garcia), it kind of opens up an opportunity."
For Johnston, he is willing to do whatever his coaches ask of him.
"Whatever they say to do, I'm prepared to do, and I'm ready to do," Johnston said. "I'm cool with whatever. I just want us to win."
Confidence in Johnston in that starting role is something his teammates have a lot of.
"That's something he's wanted to do since he's been here," third baseman Trevor Werner said. "He's got great stuff, and if he commands it and can command multiple pitches on different sides of the plate and do his thing and attack the zone, he's going to be great for us in that role."
"Given where we are in our season, any win is a huge win. This conference, I've only been in it a year and a half, but as soon as you think you have it figured out, good luck."
The pitching got them to the ninth, and the balk wrapped up a hugely important series victory as A&M continues to battle for a spot in the NCAA Tournament.
However, for the Aggies, knocking off No. 4 Florida was no bigger than the rest of their series wins.
Still, this weekend could be enough to spark more confidence.
"For us, they're all big," Werner said "To knock off a team like Florida, we know they're capable of a lot of things, and so are we as a team. Just kind of proving to ourselves we can take on any team in the country and just give us that edge and a little bit of confidence going into the rest of the year."
Four home games remain for the Ags as they host UTRGV at Blue Bell Park on Tuesday before welcoming in Alabama for a weekend set.
Never miss the latest news from TexAgs!
Join our free email list
PRESENTED BY