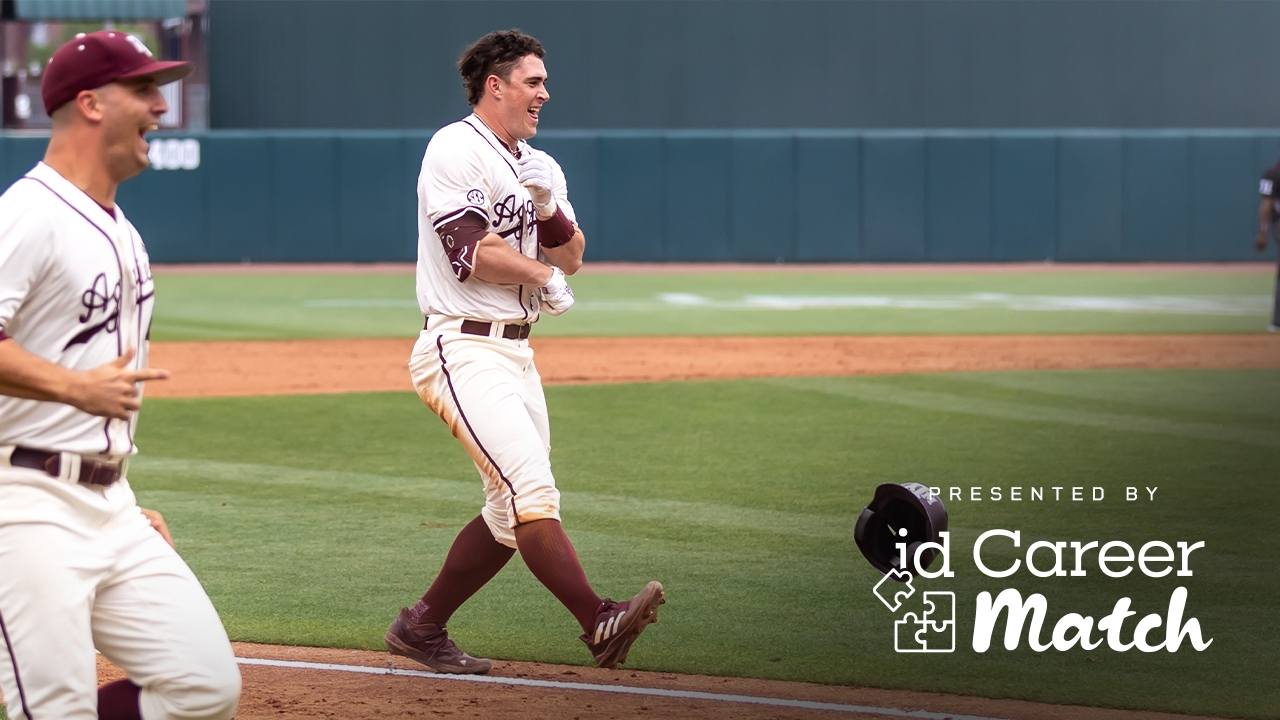 Jim Schlossnagle
Ryan Targac
Evan Aschenbeck
Tab Tracy
Texas A&M Baseball
Tar-Gotcha! Aggies walk-off Rebels to claim first SEC series victory, 5-4
---
Game #28: Texas A&M 5, Ole Miss 4
Records: Texas A&M (17-11, 3-6), Ole Miss (16-11, 1-8)
WP: Will Johnston (3-1)
LP: Mason Nichols (1-2)
Box Score
---
Ryan Targac stepped into the batter's box for the first time today as pressured as anyone hitting below the Mendoza Line.
He stepped out of it for the last time in pure exuberance, rounding the bases and into the embrace of his teammates.
In the final act of a miraculous 5-4 walk-off rally over Ole Miss, the senior from Hallettsville hammered a 90 mph fastball 394 feet over left center to capture Texas A&M's first Southeastern Conference series victory on Sunday afternoon.
"I'm self-aware of what's been going on, struggling a little bit," Targac said postgame. "Some hits aren't falling, but I'm just worried about barreling up baseballs. That's all I'm worried about is catching barrels. And I got one right there, so it felt good."
Struggling isn't an exaggeration.
One of A&M's anchors during their 2022 Omaha run, Targac has underperformed to expectations thus far, having slumped around the .190-mark in average over the past two weeks.
But as he stared down Rebel reliever Mason Nichols on a full count in the bottom of the ninth inning, Targac resorted to what he knows best.
"I'd say the main thing is I've just been getting out of my routine, not staying on the pitch that I need to stay on," Targac said. "Just getting in between pitches, not staying committed to that fastball and adjusting. So, in other words, like I'll be worried about something else other than a fastball.
"But I know what my approach is, and I just didn't stick to that until I did my last at-bat."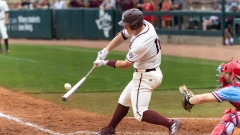 CJ Smith, TexAgs
His decisive swing is one he's been searching for, and one Texas A&M head coach Jim Schlossnagle was confident he'd find.
"Yeah, I'd be so glad to see him rewarded," Jim Schlossnagle said. "He's such a great kid. He's such a great teammate, works his rear end off. That's why he's in [the lineup] is because he's capable of changing the game with one swing."
Targac might have stolen the show, but outfielder Tab Tracy set the table for the Olsen Magic.
With Ole Miss trailing 4-3 in the top of the ninth, Reagan Burford represented the go-ahead run at the plate and sent a hard-hit fly ball to center. Tracy tracked all the way back to the wall and robbed Burford of a two-run homer with a leaping grab, allowing only Judd Utermark to score on a sacrifice fly.
"We're always taught to expect the ball coming to you in the game," Tracy said. "I pinch-hit for Jordan Thompson [in the sixth], and the game always finds the new guy. I knew my job is to play good defense, and I just went out there and tried my best, and it found me."
Schlossnagle said of Tracy: "That catch in center field by Tracy actually ended up being a way bit tougher play than it looked. Obviously, the ball's carrying like crazy, as you saw in Targac's ball."
Quality starts have largely eluded A&M's pitching staff since the beginning of SEC play and have left Schlossnagle scrambling for answers.
With all other options exhausted, freshman lefty Shane Sdao wasn't penciled in to start until this morning and was thrust into substantial pressure.
Sdao was hooked after 2.1 innings, yielding an RBI double and sac fly in the first and a Calvin Harris solo homer in the third.
Sophomore Brad Rudis provided 2.0 innings of solid relief without giving up any hits and preventing the early 3-0 deficit from growing.
But it was Evan Aschenbeck who did the heavy lifting.
"I've always tried to come in and fill the zone. Pitchers execute pitches, and the defense will play, and that's something I've been doing my whole career is filling the strike zone and letting the defense work."
After picking up his third win (3-0) of the season on Friday through 28 pitches, Aschenbeck contained the Rebels for four innings while striking out five. He struck out the side in the seventh and retired three consecutive batters heading into the ninth.
"I've always tried to come in and fill the zone," Aschenbeck said. "Pitchers execute pitches, and the defense will play, and that's something I've been doing my whole career is filling the strike zone and letting the defense work."
The only hit he allowed was a leadoff single in the ninth by Ethan Lege that prompted Schlossnagle to pull the plug and bring in Will Johnston, whose second pitch was Burford's sac fly — a run that was charged to Aschenbeck.
"He definitely has the pitch mix," Schlossnagle said of potentially putting Aschenbeck in a starting role. "The two questions are, if he goes in, then who comes out, and what do you do with that guy, right?
"So if you have a guy, for instance, that starts the games, that's not a strike thrower, like [Troy] Wansing hasn't been a strike thrower. [Chris] Cortez hasn't been a strike thrower. Then, you put them in the bullpen. When are you gonna use them?
"I mean, when are you gonna have the confidence to use them, and when am I gonna have the confidence to use them? And I do think there's something to Aschenbeck following somebody."
Battling from behind for the second time this series, Hank Bard put the Aggies on the board with a solo homer in the third. Brett Minnich followed up with his third bomb of the weekend — a game-tying two-run shot — in the fourth before Jace LaViolette drew a bases-loaded walk in the sixth.
With the dogged efforts of Aschenbeck and Tracy plus the timely heroics of Targac, Sunday's triumph does re-instill some sense of confidence. To most, the rocky start to A&M's conference schedule would have appeared to seriously undercut their ambitions for the rest of the season.
That's not necessarily the case for Schlossnagle.
"We're battling, 3-6 [SEC record]. I think that's just one game off the pace of where we were this time last year like we were 4-5 after the first three series, and actually feeling pretty good about it," Schlossnagle said. "Considering the expectation of the team versus the expectation of this year, it tastes a lot more sour.
"So we're one game off. That's the way I'm gonna look at it. See if we can get out there on Tuesday night and try and string a few wins together."
Never miss the latest news from TexAgs!
Join our free email list
SPONSORED BY