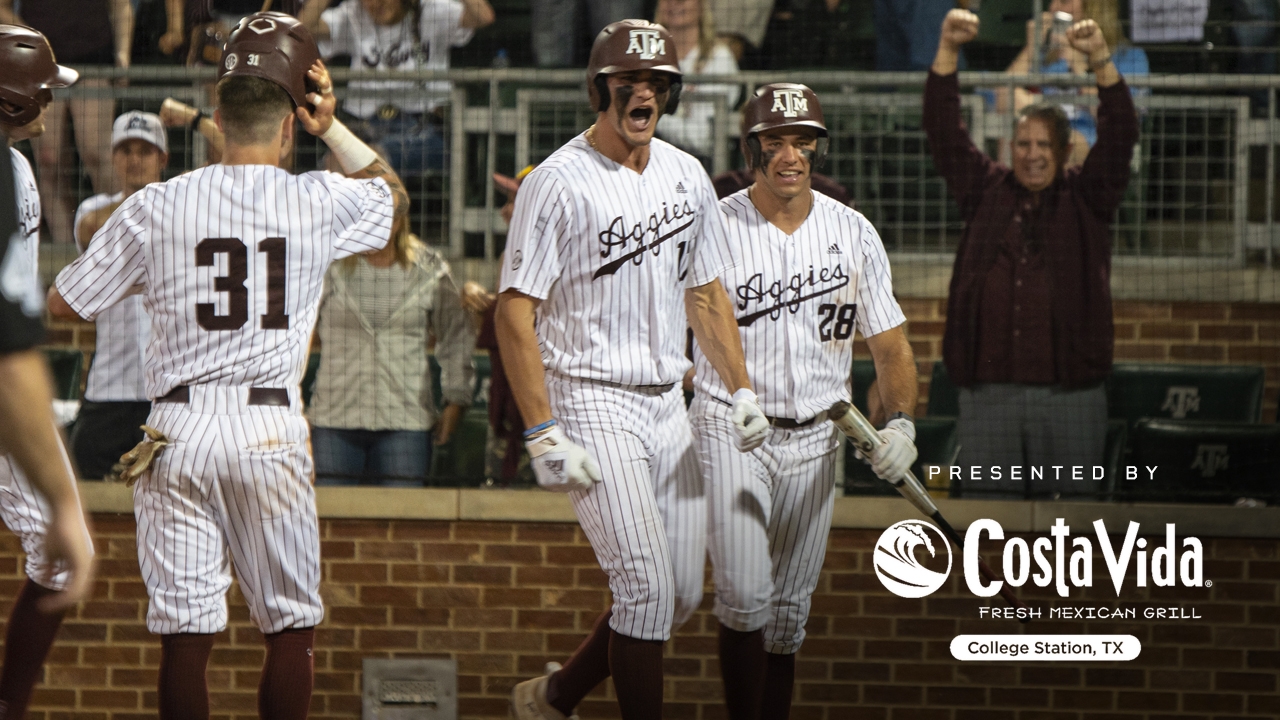 Jim Schlossnagle
Jace LaViolette
Brett Minnich
Will Johnston
Texas A&M Baseball
LaViolette's thunderous slam energizes rainy rally past Ole Miss
---
Game #26: Texas A&M 8, Ole Miss 6
Records: Texas A&M (16-10, 2-5), Ole Miss (15-10, 0-7)
WP: Evan Aschenbeck (3-0)
LP: Mitch Murrell (1-1)
Save: Will Johnston (2)
Box Score
---
Weather brought lightning.
Jace LaViolette brought thunder.
Following a lightning-turned-rain delay, Texas A&M rallied back to beat Ole Miss, 8-6, on Friday night at Blue Bell Park.
With A&M trailing 4-3 entering the bottom of the seventh, the ballgame paused for an 87-minute interruption.
When the contest finally resumed, LaViolette provided the eruption.
"That was huge for us," LaViolette said of the delay. "We just came in here and had fun and were like kids again. It was a good time."
Jordan Thompson's bunt single started the rally, and two errors and an intentional walk later, LaViolette came to the plate with the bases loaded and two outs.
"You have to credit our players," A&M head coach Jim Schlossnagle said. "A huge play in the game was JT getting that bunt down just to make that guy uncomfortable and get a little momentum going for us."
On the first Mitch Murrell offering he saw, LaViolette sent the ballpark into a frenzy by crushing a line-drive grand slam to right that snuck out and put A&M up 7-4.
"I was just trying to hustle for a double or something. I had no clue that was going to leave. That was awesome that it did, but the approach to that at-bat was really good, just hunting fastball. I got one and put a good swing on it."
"I was just trying to hustle for a double or something," LaViolette said. "I had no clue that was going to leave.
"That was awesome that it did, but the approach to that at-bat was really good, just hunting fastball. I got one and put a good swing on it."
It was LaViolette's first grand slam of his baseball life.
"That was a sick one, too. I'm not going to lie," LaViolette said. "That felt really good. It was cool."
LaViolette's game-changing blast was the fifth home run of seven total in the game. A&M claimed four of those round-trippers.
"If you go through our lineup, every single guy has the potential to put it out of the park," LaViolette said. "It's really just about who puts really good swings on it.
"Literally, every at-bat, I feel like anybody can do damage."
Before a perhaps season-altering weather delay and the freshman's monumental swing, the series opener appeared to be more of the same for A&M.
For the seventh time in their last nine ballgames, the Aggies surrendered a first-inning marker as Jacob Gonzalez launched a two-run bomb off Nathan Dettmer to give the visitors an early edge.
But A&M responded in the bottom of the second.
Brett Minnich found his first hit of the year in the form of a 450-foot homer, his first of two. The Aggie right fielder finished 3-for-4 and added a second blast in the eighth, which traveled a deceptive 442 feet.
"It just feels good to be back," Minnich said. "These guys make it easy to come back and play alongside them. It's just an honor to be back and playing with them."
Immediately following Minnich's second-inning homer, Ryan Targac doubled into the right-field corner. He scored on Thompson's dump single to center.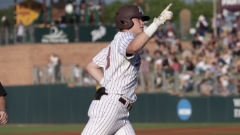 Cade Ingersoll, TexAgs
Tied 2-2, both clubs continued their power surge in the fourth as Anthony Calarco and Trevor Werner each jumped the yard.
Dettmer, who pitched admirably despite the pair of long balls, ran into trouble in the sixth.
"It would be nice to have one starter get us deep in a ball game, but we're facing a really good offensive team," Schlossnagle said.
Calarco walked to begin the frame and later scored on Peyton Chatagnier's RBI double that gave Ole Miss a 4-3 lead.
With two men in scoring position and nobody out in the inning, Evan Aschenbeck took over for Dettmer.
"Aschenbeck was awesome," Schlossnagle said. "I actually thought Dettmer did fine, but Aschenbeck, you know, second-and-third, nobody out, pitched out of it.
"It was a huge part of the game."
The freshman left-hander punched out the first three batters he faced to end the threat. In addition to a game-saving high-wire act, Aschenbeck also delivered a scoreless seventh to send the game into its delay.
"The beauty of Aschenbeck is he only threw 28 pitches, so we should be able to use him again," Scholssnagle said.
After the craziness of managing the weather and his club taking the lead, Will Johnston found his way to the mound and earned a two-inning save, striking out four but giving up a two-run homer to the game's penultimate hitter.
For a team desperately looking for confidence, an abnormally awesome Friday night could provide the spark A&M has been searching for.
"It has been a tough month for us, but that's what baseball is," Minnich said. "There are a lot of ups and downs in it, so we just need to take this as a good opportunity to build from and keep going."
The series continues on Saturday at 7 p.m. CDT.
Never miss the latest news from TexAgs!
Join our free email list
PRESENTED BY