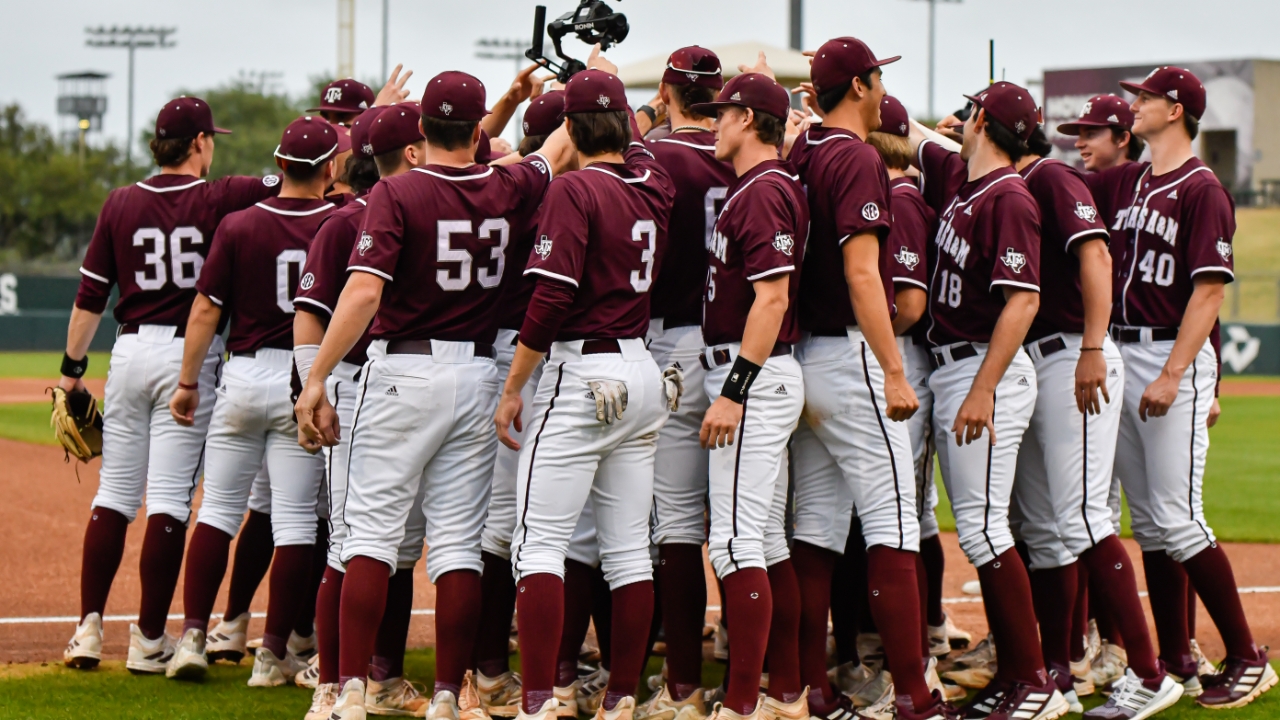 Photo by Zoe Kelton, TexAgs
Texas A&M Baseball
Series Preview: Aggies and Volunteers battle in top-25 weekend series
---
Also included above is a radio segment with Ryan Brauninger, Richard Zane and Scott Clendenin from Friday morning, previewing this weekend's series between No. 21 Texas A&M and No. 12 Tennessee.
Who: Tennessee (16-6, 0-3 Southeastern Conference)
Where: Lindsey Nelson Stadium – Knoxville, Tennessee
When:
Friday: 5:30 p.m. CT (SEC Network+)
Saturday: 11:00 a.m. CT (ESPN2)
Sunday: 12:00 p.m. CT (SEC Network+)
Pitching matchups
Friday: Nathan Dettmer (RHP, 1-2, 3.24) vs. Chase Dollander (RHP, 3-2, 3.90)
Saturday: Troy Wansing (LHP, 2-1, 2.42) vs. Chase Burns (RHP, 2-1, 3.41)
Sunday: Justin Lamkin (LHP, 1-1, 1.33) vs. Drew Beam (RHP, 3-1, 2.25)
Scouting Tennessee
When Texas A&M fans and college baseball pundits looked at this Tennessee squad a week ago, they saw a near-impossible task for Aggie baseball to play a road series against the then-No. 2 ranked powerhouse Volunteers under controversial-yet-talented head coach Tony Vitello.
In fact, this was supposed to be the second of three consecutive brutal weeks of playing the top three teams in the nation for the Aggies. But a funny thing happened on the way to Knoxville, the Volunteers traveled to Columbia to play the Missouri Tigers and got swept. Ironically, No. 3 ranked Ole Miss (A&M's opponent next weekend) was swept by Vanderbilt.
Welcome to the SEC, folks.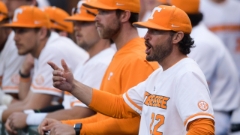 TexAgs
On paper, last weekend was supposed to be a proverbial walk in the park, but Vitello and his team left Missouri wounded. That begs the question — will Tennessee enter their home conference opener smelling blood and looking to the Aggies as their sacrificial lamb for the egg they laid in Columbia, or will they come into the series humbled and their confidence shaken? It should also be noted that Tennessee goes to Baton Rouge to face LSU after the A&M series, so in a strange and unexpected way, it has become a very important do-or-die weekend for the Vols. Lose this series to Texas A&M, and Tennessee could be staring at a 1-8 start that even a good team will have a hard time crawling out of that hole.
There's no way to know how they will respond, but knowing Vitello, they will be looking to intimidate Texas A&M from the first pitch. That's how Vitello rolls.
Tennessee's No. 2 ranking last week (now No. 12) is anchored in an elite starting pitching rotation of Chase Dollander, Chase Burns and Drew Beam that dominated its opponents all season until last weekend. The three starters had a rough weekend in Missouri, giving up 17 runs and 20 hits in just 13.2 innings of work. To show you just how uncharacteristic that performance was last weekend, the Volunteer pitching staff still boasts a sparkling team ERA of 2.50 after those dreadful outings in Missouri. Which starting pitching shows up this weekend? I don't know. That's why we watch. It also should be noted that Tennessee pitching does not give up many free passes, only walking 48 batters all season. By contrast, A&M hurlers have surrendered 100 walks. A&M will have to earn its way on base in Knoxville.
While Tennessee's pitching is the headliner, they are very capable at the plate with a team batting average of .292, significantly higher than A&M's .276. Tennessee has the advantage in most run production numbers, but the Vols also haven't faced the explosive LSU offense either like Texas Aggie arms did last week.
Christian Moore leads the Vols offense with a .354 batting average, but even more impressive is his ability to get on base at a .527 clip, and he leads the team in runs scored (25). A&M needs to keep him off the base paths. Blake Burke is the power bat to be concerned about leading the Vols with eight homers and 24 RBIs. Tennessee doesn't put up the gaudy offensive numbers that LSU generates, but they are capable up and down a deep batting order.
| | | | | | |
| --- | --- | --- | --- | --- | --- |
| Hitting | Avg. | Runs | Slugging % | On-Base % | Strikeouts |
| Texas A&M | .276 | 163 | .427 | .408 | 165 |
| Tennessee | .292 | 176 | .565 | .408 | 185 |
| | | | | | | |
| --- | --- | --- | --- | --- | --- | --- |
| Pitching | ERA | WHIP | Walks | Opp. Avg. | Strikeouts | Fielding % |
| Texas A&M | 4.14 | 1.45 | 100 | .239 | 225 | .976 |
| Tennessee | 2.50 | 0.95 | 48 | .193 | 258 | .981 |

Texas A&M storylines to watch
Jim Schlossnagle made it official in his pre-weekend press conference when he announced that talented left-handed freshman Justin Lamkin will take over the Sunday starting duties in place of Chris Cortez, who has struggled with control in recent weeks. The Cortez move could help the pitching staff in two ways. First, it gets A&M's most promising freshmen pitchers into the rotation. Lamkin has been tested in big moments coming out of the bullpen earning a save in the process. But the numbers don't lie. Lamkin sports a stingy 0.75 ERA in six appearances and opposing batters are hitting at a very low .140 batting average. His strikeout-to-walks ratio of 16-4 is also very impressive.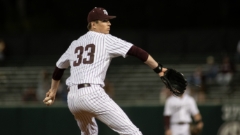 Jamie Maury, TexAgs
He's young, but it's time to get the ball to start an SEC weekend. A solid performance in this role allows Schlossnagle to add a needed quality right-handed arm in the bullpen. Most of A&M's bullpen success has come from lefties like Lamkin, Will Johnston and Evan Aschenbeck. Cortez is needed to balance out the bullpen from the right side. Aside from the Lamkin news, Aggie starting pitching must go deeper in games. The three starting pitchers managed just 10.1 innings of work against LSU, and that put way too much stress and pressure on the bullpen for nearly 17 innings.
That can't happen in Knoxville.
At the plate, the Aggies have slowly improved in recent weeks, but to beat a team like the Vols, they will need to take the offense to another level. Hunter Haas has been the most consistent and productive bat all season, hitting at an impressive .414 average. He has been a rock at the plate and in the field at shortstop. As with most of the veteran hitters, Jack Moss got off to a slow start, but he's finally heating up and has raised his average to .333. A great sight to see for Aggie fans was the long home run blast against LSU, his first of the season. Moss is warming up, and his power game needs to show itself in SEC play. Austin Bost is the offensive team leader in the clean-up spot with 25 RBIs. However, with Haas and Moss getting on base at a high rate in the past couple of weeks, Bost has missed some RBI opportunities and needs to be more consistent and cut down on those pop-us and shallow fly balls. He hit a hot streak and raised his average over .300. However, he struggled at times against LSU and Rice, and his average has dropped to .278.
The big news from Tuesday's win over Rice was the productive return of Trevor Werner who was hitting below the Mendoza line (.200) before a critical two-run bomb over the right-center wall. He also hit several balls hard on the night. He's expected to return full-time to third base this weekend, and if he can build upon that performance along with some productive at-bats from a struggling Ryan Targac and Jace LaViolette (who also hit a 452-foot rocket shot on Tuesday), then the Aggies have a shot do some damage against a Volunteer rotation that struggled against Missouri.
What's at stake this weekend
We've been discussing this difficult nine-game stretch against LSU, Tennessee and Ole Miss to open up SEC play, and the pressure the Aggies are under to compete and not drop into an early 2-7/3-6 hole in SEC play. With the Vols and Rebels both getting swept in their SEC opening weekend, the mental table has turned. Tennessee has the psychological burden to overcome entering the weekend at 0-3 with LSU on the immediate horizon.
Their season could be on the line if they tighten up and lose 2-3 games to the Aggies at home. On the other hand, Texas A&M comes in salvaging a game against No. 1 LSU and can survive a 1-2 weekend in Knoxville. Stealing two games on the road against a highly-decorated Tennessee club will put the Aggies ahead of schedule and feeling good coming home to host Ole Miss.
The pressure is squarely on the Vols. Does Texas A&M have the killer instinct to take it to a wounded animal, or do the Vols hit back hard?
Bottom line: The Aggies at 2-4 after the one-two punch of SEC elite teams is survivable. Leaving Knoxville at 3-3 will be seen as a big victory for this ball club. A&M just needs to avoid a sweep, which hurts regardless of context and competition.
Never miss the latest news from TexAgs!
Join our free email list
SPONSORED BY