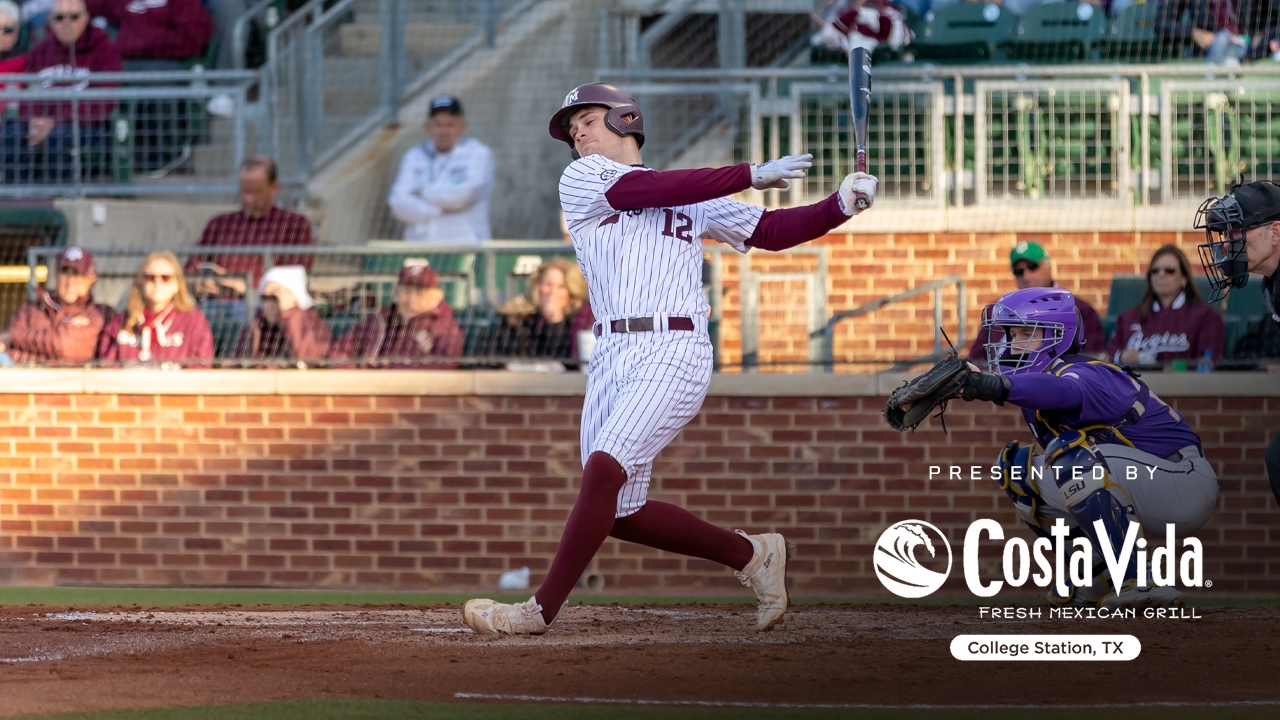 Jim Schlossnagle
Jack Moss
Nathan Dettmer
Texas A&M Baseball
No. 15 Ags blanked by No. 1 LSU in conference opener as Skenes fans 11
---
Game #18: No. 1 Louisiana State 9, No. 15 Texas A&M 0
Records: Texas A&M (13-5, 0-1), Louisiana State (17-1, 1-0)
WP: Paul Skenes (5-0)
LP: Nathan Dettmer (1-2)
Save: Christian Little (2)
Box Score
---
As advertised.
Many believe Jay Johnson's 2023 Louisiana State Tigers to be a "super team," and on a chilly Friday night at Blue Bell Park, those top-ranked Bayou Bengals blanked No. 15 Texas A&M, 9-0, to open Southeastern Conference action.
LSU starting pitcher Paul Skenes lived up to his billing as a potential top-five selection in July's 2023 MLB Draft.
"Every bit as advertised," A&M head coach Jim Schlossnagle said of Skenes. "Everything I saw on video remained to be true. I thought we fought with him as best we could, but I've been doing this for 33 years. (Stephen) Strasburg, Mark Pryor, Paul Skenes. Those are the best I've ever seen."
With a fastball sitting around 98-100 mph combined with a hard slider and a change of pace, Skenes struck out 11 Aggies, walked none and allowed no runs on just four hits in 6.1 innings of work.
"Thankfully, it's not softball where he doesn't get to pitch every day," Schlossnagle said. "They have a good one going tomorrow and a good one going on Sunday, but that guy's pretty special."
"He's a real pitcher. He's pitching in the wrong league, I can tell you that. He needs to be in the American or National League."
Skenes shrunk his season ERA from an already-microscopic 0.75 to an even lower 0.59.
He now has 59 punchouts in just 30.1 innings.
"He's a real pitcher," Schlossnagle said. "He's pitching in the wrong league, I can tell you that. He needs to be in the American or National League."
The Tigers also brought a potent offense to College Station and wasted little time proving it, tagging A&M starter Nathan Dettmer for two runs in the first. Tre' Morgan and Dylan Crews each had base hits before Gavin Dugas and Josh Pearson drove them home.
"That's the worst thing that could have ever happened was to give up runs in the first inning when you already know you've got an uphill battle," Schlossnagle explained. "You've got to credit their hitters. They stayed on the ball."
LSU added two more in the third as Morgan and Crews again crossed home plate, pushing the visitors' advantage to 4-0.
However, Dettmer battled to keep the deficit there despite lacking his best stuff, lasting six innings and striking out five with four walks.
"My fastball location wasn't where I wanted," Dettmer admitted. "Four walks. Got to get better than that. A lot of them on fastballs."
Still, Dettmer's ability to eat innings could bode well for the Aggie pitching staff for the rest of the weekend.
Behind Dettmer, Shane Sdao pitched two scoreless innings.
While the gap remained at four, the Aggies never truly threatened as Skenes and reliever Nate Ackenhausen prevented the home nine from getting off the mat.
"I thought we fought with them, but four runs felt like 10," Schlossnagle said.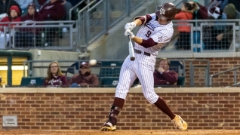 CJ Smith, TexAgs
All night, only one Aggie reached third base, which occurred when Max Kaufer moved up on a Jack Moss grounder for the second out of the eighth.
Christian Little extinguished that threat to earn a save.
The contest only got out of hand when the Tigers plated five off Carson Lambert in the final frame.
Perhaps most impressive was LSU's ability to neutralize the heart of A&M's lineup. Skenes & Co. held Moss, Austin Bost and Ryan Targac to a combined 1-for-12, with the latter two each striking out thrice.
"He's probably going to be a top-three pitcher taken off the board in July," said Moss, who finished 1-for-4 with a sixth-inning single off Skenes. "Obviously, it wasn't our night, and he had a really good night."
After falling flat in their SEC opener, the Aggies' focus is now on their response.
"You're going to take body blows, and you need to be a team that's able to give them back," Schlossnagle said. "This league is at a whole other level this year… Right now, the level of play in this conference is at an all-time high.
"You better be able to respond to adversity because if you're not, it'll snowball on you real quick."
The series continues on Saturday with a 2:02 p.m. CDT first pitch.
"I know this team," Moss said. "Obviously, after a tough body blow like that, I know that for a fact that we're going to respond, and that's all this team has ever done since I've been here is respond to adversity, and we're going to the exact same tomorrow."
Never miss the latest news from TexAgs!
Join our free email list
PRESENTED BY