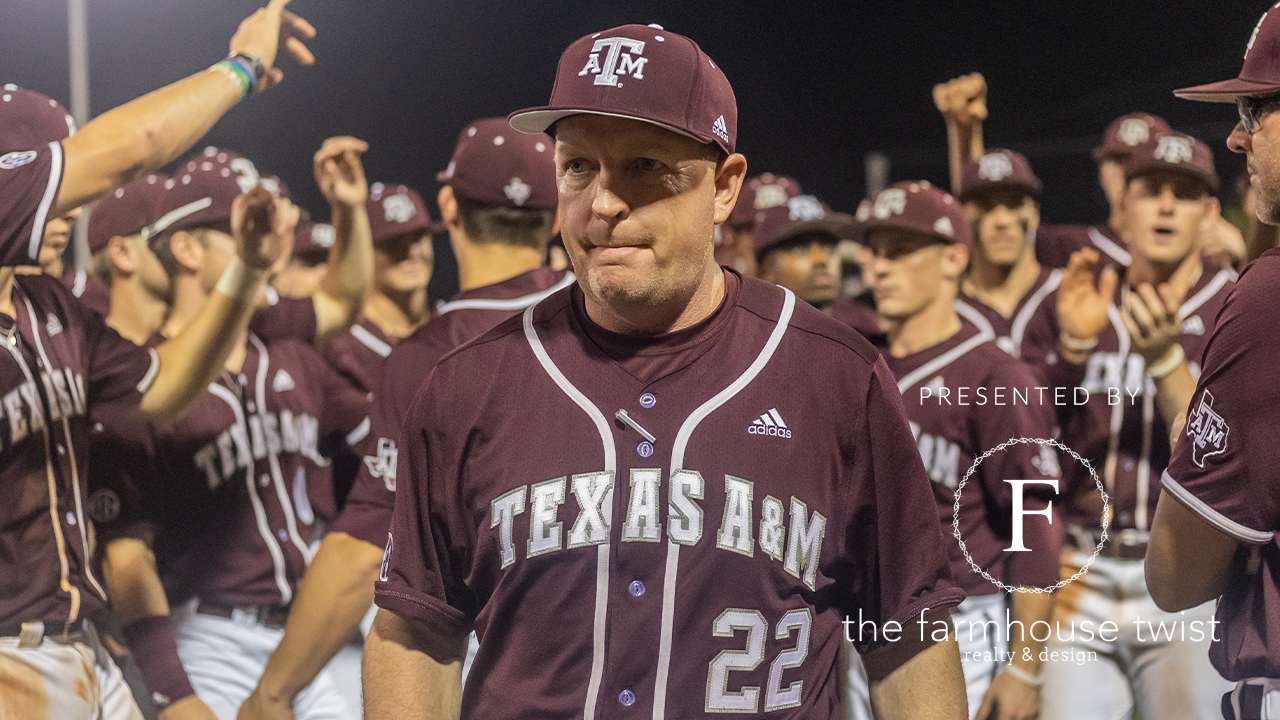 Photo by CJ Smith, TexAgs
Texas A&M Baseball
Schlossnagle's Aggies remain a 'work in progress' as LSU rolls into Olsen
---
Winners of eight straight, No. 15 Texas A&M faces a massive uptick in competition as top-ranked LSU comes to Blue Bell Park for a three-game set. On Thursday, Jim Schlossnagle joined TexAgs Radio to preview the matchup with the Tigers and discuss the latest with his ball club.
---

Key notes from Jim Schlossnagle interview
I can't say I can contribute to the Español conversation, but y'all have fun with that.

I think we've played better in the last eight to 10 days. We've had a lot of baseball to play, which has been good. With the injuries to Brett Minnich and Trevor Werner and some guys not getting off to great starts offensively, we're not where we're capable of being. I think the starting pitching has been solid and is continuing to develop. We've learned more of our bullpen and what they're capable of. Thank goodness we have versatile players like Kaeden Kent bouncing around and playing multiple positions. Ryan Targac and Kasen Wells have given us good innings. Tab Tracy is another one. It never seems to roll out the way you draw it up, so I'd say we're still a work in progress. The competition level is about to change, and that's good. That's why you come to A&M is to play in those conference games.

Dormant, meaning that Houston's starter Ekness, who threw 75 pitches against Oklahoma on Sunday, was then 96-93 with two good breaking balls. We thought he was going to be in the game for one inning but was in the game for six-plus innings. He was awesome, so give him credit. When we're healthy and have everybody, we have depth in the lineup and can score in a variety of ways. We're not there. We're capable of it at any given moment. That ninth inning was great because the wind was blowing in. The ball that Austin Bost hit was probably the hardest ball I've seen him hit to right-center field. Targac had a good at-bat, and then obviously, the sinking liner that fell in for an inside-the-parker was nice. We're still a work in progress, and we're not where we want to be. The point of the season is to keep getting better.

I'm watching some video of LSU from home this morning, and I'm watching Paul Skenes. I just told my daughter he might be the best college pitcher I've seen in my 30 years. He has thrown 20 innings, struck out 48 and walked two. He has allowed one extra-base hit and two runs on the season. I've been around a while and seen a lot of great pitchers like Stephen Strasburg and Mark Pryor and those elite, high-end college pitchers that went first overall. Skenes looks like that. From a team standpoint, LSU is throwing more strikes and has only made five errors. Last year, they weren't great defensively. We were next to last, and they were last. They've cleaned that up. Obviously, they're a powerful offensive team. They may have the pitcher selected in the draft, and they may have the first-overall pick in Dylan Crews, their centerfielder. Credit Nolan Cain a lot for putting that team together over there. You still have to go play the games, right? As I've said all week, we've played plenty of games this week where scouts in the stands might think A&M has better players than the other team, and we've lost the game. If you're a scout in the stands this weekend, they'll rate their players higher than ours, but that's why you play the games. That happened a lot to us last year. Our starting pitching is going to have to try and hold them down. The weather is going to be a challenge with that north wind blowing in. That should keep the ball in the ballpark. It's who limits free bases and who can get a timely hit.

I think Ty Floyd is going to throw the middle game. With Skenes, when a guy is throwing 100 mph and throws his changeup at 92 with a hard slider in the upper 80s, everything is firm. You just have to be on time for a fastball, and that's easier said than done at that velocity and if it's going to be 40 degrees with the wind in your face. He throws strikes, so there is no reason to wait him out. We're still going to try and get our pitch, but you have to hit a fastball. That's really the case with this entire weekend. The fastballs from Thatcher Hurd and Floyd aren't what Skenes has, but it's still 92-96. This is SEC pitching, and Hurd and Floyd are good SEC pitchers. We're going to see this for the rest of the year. We're just going to have to fight with them and be on time to hit a fastball.

The weather could change how we call a game, depending on the situation and the score. I'm assuming you're asking that question in reference to bunting, and I've had that question this week. It all depends on who you're bunting up to. Do you want to give up outs against a pitcher that doesn't give up hits? Oh, by the way, bunting 97 mph is not fun. There could be more hit-and-run opportunities because Skenes is such a strike-thrower. If you can guess a breaking ball, you might be able to run some because I can't imagine it's very fun to catch that firm breaking ball and still get off a good throw. If you bunt up to third base with the wind blowing so hard, you can't get a sacrifice fly. There are different things you could do, and we have them in our tool set. We try to be an offense that can play in any condition. You don't want to just be a speed team, or a power team or a team that scores only when the wind is blowing out. You want to score with the wind blows in. You have to still play baseball, and if the situation calls for something, we're not afraid to do it.

Bost has been awesome. First, he has stayed on the ball more. He hit the ball to right-center field against Rice late in the game on the road, and he did it again against Houston. Anytime you see Bost, even if it's just a solid fly ball to right field or anything else that shows he's trying to stay on the ball, everything else is going to be pretty good. He has had some balls fall in, and he's mature enough that when he hits a liner right at somebody, he understands that was a good at-bat. He's a mature, outstanding, experienced offensive player, and he's feeling good about himself. He's confident, and we need to stack more guys like him. Hunter Haas and Jack Moss are in the same space. We just need more guys thinking along those lines.

We've talked about Jordan Thompson's at-bats this week, and it's a great observation to say he's looking like himself. The hits aren't necessarily there, but he has squared some balls up and has a tendency to get hit by pitches. He's a tough kid. He's not going to move into a pitch, but he's not scared to just take one. A lot of times, he gets down early in counts but fights his way back to a walk. We've had other options and left-handed hitters and tried to give guys time, but JT has earned the benefit of the doubt. With Werner and Minnich out, the veteran presence in our lineup is much needed. Minnich didn't swing yesterday, but he stood in for the sim game. His presence in the batter's box is something we miss. Werner as well. JT helps bring some of that back.

I have to roll Brandyn Garcia out there. My thinking was the same on Tuesday night. The issue was we started the inning with a 2-1 lead, and Will Johnston had come to me and said he was ready to go. We started the inning knowing that he was going to pitch the bottom of the ninth. Once he was up and out, even though we got up 5-1, I didn't want to run somebody else out there and have a walk or an error before we brought Johnston in with traffic on the bases. Because I had already gotten him up and warm, I went ahead and did it to finish the game. We'll look for other opportunities to get Garcia in there. He's going to have to pitch. He has too good of an arm and has proven he can be more of a strike-thrower. Those kinds of arms don't hang on trees. Arms like Johnston and Garcia are power lefties that have got to pitch. He'll get in this weekend.
Never miss the latest news from TexAgs!
Join our free email list
SPONSORED BY