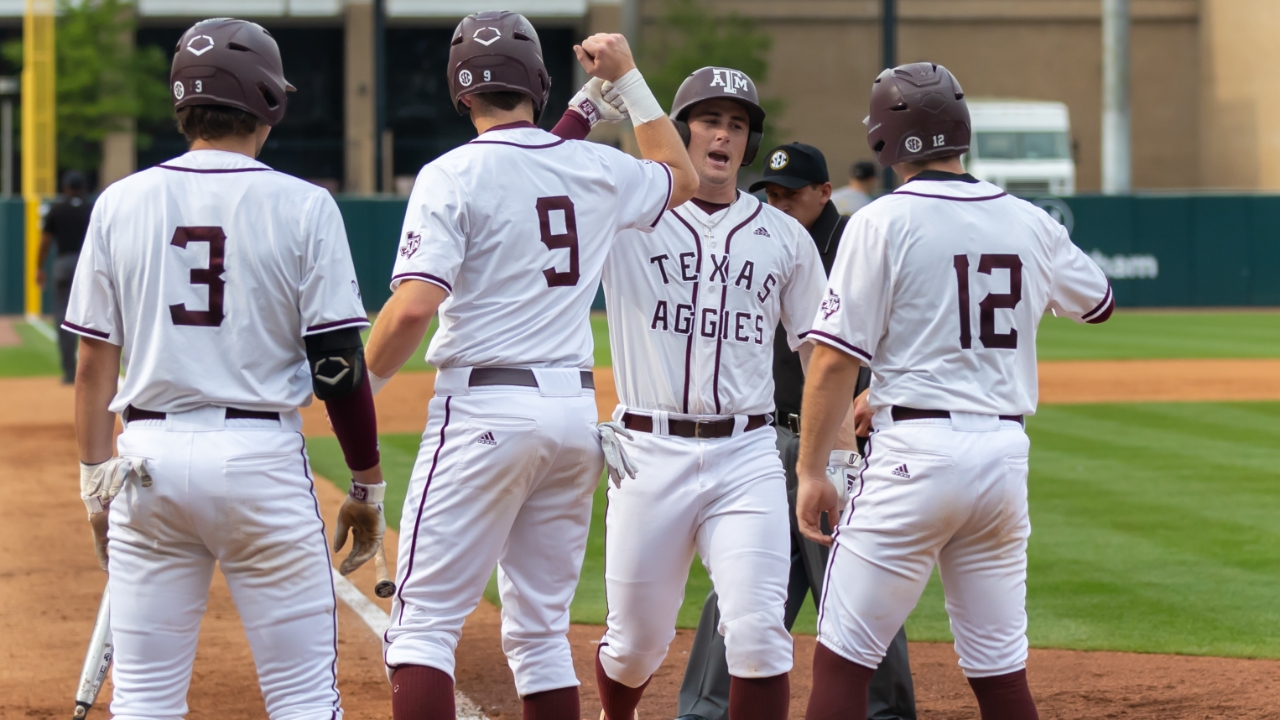 Photo by CJ Smith, TexAgs
Texas A&M Baseball
Series Preview: No. 15 Texas A&M hosts No. 1 LSU in conference opener
---
Also included above is a radio segment with Ryan Brauninger, Richard Zane and Scott Clendenin from Friday morning, previewing this weekend's series between No. 15 Texas A&M and No. 1 LSU.
Who: Louisiana State (16-1, 0-0 SEC)
Where: Olsen Field at Blue Bell Park – Bryan-College Station, Texas
When:
Friday: 6:00 p.m. CT (SEC Network)
Saturday: 2:00 p.m. CT (SEC Network+)
Sunday: 1:00 p.m. CT (SEC Network+)
Pitching matchups
Friday: Nathan Dettmer (RHP, 1-1, 2.37) vs. Paul Skenes (RHP, 4-0, 0.75)
Saturday: Troy Wansing (LHP, 2-1, 2.75) vs. Ty Floyd (RHP, 3-0, 1.08)
Sunday: Chris Cortez (RHP, 1-0, 5.60) vs. Thatcher Hurd (RHP, 2-0, 2.04)
Scouting LSU
For your health and sanity, you might not want to look at LSU's team statistics. It's pretty staggering at this point in the season.
Dubbed a "super team" by several college baseball experts in the preseason after the Tigers landed an elite transfer portal class, LSU has lived up to its preseason No. 1 ranking with a 16-1 record.
But if you are brave enough to continue, let's take a deeper look at what makes this team tick.
There aren't many weaknesses on this LSU squad, but there are many strengths. On offense, the Tigers are led by returning first-team All-American outfielder Dylan Crews. Several MLB scouts think he's the No. 1 overall pick in next June's MLB Draft. That's hard to argue when he's hitting .519 with a .926 slugging percentage and an on-base average of .653. He's got power. He's got speed. He's a great professional prospect, but more importantly for this weekend, he's an elite college player that will give Aggie pitchers fits.
That would be manageable if Texas A&M had the luxury to pitch around one dangerous hitter. Unfortunately for the home team, LSU has dangerous hitters in the middle of the lineup. Tommy White stormed through the ACC as a freshman last year hitting 27 home runs and 74 RBIs for the NC State Wolfpack. He is just one of three elite players that transferred to LSU in the offseason. He's on track to match those 2022 numbers with six home runs and a team-leading 27 RBIs through 17 games. He's also hitting .396 with 13 extra-base hits.
I could list the gaudy stats for several more LSU hitters, but I'll just say that the Tiger batting order has five starters hitting .340 and above.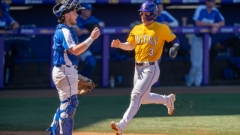 © SCOTT CLAUSE/USA TODAY Network
Four hitters have at least five home runs, while three offensive players have more than 21 RBIs. If you compare the offensive statistics below, LSU has a significant advantage in every run production category over Texas A&M.
I mean, the Tigers are slugging .622 as a team. The Aggies do not have a hitter with a slugging percentage over .600 — that's crazy.
The numbers don't look much better on the pitching and fielding side. It starts with LSU's Friday night ace Paul Skenes, a decorated transfer from Air Force where he was a two-time All-American. He's one of the most dominant collegiate pitchers in recent years. The 6-foot-7 hurler currently has a perfect 4-0 record and a minuscule 0.75 ERA. If that wasn't impressive enough, Skenes has only allowed eight hits in 24 innings of work, and opponents are hitting just .099.
Oh, and he's only walked four batters. Now THAT is the definition of a Friday night ace.
Still, it doesn't end there. UCLA transfer Thatcher Hurd was the No. 1 ranked pitcher coming out of high school in California, but he was also coaxed to transfer to Baton Rouge for NIL opportunities. He'll likely be the Sunday starter, coming into the weekend with a 2-0 record and a 2.04 ERA. Returning hurler Ty Floyd has emerged as the Saturday starter after several high-level outings early in the season. He's sitting at 3-0 with a 1.08 ERA.
Basically, the Tigers are running out three Friday night caliber starters, and the bullpen is very deep with 11 pitchers with hits-to-innings-pitched ratios under 1.00. LSU's team ERA is 2.27, and opposing batters are hitting just .163. A very good .990 team defensive fielding percentage only adds to the difficulty of scoring runs for the opponent.
To say the least, Texas A&M has its hands full. There's a reason why LSU is ranked No. 1 and considered a "super team." I will leave you with this one glimmer of hope. Other than a 3-0 win over Texas in Austin, the early schedule has not been very daunting. The Aggies will provide another level of competition in 2023, although we know this LSU squad has competed and won against the best competition in previous seasons. It's not like they aren't battle-tested.
| | | | | | |
| --- | --- | --- | --- | --- | --- |
| Hitting | Avg. | Runs | Slugging % | On-Base % | Strikeouts |
| Texas A&M | .279 | 140 | .433 | .415 | 124 |
| LSU | .338 | 195 | .622 | .472 | 131 |
| | | | | | | |
| --- | --- | --- | --- | --- | --- | --- |
| Pitching | ERA | WHIP | Walks | Opp. Avg. | Strikeouts | Fielding % |
| Texas A&M | 3.35 | 1.34 | 73 | .227 | 188 | .976 |
| LSU | 2.27 | 0.89 | 45 | .163 | 182 | .990 |
Texas A&M storylines to watch
It's an understatement to say the Aggies must up their game if they want to compete with the No. 1 Tigers this weekend. This is a huge challenge. LSU isn't only the best team in college baseball this season, but this group could be one of the best teams in recent history. Sorry to scare you, but that's the cold, hard truth.
However, it's a challenge this team is capable of withstanding if the experienced veterans that led this team deep into the Men's College World Series last year can shake off this early season funk and play up to late 2022 season standards. There are signs that may be happening with Austin Bost heating up in the last week. He's raised his average by over 100 points in the last 10 days and is hitting .323 with a team-leading 24 RBIs.
Jack Moss is seeing the ball much better and is hitting line drives again. Despite having some bad luck with several hard hits finding gloves, the junior has raised his average in recent games to .308. Transfer shortstop Hunter Haas has been the most consistent and productive hitter for the Aggies all season with a team-high .371 batting average and an on-base percentage of .506.
However, with the struggles of Ryan Targac (.233) and freshman sensation Jace LaViolette (.220) to go along with the injuries to core veterans Trevor Werner and Brett Minnich, the Texas A&M offense has sputtered against early season competition that doesn't compare to what LSU brings to Olsen Field.
It's a challenge this team is capable of withstanding if the experienced veterans that led this team deep into the College World Series last year can shake off this early season funk and play up to late 2022 season standards.
To keep up with LSU's offensive firepower, the surging veterans must continue to stay hot while the team needs something productive at the plate from guys like Targac, LaViolette and freshman Kaeden Kent. What we've seen from this offense to date will not cut it against the Tigers.
On the mound, Nathan Dettmer rebounded with a nice outing against Northern Kentucky to get his first win in a six-inning shutout performance, so he's rounding into shape at the right time. However, let's be honest, Northern Kentucky isn't LSU's elite batting order.
Then again, Dettmer elevated his game to match the moment in the postseason last year.
Troy Wansing has been money since his shaky season opener and has lowered his ERA down to 2.79. A&M should expect a solid effort from the sophomore lefty transfer from Purdue. Chris Cortez will be the big wild card on Sunday and struggled last week after a couple of good showings the previous two weekends. His 5.60 ERA is a result in large part of periods of control problems, walking 12 batters in 17 innings. That control must be there on Sunday if he expects to compete against projected first-round pick Thatcher Hurd and his 2.04 ERA.
The bullpen appeared to be coming into focus after the Rice game, but Evan Aschenbeck had a less-than-stellar outing against Northern Kentucky. In addition, most of the productive arms out of the bullpen, like Will Johnston, Justin Lamkin and Aschenbeck, are southpaws. Jim Schlossnagle is still searching for a reliable right-hander in the bullpen. He pitched righty transfer Jaren Warwick for the first time against Northern Kentucky with good results.
Can highly-touted USC senior transfer Carson Lambert right the ship and fill that void? We don't know going into this weekend series, but the Aggies do need another righty they can rely on in relief.
What's at stake this weekend
Friday starts the gauntlet known as Southeastern Conference play. There is no debate that SEC baseball is the best in the land, and it's not even close.
Going into the first weekend of conference competition, six of the top seven ranked teams in D1 Baseball's Top 25 are SEC teams. The Aggies play No. 1 LSU, No. 2 Tennessee and No. 3 Ole Miss over the next three weekends.
Talk about being thrown into the fire.
And because the rest of the conference is so strong, the Aggies can't dig a deep hole in these first three weeks and expect to quickly rebound and be okay. Realistically, if the Aggies can finish this stretch 4-5, that will keep this team in the fight to live another day. Go 5-4 (or better), and this team is in great shape heading into a more manageable portion of the conference slate.
What does that mean for LSU this weekend? Well, with the series at home in the friendly confines of Olsen Field, the Aggies need to, at a minimum, scratch out one win and move on to Tennessee.
Win the series, and this is a breakthrough weekend. Get swept, and that's a troubling sign with a road series against the No. 2 Volunteers awaiting. At this point, just battle and play good baseball and see what happens as long as the Aggies can avoid the home sweep.
Never miss the latest news from TexAgs!
Join our free email list