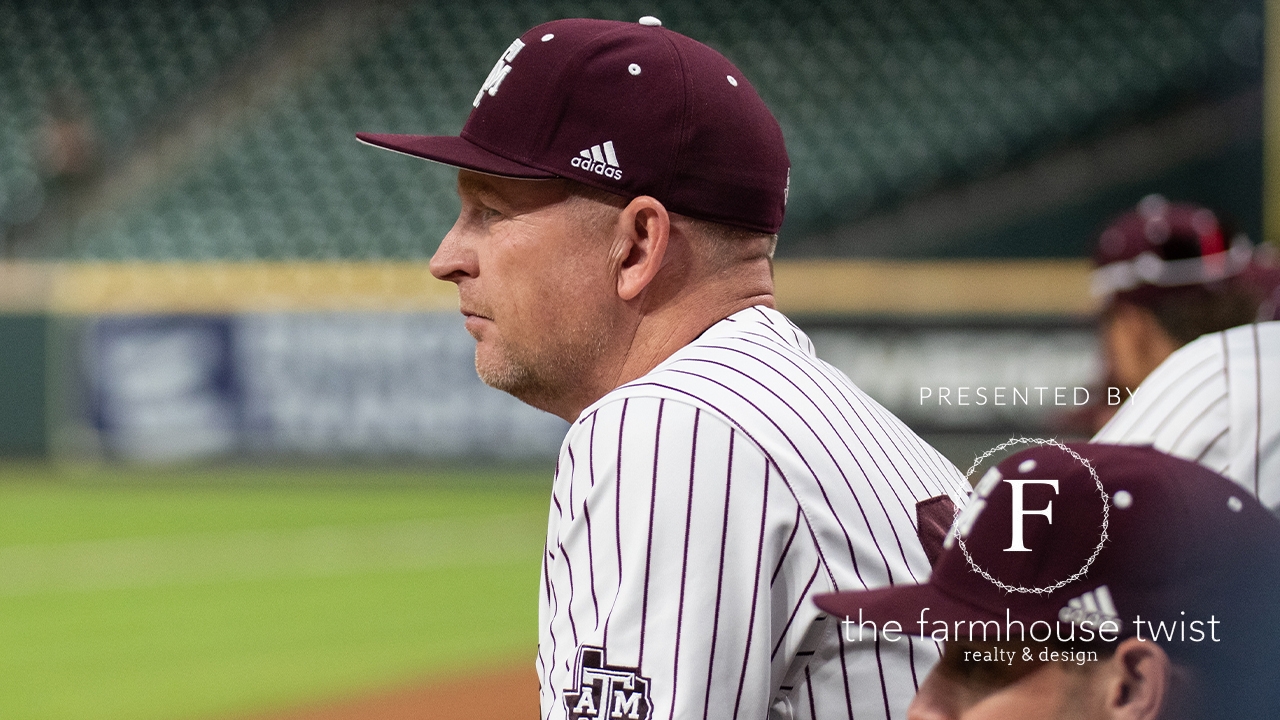 Photo by Jamie Maury, TexAgs
Texas A&M Baseball
Schlossnagle's Ags bring four-game heater into weekend set vs. Norse
---
Fresh off a victory at Rice, Jim Schlossnagle joined TexAgs Radio on Thursday morning to share his thoughts on the Aggies' solid four-game win streak. The A&M head man also provided injury updates as well as a look ahead to this weekend's set with Northern Kentucky.
---

Key notes from Jim Schlossnagle interview
I think our guys had good body language, and the energy was good during the ugly stretch there vs. Lamar and Portland. We got outplayed on those days, and we're still not the offensive team that I think we're capable of being. The season will tell us that. The injuries have affected that some. The main thing that has improved is our starting pitching has been consistent, outside of Nathan Dettmer's rough outing vs. Louisville. Troy Wansing and Chris Cortez have been better each time out. Wyatt Tucker was better the third time out than the first two. Justin Lamkin last night was put in a tough situation. He pitched an inning on Saturday and an inning on Sunday. We asked him to start, and he did a great job. We'll shut him down between now and next week. I think he could be special for us, and I'm excited to see him pitch next week on full rest. In terms of body language and all that, it has been positive. We've just sputtered until the last few games, but that doesn't guarantee anything. We have three more games this weekend, and we have to play good baseball.

Brett Minnich is doing well. He's not swinging yet. He's getting close to doing things like swinging a wiffle ball bat just to get things moving. He stands in every day on bullpens and the high-end pitching machines they have now to try and keep his eyes and body trained to see pitches, velocity and breaking balls so that he can be ready to go, whenever that is. I would anticipate his return by the end of the month. The Ole Miss series could be a dream, but it'll probably be a little bit after that.

I haven't seen Trevor Werner yet today. He got a PRP injection yesterday. I don't think that hamstring is hurt badly. There wasn't a lot on the ultrasound, but you can't come back from those things until they're fully healed, or else they hurt you for the rest of the year. We're hoping he's ready to go next weekend. It's pretty doubtful that he would play this weekend.

Ryan Targac punched out a lot last year. I'm looking at video of Northern Kentucky, and everybody has the same analytical tools. You can see batting averages on certain pitches and swing rates. You can't hide anything these days. Targac is staying on certain pitches more. We don't want him to not be on the fastball. I don't know what this weekend holds, but we all know what lies ahead. Paul Skenes for LSU is going 98-101 mph. You can't be looking for offspeed pitches and hope to hit that. Our hitting philosophy is to swing at strikes, take balls and always, always, always be on time for the fastball. Nobody hits the good breaking balls, but if you're on time for the fastball, you'll be able to hit the bad off-speed pitches. We'd all sign up for the Targac of last year that hit .280-.290 with a ton of RBIs and home runs. We'd live with the strikeouts. I think some of our guys are a little bit caught in between. That has been a focus and will continue to be a focus for us heading into conference play about being on the fastball. We cannot come off of that because most college pitches don't locate their secondary stuff enough to respect it. Austin Bost is doing well. Targac is doing well. Hunter Haas is doing well. Tab Tracy at times. There are guys that are doing nice jobs.

I'd like to play Tracy in center field. If you look through our left-handed hitters, there are guys that need to improve vs. left-handed pitching. We have a lot of left-handed pitchers on our team, so they've been seeing good left-handed pitching since fall practice began. The one other thing we try to emphasize is being match-up proof. Don't be the guy that has to come out of the game because they brought in a certain kind of pitcher. We'll continue to look at it. Sometimes the only way to figure out if they can handle the lefties in games is to leave them in there, like with Jace LaViolette. We're trying to give him opportunities because the only way he's going to get better is through experience. There are some growing pains with that. We also have some right-handed guys on the bench that are options like Stanley Tucker and Jordan Thompson, who put together some nice at-bats last night. Thompson had the first big hit and smoked a ball to right field for an out. The depth of this team through injury or offensive struggles has shown itself. We've been able to keep our heads above water by playing multiple guys.

LaViolette and Kaeden Kent are doing great. I know Kent has a better batting average, but we've asked him to play left field, shortstop, second base in the shift, and now he's playing third. He works his rear end off to get the groundballs and flyballs that he needs. He comes out early. LaViolette is the ultimate team guy. He's just a guy that needs to continue to build confidence. Just because he's big and strong, we still need to remember that he's 18 years old and has the same insecurities and fears that every other young player has. We're working through that. Those young guys are awesome. We're moving forward with them along with Max Kaufer and Kasen Wells.

I'm really excited about what has evolved from a catching standpoint. All three of those guys are doing nice jobs. The level of pitching is going to tick up here pretty shortly, so we'll see how they handle that.

Brandyn Garcia is a huge sign for the Aggies. He pitched in a game that was in question. Young pitchers with that kind of arm that have that kind of stuff aren't usually extreme strike throwers. A lot of times, college hitters at the Division I level are just good enough to foul a lot of pitches off, but they're not good enough to put them in play. There are usually a lot of deep counts. Garcia had a lot of opportunities where he could've folded and walked a guy. There are a lot of 3-2 counts, and they were fouling pitches off. He kept throwing strikes and executing pitches. If we can get him going, that gives us, along with Evan Aschenbeck, Shane Sdao and Will Johnston, four nice left-handed arms out of the bullpen, which would allow us to keep Lamkin in the rotation. I really want to keep Lamkin in the rotation so we can continue to develop him as a starter and have four quality starters. If we're fortunate enough to make the SEC Tournament, you'd have somebody rested and ready for that first game. You can also develop him in somebody goes down or doesn't perform well, you can move him into the weekend.

Kaufer had a rough one against Louisville, and that doesn't mean he's buried. We have guys throwing simulated games today, and Max is going to get some at-bats and catch some today. Over the course of the next four games, I'd like to get him a start if we can. Hank Bard has swung the bat well left-handed. He's catching much, much, much better than he was in the fall. He's a competitive guy from a baseball family. JD Gregson is the most elite defender of the three, and he's starting to put together good at-bats. We'll look at the matchups, and we can make decisions analytically. Kaufer has not been forgotten in any way, and he's right there with LaViolette, Kent, Wells and those young pitchers as to what we want to build this thing around.

I want to see Nathan Dettmer go pitch like a Friday night starter. He needs to pitch on Friday the way that Louisville's Ryan Hawks pitched against us. He knows that. He was that guy last year. That would be the No. 1 thing I want to see. Obviously, I'd like to have Trevor Werner back healthy. Offensively, we have to be on the fastball. Last night, Rice sold out to try and win that ballgame. They started a really good lefty that gave us fits, and they brought in their closer down 4-0 in the sixth inning. He was 93-95. That's the kind of pitching we'll see every day in the SEC. Some guys were on that fastball, and others weren't. We have to be on that to be a good offensive team. Those are the things I'm most looking forward to improving.

Good luck to the Aggies in Nashville. I'm fired up. I can't wait. I guess I can't watch them on Friday because we'll be playing. I'm super fired up for Buzz Williams, and congratulations to him for all of his awards.
Never miss the latest news from TexAgs!
Join our free email list
PRESENTED BY