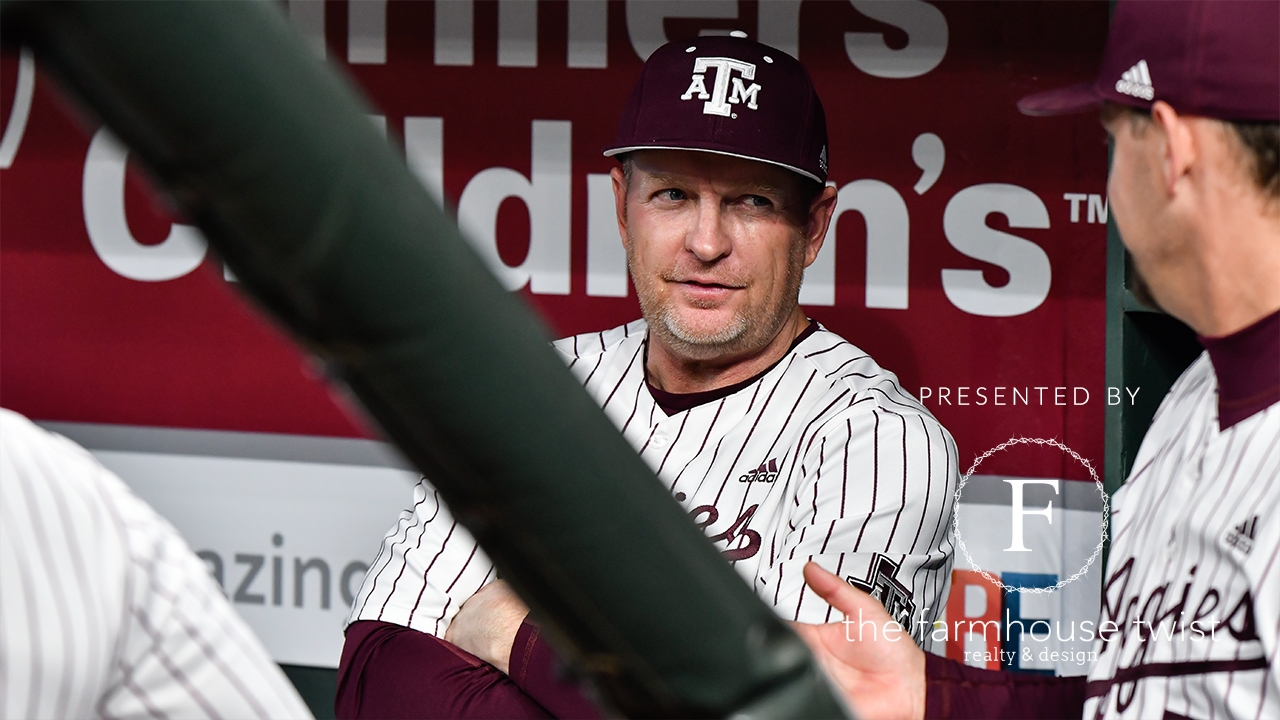 Photo by Jamie Maury, TexAgs
Texas A&M Baseball
Schlossnagle recounts marathon victory over Tech, weekend at Minute Maid
---
After a long night at Minute Maid Park to defeat No. 25 Texas Tech, head coach Jim Schlossnagle gave up some sleep to join TexAgs Radio and analyze the Maroon & White's weekend in Houston.
---

Key notes from Jim Schlossnagle interview
I got a little sleep. We rolled into town at 2:30 a.m. just in time to turn onto Olsen Blvd., and then the train came. It was a long one. But, it was much easier to deal with after winning versus losing that game.

I was a part of the 16-inning Super Regional game at TCU against Texas A&M. I was also involved in the 15-inning game between the Aggies and Horned Frogs at Minute Maid in 2017. The pitching staff made good pitches against an offense that had a ton of runs coming in. I had already decided I was proud of our team with a win or loss.

I believe in our players. They are fantastic kids, and they pull for each other. There is no crazy stuff going on behind the scenes. Other than Friday night, we've gotten pretty good pitching. The bullpen is taking shape. We are seeing who we can trust. We had two or three errors over the weekend. We are still seeing how to deal with Brett Minnich's injury. Trevor Werner was sick Saturday, and he played pretty ill yesterday. I think the offense will come around. Austin Bost and Ryan Targac are coming around. Jack Moss smoked a ton of balls. That's a tough ballpark to hit in. We have a five-game week, so we will need some pitching.

Coach Nolan Cain did a nice job grabbing Evan Aschenbeck. He grew up wanting to be an Aggie. He's a quiet kid but a strike-thrower. He would throw strikes in practice, but we would hit him around a lot. I couldn't cut that guy. What coach does not want a strike-throwing lefty? The problem is someone can show so many things in practice, and then the lights come on. This kid is the opposite. He is playing at a higher rate than he does in practice. We have to manage our way through this week. We have to start thinking of him as a starting pitcher. He can also provide you with a lot of length out of the bullpen.

Troy Wansing was awesome. He needs to do it again and do it in the SEC. He is growing before our eyes. Every start has been better than the last one. Same with Chris Cortez. He got in a lot of three-ball counts and competed great. He had too many pitches early in the game to get him to the sixth or seventh inning. He has earned his right to stay in the starting rotation. Nathan Dettmer needs to step his game up. On Friday night, there is little margin for error, and you have to match the guy on the other side. Nathan is allowed to have a bad day. The offense needs to pick him up. Friday was the worst game we have played in all phases. Saturday and Sunday were good pitching and defensive days.

JD Gregson looked like a real player yesterday. He had emotion and good body language. Max Kaufer isn't not going to be a part of that, but it's hard to roll a 17-year-old out there. I was proud of the overall depth. Tab Tracy and Kaeden Kent had great at-bats in the ninth yesterday. We are trying to find more versatility, and we are starting to see the fruits of that.
Never miss the latest news from TexAgs!
Join our free email list
PRESENTED BY