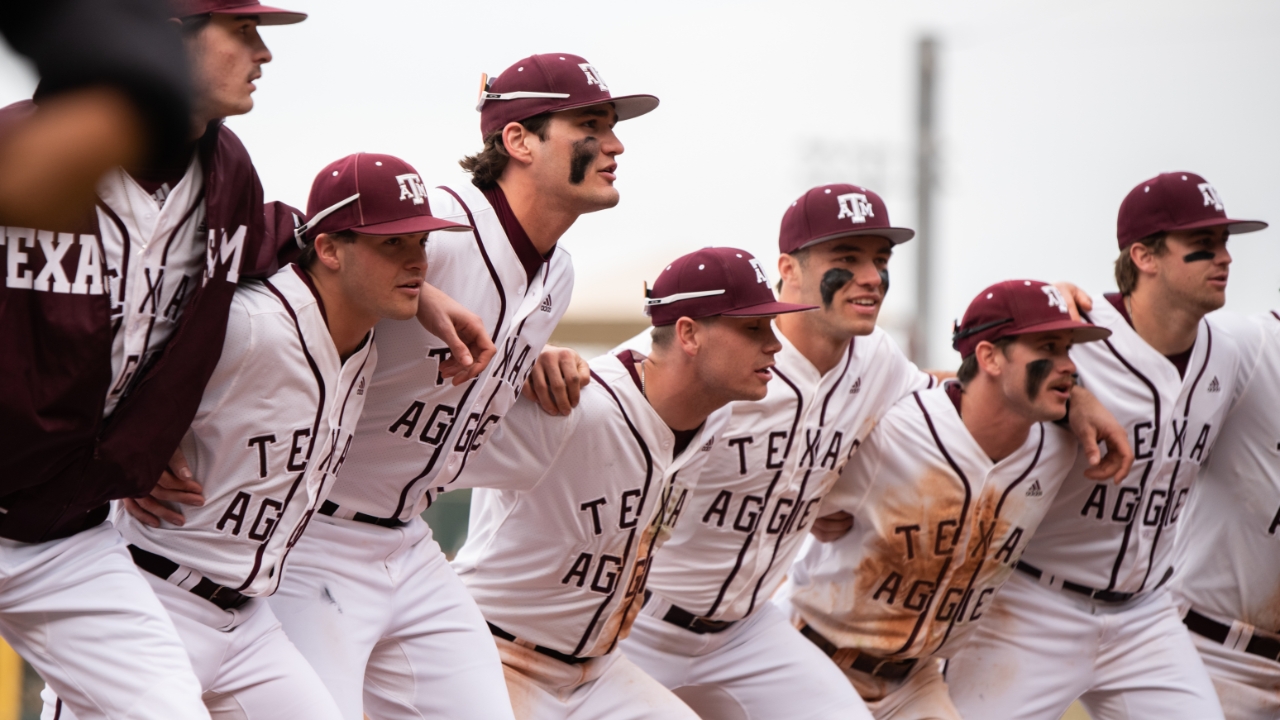 Photo by Jamie Maury, TexAgs
Texas A&M Baseball
Series Preview: No. 5 Texas A&M hosts Portland for weekend series
---
Also included above is a radio segment with Ryan Brauninger, Richard Zane and Scott Clendenin from Friday morning, previewing this weekend's series between No. 5 Texas A&M and Portland
Who: Portland Pilots (3-1, 0-0 WCC)
Where: Olsen Field at Blue Bell Park – Bryan-College Station, Texas
When:
Friday: 6:00 p.m. CT (SEC Network+)
Saturday: 2:00 p.m. CT (SEC Network+)
Sunday: 1:00 p.m. CT (SEC Network+)
Pitching matchups
Friday: Nathan Dettmer (RHP, 0-0, 0.00) vs. Joey Gartrell (RHP, 1-0, 3.60)
Saturday: Troy Wansing (LHP, 0-0, 8.10) vs. Brock Gillis (RHP, 0-0, 9.00)
Sunday: Chris Cortez (RHP, 1-0, 3.60) vs. Nick Brink (RHP, 1-0, 0.00)
Scouting Portland
Frankly, I hesitated to include my usual statistical comparison of Texas A&M's weekend opponent due to the quality of early-season competition and the apparent statistical anomalies of one week of games. Is Portland really an offensive juggernaut with a sky-high team batting average of .395, or is it the fact they opened the season with a four-game set against the Utah Tech Trailblazers? I'll let you decide for yourself. However, the West Coast Conference member did have one of its best seasons in over a decade in 2022, finishing in second place with a 17-10 conference record and 32-23 overall. Veteran head coach Geoff Loomis returns seven All-WCC honorees and 28 veterans to the program in 2023, so there is experienced talent for the Pilots. Putting aside the competition level in the season-opening weekend, the numbers do suggest the Pilots' strength is at the plate, and they struggled with a team ERA of 7.20 and a bloated WHIP of 1.90 against a Utah Tech squad (formerly Dixie State) that recently made the jump to Division I baseball and finished 22-33 in a newly revamped WAC Conference.
Nich Klemp finished his opening weekend batting .765 with two home runs, five RBIs and an OPS of 1.928.
Offensively, catcher Nich Klemp led the Pilots' offensive explosion, and his numbers on paper are quite astonishing. Klemp finished his opening weekend batting .765 with two home runs, five RBIs and an OPS of 1.928. In fact, Klemp currently leads the country in total hits (13), ranks third in batting average and fourth in on-base percentage (.810). Preseason All-WCC selection Jake Holcroft lived up to his early billing with three home runs, 17 total bases and a .895 slugging percentage. Five Pilot starters hit .375 or above. I think you get the message. Portland had its way with Utah Tech pitching, which we can all attest is not in the same area code as Texas A&M pitching. However, the Portland bats do come to College Station with a lot of confidence.
On the mound, the results were a mixed bag against Utah Tech. Sunday starter Nick Brink had a sparkling season debut, throwing three innings of shut-out ball and getting the win, but preseason All-WCC starter Nick Gillis was roughed up, surrendering five runs, seven hits and three walks in four innings of work. Friday starter Joey Gartrell, who's mentioned on D1 Baseball's 2024 draft board, had a solid opener allowing three runs in five innings. Overall, the Pilots' pitching struggled against the Trailblazers last weekend with a team ERA of 7.60 and giving up 11 runs in the series finale.
| | | | | | |
| --- | --- | --- | --- | --- | --- |
| Hitting | Avg. | Runs | Slugging % | On-Base % | Strikeouts |
| Texas A&M | .244 | 32 | .445 | .400 | 21 |
| Portland | .395 | 45 | .667 | .480 | 18 |
| | | | | | | |
| --- | --- | --- | --- | --- | --- | --- |
| Pitching | ERA | WHIP | Walks | Opp. Avg. | Strikeouts | Fielding % |
| Texas A&M | 3.60 | 1.34 | 14 | .244 | 40 | .993 |
| Portland | 7.20 | 1.90 | 22 | .294 | 34 | .952 |

Texas A&M storylines to watch
Surprisingly, with the Aggie basketball team disposing of No. 11 Tennessee across the street at Reed Arena, Tuesday's surprise loss to Lamar did not get much attention from the Aggie faithful. To be honest, there shouldn't be a strong reaction to a midweek February loss. It happens to just about every ranked Power 5 team this time of year when teams are still trying to figure out who's in the lineup and who's out. No. 2 Tennessee lost its first two games of the season to Arizona and Grand Canyon. No. 11 Mississippi State lost a pair of games to VMI and Louisiana-Monroe in week one as well. It happens in February.
With that said, flat performances can't linger through February and into early March. Nathan Dettmer looked strong early not allowing a run on Friday against Seattle, but he lasted less than five innings. The goal is to get him stretched out and into the sixth inning at a minimum. Saturday starter Troy Wansing struggled in his Aggie debut giving up three runs in 3.1 innings of action (8.10 ERA) despite striking out seven batters. Jim Schlossnagle mentioned in yesterday's press conference that pitching coach Nate Yeskie made some adjustments to Wansing's delivery during the week, so we'll see if that does the trick. Chris Cortez got the win in his debut as a weekend starter, and Schlossnagle was very pleased with his effort.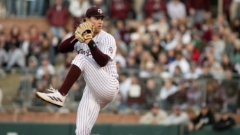 Jamie Maury, TexAgs
Overall, the Aggies pitched lights out over the weekend, but a shaky late-inning outing and a blown save by the bullpen against Lamar does leave some early question marks that need to be answered over the next couple of weeks. Freshmen Justin Lamkin and Shane Sdao had very impressive relief outings over the weekend. Combined, they did not allow an earned run in a combined 6.1 innings of work. Look to see the freshmen duo get more opportunities against Portland along with a bevy of talented arms in the bullpen. Depth is certainly a strong point for the Aggies.
At the plate, some of the returning veterans that will be counted on to anchor the middle of this batting order have struggled so far. It's too early to be worried long-term, but it would be nice to see guys like Ryan Targac (.216), Austin Bost (.133) and Trevor Werner (.125) get on track and back to 2022 levels. The big bright spot, both figuratively and literally, has been the freshman lefty phenom Jace LaViolette, who started his collegiate career with a pair of massive home run bombs, leads the team with a .769 slugging percentage. That first shot over the right-field student section is still rolling somewhere down Wellborn road I suspect. Jack Moss started where he left off last season with a team-leading five RBIs and a .333 batting average, which is also tops on the team to date. But overall, it's been a less-than-spectacular start to the season at the plate. The Aggie bats need to heat up and do some damage against a Portland pitching staff that was inconsistent against Utah Tech.
What's at stake this weekend
It's certainly not time to panic or wring our hands after a 3-1 start and a midweek loss to the Lamar Cardinals. The pitching staff has been pretty good so far, with the exception of one bad five-run inning on Tuesday that led to the 7-4 defeat. The team does need to relax and show that the struggles at the plate last weekend were strictly a case of season-opening jitters and over-aggressiveness. The goal this weekend is to get comfortable and start to build a repeatable batting order that will be dangerous next weekend when the competition level jumps at the Shriners Children's College Classic in Houston. Seattle's pitching staff was salty on Friday and Saturday, but still, the Aggie bats should have done more damage against an over-matched, smaller conference ball club from the Pacific Northwest. Texas A&M will get another crack at a WCC team when the Pilots fly into College Station. It's time for the veteran hitters to make their presence known and start to live up to the hype of a potent offense for the No. 5 nationally ranked team in the country and an SEC title contender.
Never miss the latest news from TexAgs!
Join our free email list