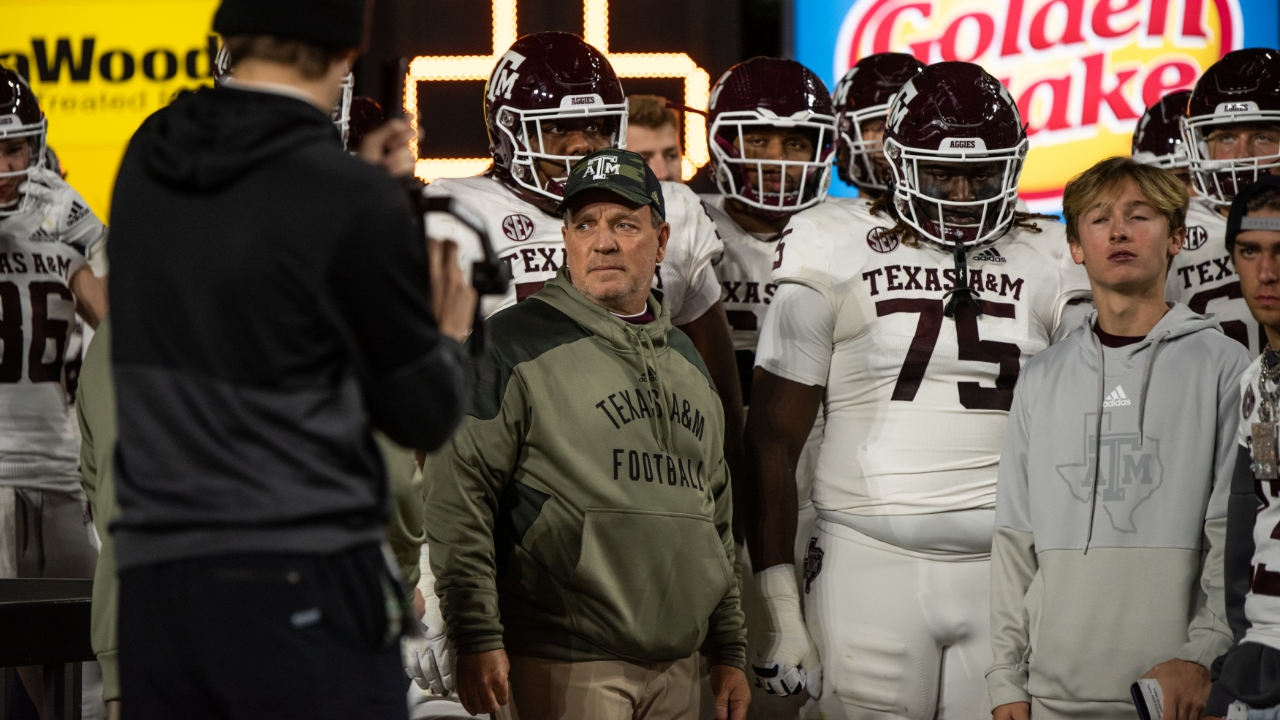 Jimbo Fisher
Jalen Preston
Demani Richardson
Texas A&M Football
Fisher adamant that Texas A&M's football program is not in disarray
---
A six-game losing streak. Four players suspended. A key starter benched. A heralded five-star recruit decommitting.
Those seem like symptoms of a toxic football team culture and a program in disarray.
Texas A&M head coach Jimbo Fisher disagrees.
Although the Aggies have endured seemingly incessant drama on and off the field this season, Fisher remains adamant the program is not unraveling.
"It's not in disarray," Fisher said during his weekly press conference on Monday afternoon. "We've got very good players here. We've got good guys we'll keep coaching. Good young players.
"We're not in disarray in recruiting. We're not in disarray in our team. Our guys are playing their tails off, playing hard. We've got to continue to help them play better. They have a great attitude and demeanor. It looks very good."
Despite Fisher's reassurance, much of the Aggie populace is concerned about the Texas A&M football program and its long-term outlook.
The Aggies' 13-10 loss to Auburn last Saturday was their sixth consecutive defeat. A&M previously hasn't suffered six straight losses since 1972.
"We're not in disarray in recruiting. We're not in disarray in our team. Our guys are playing their tails off, playing hard. We've got to continue to help them play better. They have a great attitude and demeanor. It looks very good."
That skid looks to have had a negative impact on recruiting.
Last week, Anthony Hill‍ — the No. 1 rated linebacker prospect in the country — announced he had rescinded his commitment to A&M.
Early signing day is a month away. A&M's 2023 recruiting class is ranked No. 23 nationally, but there are concerns that some of the Aggies' remaining 11 commitments might also reconsider.
However, Fisher apparently isn't panicking.
"We're in good shape in recruiting and what we're doing," he said. "There are other ways in recruiting, like signing a full class. There's other ways with (transfer) portals and different things to address things now."
The transfer portal can be an effective tool in constructing a team. Arkansas last season and Tennessee and TCU this year are examples of programs that made dramatic improvements through the transfer portal.
A&M has gotten only minimal activity with the transfer portal. The Aggies bought in tackle Jahmir Johnson last season. This year, they brought in quarterback Max Johnson.
Also, Fisher complained that other teams are violating rules to get transfers, which would increase the difficulty of filling voids via the portal.
"If they stay in the portal awhile, you can recruit guys," Fisher said. "If they're in the portal for one day, how do you get to recruit them? And how do you know they're going in? To know that, you'd have to be doing what? … Tampering.
"We're not going to do that, and we ain't ever going to do that."
Fisher appears to have other even more immediate issues to address.
Coaches always speak of the importance of a championship culture. Yet, there are questions surfacing about the current culture at A&M.
In September, freshman receivers Evan Stewart and Chris Marshall and freshman defensive backs Smoke Bouie and Denver Harris were suspended for a game against Miami for violating team rules.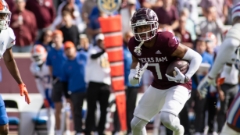 Jamie Maury, TexAgs
Last month, Harris, Marshall and freshman offensive lineman PJ Williams were suspended for another violation of team rules after a loss to South Carolina.
Then, last Saturday, starting sophomore receiver Moose Muhammad was benched after the opening kickoff.
Muhammad announced via Twitter he had been benched for wearing sleeves under his jersey. Apparently, receivers were instructed not to wear sleeves.
Fisher would not comment on the incident Saturday night, only saying it was an "internal issue."
He repeated that at the press conference.
"That was an internal issue, which was handled," he said. "We've adjusted, all talked and are moving on."
Still, players violating team rules and ignoring coaches' instructions raise questions about the culture within the program.
"There is a standard. When the standard is not what we do, we address it and move on." Fisher said. "We're always going to address it. We're going to keep the way we're going to do things and get back to where it needs to be."
---
Notes
• Fisher would not reveal the status of several injured players, including tight end Max Wright and running back Devone Achane, for the upcoming game against Massachusetts. He just said all players are "day to day." However, Fisher did say Achane would play again this season.
• The season-ending game against LSU on Nov. 26 will kick off at 6 p.m. at Kyle Field.
Never miss the latest news from TexAgs!
Join our free email list
PRESENTED BY