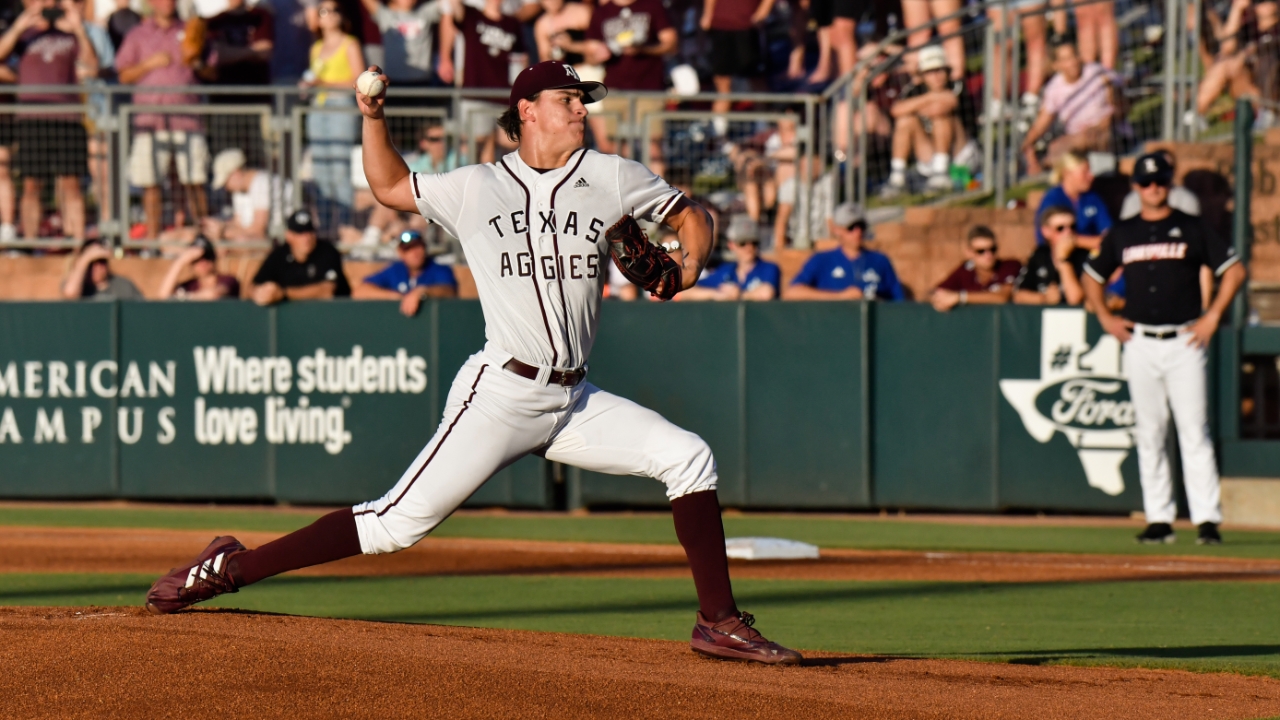 Photo by Jamie Maury, TexAgs
Texas A&M Baseball
Fall Practice Update, Part 2: Expect increased pitching depth in 2023
---
The offensive side of the Aggie baseball team will be littered with many familiar faces this coming season. With so many hitters returning, it makes sense that the majority of the roster turnover from last year's Men's College World Series team comes from the pitching staff.
Gone are Micah Dallas, Jacob Palisch and Joseph Menefee — three key components to A&M's SEC West crown and Omaha run. In are a bunch of new guys.
That's not totally true.
This team is still going to rely heavily on the arms of returners like Nathan Dettmer, Chris Cortez, Will Johnston and Brad Rudis, but the coaching staff set out this offseason to greatly increase the depth on the mound and did just that.
Before we get into specifics, much like I mentioned yesterday with the hitters, this group of pitchers is going to look much different from a physical standpoint. If my counting is correct, they're going to dress out 10+ guys that are 6-foot-3 or taller. Lots of big dudes.
Let's take a look at the leading names for Nate Yeskie so far this fall, broken down by throwing hand.
Right-Handed Pitchers
• Nathan Dettmer: The veteran starter has ridden the momentum he built off of his start against Notre Dame in Omaha into a fantastic run of bullpens and scrimmages this fall. Program insiders, MLB scouts and even current players have raved about Dettmer's progression in the last few months. I was told he has been up to 99 mph with the fastball, and he's even kept that nasty arm-side run with the jump in velocity. He has also added a slider to his arsenal, which should compliment that sinker to now give him offerings that dart to both sides of the plate.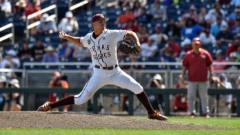 Jamie Maury, TexAgs
• Chris Cortez: If there's anyone that's been talked about more than Dettmer on the pitching side this fall, it's the flame-throwing sophomore from Las Vegas. While he has maintained that 98-100 mph fastball, Cortez has made huge jumps in command and has really honed in on developing the slider with Yeskie. "Devastating" was the way it was described to me by one team source last week. I think the safe bet for the Friday night job would be Dettmer, but Cortez is coming on fast and would firmly find himself entrenched as a weekend starter if the season started tomorrow. He has been fantastic.
• Brad Rudis: We all know the value Jim Schlossnagle and Yeskie place on strike throwers, which is exactly why the Madisonville native found himself in big spots during the 2022 campaign. Rudis has been a strike-thrower his entire life, and that's not going to change. The experience he gained last year should be extremely valuable going into next spring. He looks like he'll be one of the more relied-upon bullpen arms once again. The change-up has been a ground ball machine.
• Carson Lambert: A transfer from USC, Lambert has had some people in the know comparing him to Jacob Palisch this fall in terms of his presence and ability to pitch in a multitude of roles. He's another strike-thrower who fills up the zone with a three-pitch mix. He pitches with a ton of savvy and has an advanced feel/understanding of how to get hitters out — a valuable quality for any pitching staff as they're breaking in a new catcher.
• Josh Stewart: Another transfer pitcher who has made waves this fall with his strike-throwing capabilities, Stewart's stock really began taking off in the Cape Cod League last summer, where he dazzled for the Falmouth Commodores. While he did break a finger a few weeks ago, I still expect him to challenge for a weekend starter role for the remainder of the fall and into the spring. At the very least, it's safe to say he has thrown himself into the group of guys you can expect to see on the mound in high-leverage situations — either starting or out of the pen.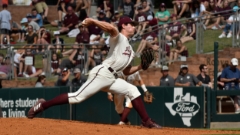 Jamie Maury, TexAgs
• Robert Hogan: There were some ups and downs, but we certainly saw flashes of Hogan last season. The stuff isn't the issue. His slider might be up there with Dettmer's sinker as the filthiest pitch on the team, just based on the numbers and analytics. His biggest issue will be continuing to trust his stuff so that he can slow the game down mentally. He just became a full-time pitcher last year, so he's still relatively green to the position. If the staff can get him settled in, he can certainly help this team on the back end of games. Again, the slider is a wipeout.
• Ty Sexton: The 6-foot-7 redshirt freshman from Montgomery Lake Creek was making a little noise around this time last year before he was forced to undergo surgery for an injury to his non-throwing shoulder. He's back to full health and has added the necessary weight to his extraordinarily long frame. He also throws from such a high release point that he's almost an outlier to hitters. You just don't see the ball coming from that kind of height very often throughout the season. Watch for Sexton to battle for a midweek/spot starting role if he continues to develop under the tutelage of Yeskie.
• Lucas Davenport: The name I've heard talked about the most in terms of true freshmen arms so far this fall has unquestionably been Davenport. The Prosper native has had veteran hitters like Austin Bost and Brett Minnich singing his praises so far this fall. The fastball will run in the 92-94 mph range, but he's got a little bit of an unorthodox, three-quarters arm slot that makes the velocity play much greater than it actually is. If he can throw it over the plate enough, he could turn into a key matchup guy out of the bullpen early in his career with an upward trajectory to enter the rotation as he matures.
A few more right-handers to watch that are coming off of injury and that will be highly monitored by the staff as they integrate back into the fold:
• Wyatt Tucker: He earned a couple of starts last season and looked good in his relief appearance in Omaha. He's getting close to being full-go and should carve out a role if he continues to progress.
• Max Debiec: One of the top pitching prospects in America coming out of high school, Max has battled the injury bug since getting to college. A transfer from Washington, the staff would love to see what a fully healthy version of the 6-8 righty looks like before the spring starts.
• Jaren Warwick: He's returning from an arm injury but nearing 100 percent in his recovery. He had a big arm prior to getting hurt.
Left-Handed Pitchers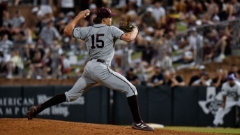 Jamie Maury, TexAgs
• Will Johnston: Last year's de-facto closer at times, Johnston has stepped into a leadership role amongst the pitching staff (and team). A fiery competitor, he has continued to build on last season's success and could move into a starting role this coming year, if necessary. I'd say the odds are greater that he sticks in the bullpen, though, as he likely remains one of Schlossnagle's first calls in high-leverage spots. His pitchability with the breaking ball means he's effective against both righties and lefties.
• Brandyn Garcia: When the Aggies took Garcia out of Quinnipiac via the transfer portal, I had a pro guy tell me that he was the perfect piece of clay for Yeskie. The body, the velocity and the stuff were all there, but he needed to get with the proper pitching coach to refine it all. Based on what I've been told, he's going in the right direction. The coaching staff and team are really excited about his trajectory. He has got to keep moving forward, but it's been nothing but promising returns since he arrived in Aggieland.
• Matt Dillard: The former Sam Houston State Bearkat didn't come in with the accolades of some of the other transfers, but that hasn't mattered at all when it comes to performance this fall. A natural strike thrower with tons of experience, Dillard has given some longtime program followers Matt Kent vibes with his ability to attack hitters with a variety of competitive options. Coaches love lefties that just get guys out, and that's what Dillard has done this fall.
• Troy Wansing: An All-Big Ten Freshman Team selection last season at Purdue, Wansing is starting to come on in recent weeks. Team sources told me his bullpens have been really strong since arriving in August, but he had a rough outing or two against some of the Aggies' top bats. Still, he has drawn praise from the staff in terms of his stuff and will likely get plenty of chances to show he belongs as one of the mainstay lefties on the team.
• Justin Lamkin: The youngster from Corpus Christi Calallen might be the off to the best start of any of the freshmen pitchers. A south Texas source called Lamkin "a bulldog of a competitor" last week. He has been heavily relied upon to pitch in big games for much of his competitive baseball life. His fearlessness combined with advanced stuff (highlighted by a cutter that eats up right-handed hitters) has led to an impressive beginning to his Aggie career.
• Shane Sdao: Another product of Montgomery Lake Creek, Sdao (pronounced S-day-oh) has always been a high-upside left-hander. He has added some good weight since stepping on campus, and that added strength has manifested itself in improved pitchability. This kid has a chance to be a weekend starter in the future and was heavily scouted by plenty of Major League clubs in the final 6-8 months of his high school career because of his intriguing frame, the deception in his motion and his upside. He's starting to settle in and has been tough to handle for A&M's left-handed hitters.
Never miss the latest news from TexAgs!
Join our free email list