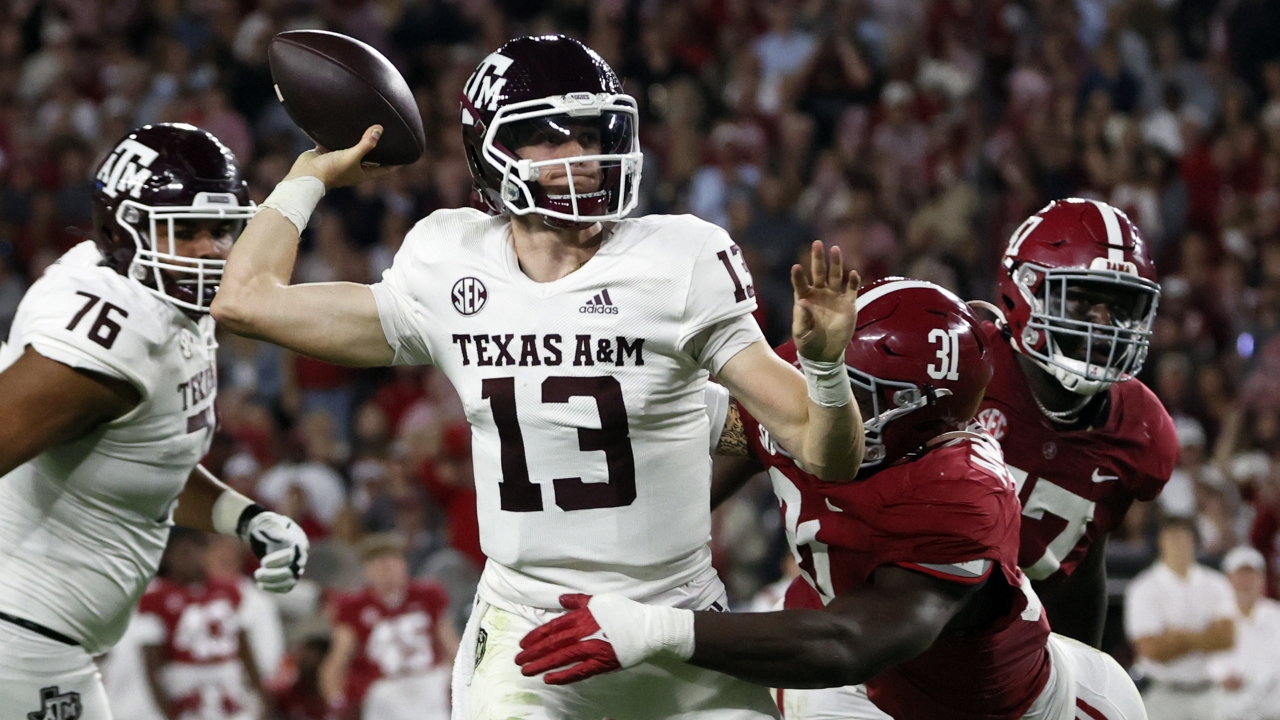 Photo by Butch Dill-USA TODAY Sports
Texas A&M Football
Post Game Review: No.1 Alabama 24, Texas A&M 20
---
Heartbreaker.
Under the lights of Bryant-Denny Stadium, Texas A&M almost pulled off the upset over No.1 Alabama, but this time, a field goal could not save the Aggies. The highly-anticipated clash of former colleagues Nick Saban and Jimbo Fisher proved to be another tough battle on both fronts, but the Crimson Tide survived, 24-20.
To start the battle, quarterback Haynes King took the field after Max Johnson suffered a hand injury last weekend against Mississippi State. King used his legs to gain 15-yards, but two incomplete passes prevented the Aggies from capitalizing early. Backup Alabama quarterback Jalen Milroe started in place of Bryce Young, and a 25-yard Jahmyr Gibbs run helped the Tide propel across the field. However, Chris Russell Jr. stepped up with the seventh sack of the season to force a punt.
Devon Achane grabbed a handful of carries before Alabama's defense turned up the heat and stalled the ensuing drive. Back with the ball, Milroe scrambled for a pair of 14-yard gains. However, a tackle-for-loss courtesy of Edgerrin Cooper helped hold Alabama's offensive efforts.
Then, Moose Muhammad grabbed a pair of catches, but two incomplete catches forced A&M's third punt of the day.
With D.J. Durkin implementing a four-man front, A&M's defense made Alabama's Gibbs feel the pressure. Forcing a quick three-and-out, Antonio Johnson stopped the rusher for just a 1-yard gain, and Anthony Lucus added to the fire with a 7-yard tackle-for-loss.
On A&M's last drive of the first, Achane moved the chains, but on a crucial third down, King was sacked by Chris Braswell. The seventh total punt of the game ended the quarter.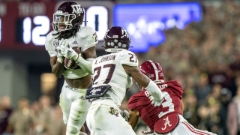 Marvin Gentry-USA TODAY Sports
The Aggies could not keep Milroe in the pocket as he escaped to gain two first downs, planting the Crimson Tide on the 10-yard-line. Alabama converted its first third down of the game on a touchdown pass to Cameron Latu, 7-0.
With A&M looking for a spark on offense, Alabama's defense brought out the extinguisher. Pressure from Alabama's front seven attacked King, and the A&M's offense walked back to the sideline after three downs.
However, A&M's defense gifted the ball right back to King.
Fadil Diggs forced a fumble, and Edgerrin Cooper jumped on it, putting the Aggies on the Tide's 30-yard-line. King hit Chris Marshall twice, and Muhammad finished the drive with a 5-yard touchdown catch to forge a tie.
Alabama wasted no time responding. Gibbs rushed 35-yards down the field before Milroe threw a dart to Jermaine Burton in the end zone, putting the Tide on top, 14-7.
The Maroon & White's offense lacked an answer at first as the line struggled to protect King, throwing two incomplete passes before being sacked. Back on defense, Fadil Diggs brought the pressure on Milroe and forced a second fumble, picked up by Jaylon Jones.
In enemy territory, King threw a 43-yard rocket to Evan Stewart, which was followed by a cross-body pass to Donovan Green for a touchdown, 14-14.
After Diggs made another play with a tackle-for-loss, Jardin Gilbert made his presence felt. Gilbert leaped to intercept Milroe's pass — Alabama's third turnover in the first half. However, King threw a pick to hand the ball back to Alabama, and the Crimson Tide capitalized by kicking a field goal and taking the lead before the half.
After the break, Alabama cranked out a 75-yard drive in just four explosive plays. A breakout run by Gibbs sparked the march, which ended in a 29-yard touchdown pass to Ja'Corey Brooks. The Aggies then went three-and-out.
With a collection of Gibbs runs, Alabama propelled across the field. After driving 47 yards, Walter Nolen stopped the drive by forcing a fumble — turnover No. 4 for Alabama.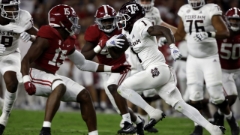 Butch Dill-USA TODAY Sports
A 36-yard Muhammad catch helped put Randy Bond in position to kick a 41-yard field goal to make it a one-score game late in the third. Alabama compiled an 11-play drive to get inside A&M's red zone. On third-and-2, Jarred Kerr came up big with his first career sack to push the field goal attempt back, which kicker Will Reichard hooked left.
Chase Lane kickstarted Aggie's first drive of the fourth quarter with a 25-yard catch, but the drive stalled out after the Tide's defense intensified. Milroe & Co. went three-and-out to follow, but an Aggie substitution infraction granted the Tide a first down. Three plays later, A&M gave the Tide more free yardage with roughing the passer penalty. On the 17-yard-line, Reichard once again missed a field goal, giving the Aggies another chance at survival.
Another trusty Marshall grab began the next drive, and Achane secured another first down with a 30-yard run. On a crucial fourth down, Green snagged a five-yard catch to move the chains and as the Aggies inched closer to the end zone. However, the Aggies wasted the sets of downs, and a pair of false starts pushed the Aggies back 10-yards. Bond nailed a field goal to bring the Aggies within four.
A&M's defense delivered once again. A trio of big-time tackles from A&M defenders halted the Tide, and with just under two minutes to go, the Aggie offense took the field on their own 29-yard-line.
Two short gains from Stewart set the Achane up for a first down. Stewart snagged a monster catch through two defenders, showing off his five-star skills. King threw away two passes before finding Muhammad to move the chains again. As nerves intensified, the signal-caller took a shot at the end zone, and the ball went into the hands of Alabama's Jordan Battle, but a pass interference call gave the Aggies one more chance.
With three seconds remaining, King threw one final pass to Stewart in an attempt to upset the Tide, which resulted in an incomplete pass as Saban's undefeated Tide lived to see another day.
RUMBLED: Texas A&M's defense. Fadil Diggs forced both fumbles that put A&M's offense in field position to score its first two touchdowns. Jardin Gilbert also came up big, finishing the night with nine tackles and one interception. D.J. Durkin also did not heavily rely on the three-man front to take on the top-ranked Tide, which proved the be efficient, totaling four sacks — the most by A&M in a game this season.
STUMBLED: Alabama's ball security. Alabama's offensive playmakers could not hang on to the ball, totaling four turnovers.
Despite Alabama leading the entirety of the game, this one came down to the wire. A&M's final drive displayed what felt like a comeback moment. That heart-aching hope Aggie fans felt was batted away on the final play of the game.
TURNING POINT: Despite Alabama leading the entirety of the game, this one came down to the wire. A&M's final drive displayed what felt like a comeback moment. That heart-aching hope Aggie fans felt was batted away on the final play of the game.
UNSUNG HERO: Kam Dewberry was moving bodies the entire game. With starting left guard Trey Zuhn sidelined due to injury, the true freshman stepped up and helped out the offensive front. Facing experienced defensive linemen on the No. 1 team in the country as an 18-year-old is no easy task.
KEY STAT: The Tide's turnovers. Alabama's four turnovers were the most the Tide has had since their five in their 2015 loss to Ole Miss.
Scoring Summary
Second-quarter
ALA: 11:39 - Jalen Milroe 10-yard touchdown pass to Cameron Latu. Drive: 8 plays, 71 yards. TOP: 3:34. Alabama 7, Texas A&M 0
A&M: 6:33 - Haynes King 5-yard touchdown pass to Moose Muhammad. Drive: 6 plays, 30 yards. TOP: 2:35. Alabama 7, Texas A&M 7
ALA: 5:39 - Jalen Milroe 35-yard touchdown pass to Jermaine Burton. Drive: 3 plays, 75 yards. TOP: 1:00. Alabama 14, Texas A&M 7
A&M: 2:12 - Haynes King 3-yard touchdown pass to Donovan Green. Drive: 4 plays, 49 yards. TOP: 1:21. Alabama 14, Texas A&M 14
ALA: 0:12 - Will Reichard 10-yard field goal. Drive: 4 plays, -4 yards. TOP: 0:26. Alabama 17, Texas A&M 14
Third-quarter
ALA: 13:03 - Jalen Milroe 29-yard touchdown pass to Ja'Corey Brooks. Drive: 4 plays, 75 yards. TOP: 1:57. Alabama 24, Texas A&M 14
A&M: 5:19 - Randy Bond 41-yard field goal. Drive: 5 plays, 39 yards. TOP: 1:59. Alabama 24, Texas A&M 17
Fourth-quarter
A&M: 3:32 - Randy Bond 46-yard field goal. Drive: 11 plays, 53 yards. TOP: 5:43. Alabama 24, Texas A&M 20
Never miss the latest news from TexAgs!
Join our free email list