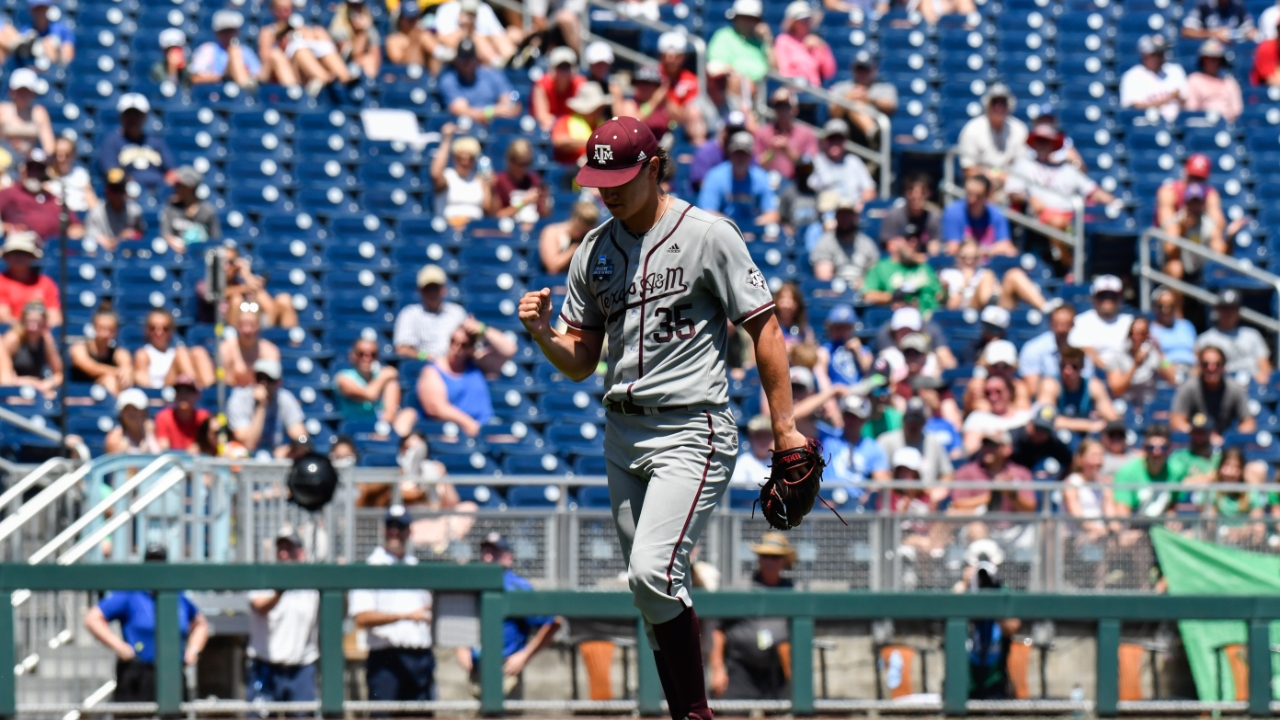 Texas A&M Baseball
'Dirty' Dettmer dominates Domers as Aggies stay alive in Omaha, 5-1
---
Game #63: #5 Texas A&M 5, Notre Dame 1
Records: Texas A&M (44-19, 19-11), Notre Dame (41-17, 16-11)
WP: Nathan Dettmer (6-3)
LP: Liam Simon (2-1)
S: Joseph Menefee (2)
Box Score
---
OMAHA, Neb. — As college baseball fans reveled outside in the bars on nearby streets on Friday evening, a despondent pitcher sat alone in his hotel room pondering his self-worth.
Earlier that day, Texas A&M sophomore Nathan Dettmer gave up seven runs in just 1.2 innings of a 13-8 loss to Oklahoma.
The burden of feeling like he let his team quite literally brought the 6-foot-4, 215-pound young man to his knees.
"When I came out after that game, I just felt so little," Dettmer said on Tuesday. "I felt like I let everyone down. I'm not going to lie to you … I went into my hotel room and I cried. I didn't know what to do. I felt lost.
"(Schlossnagle) told me (on Monday) that I was going today. And I was, like, let's do it, let's go. I want it. Just to kind redeem myself and to know that he trusted me with the ball … it was amazing."
"But I have a good friend, (teammate) Micah Dallas. He texted me that one game doesn't define me as a person. Baseball doesn't really define me as a person. All my worth is through God. And I just prayed to Him that night. And He just told me that's not my story."
Not by a long shot. Dettmer's story has a stunning twist and happy ending.
On Redemption Tuesday, Dettmer quite literally rose from his knees and brought Notre Dame to theirs.
He pitched seven spectacular scoreless innings to propel the Aggies (44-19) to a 5-1 victory in a Men's College World Series elimination game.
Dettmer's performance will live long in Aggie baseball lore. Indeed, he may attain legendary status, especially if A&M continues to defy odds and wins the Men's College World Series.
A&M advances to a rematch with Oklahoma on Wednesday at 1 p.m.
"Obviously, Nathan was just outstanding in every sense of the word," A&M coach Jim Schlossnagle said in a postgame press conference. "Coming back on short rest, which is exactly what we needed."
Dettmer needed it even more.
Only the Aggies among the crowd of 23,618 at Charles Schwab Stadium are likely aware of Dettmer's travails this season.
In April, he appeared to be emerging as a bona fide ace of the pitching staff. But in May, he developed a painful blister on his right foot that interrupted his progress.
Dettmer failed to pitch through five innings in each of his next seven starts. During that span, his ERA was 10.95 in those seven starts.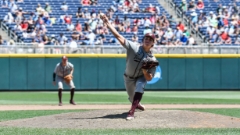 Jamie Maury, TexAgs
He appeared to be in free fall against Oklahoma. Apparently, he landed on a trampoline. He bounced back in a big way.
With his sinker ball dancing like a ballerina, Dettmer did not allow Notre Dame (41-17) a base hit until one was out in the fourth inning. He promptly retired the next two hitters.
He allowed just three hits. He struck out six. He did not walk a batter. He did not allow a runner past second base.
"I would look up at the big screen and see guys completely swing over the sinker," A&M third baseman Trevor Werner said. "It was starting in the right spot and finishing in the right spot. They obviously didn't have fun with it.
"It's fun to play behind that because you know you're going to get a lot of rollovers like me and Kole (Kaler) did today. And we know when he's on, we're going to get a lot of plays. The whole team's feeling good when Dettmer's going."
The Aggies were feeling even better after the third inning. They capitalized on a two-run error and a Ryan Targac sacrifice fly to score three times.
In the fifth, Werner blasted a leadoff home run off Notre Dame star reliever Jack Findlay. Jack Moss then doubled and scored on a Dylan Rock single.
That 5-0 lead was more than enough. Still, the Aggies' victory did not come without some stress and tension.
Notre Dame nine-hitter Brooks Coetzee homered off reliever Brad Rudis to start the eighth. The next two hitters reached via hit-by-pitch and a walk.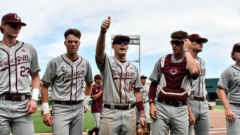 Jamie Maury, TexAgs
That prompted Schlossnagle to call on reliever Joseph Menefee. He subsequently got a strikeout and induced a double play. Menefee walked the lead-off batter in the ninth, but picked him off at first with a diving tag in a run down.
Menefee got through the rest of the inning unscathed to set up the rematch with Oklahoma.
However, the victory likely will be remembered most for Dettmer's day of redemption
"(Schlossnagle) told me (on Monday) that I was going today," Dettmer said. "And I was, like, 'Let's do it, let's go. I want it.'
"Just to kind redeem myself and to know that he trusted me with the ball … it was amazing."
Never miss the latest news from TexAgs!
Join our free email list