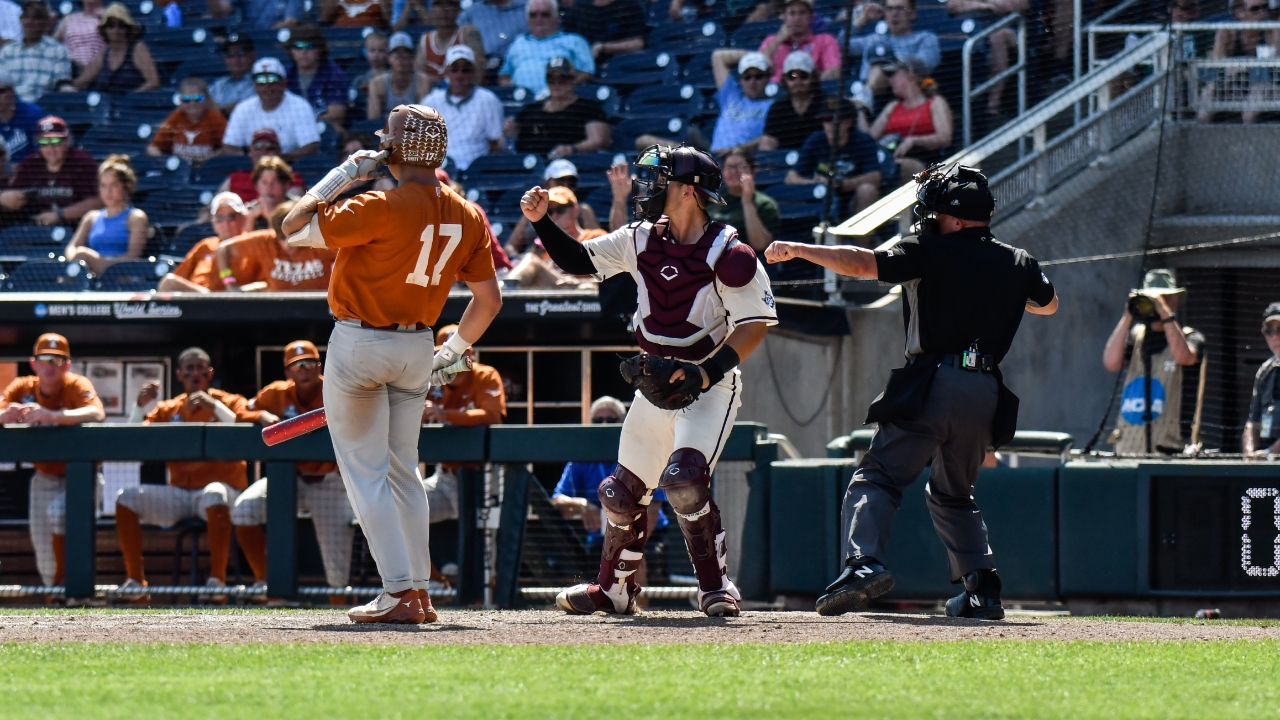 Texas A&M Baseball
Sawed Off: Aggies send Texas packing with an Omaha blowout, 10-2
---
Game #62: #5 Texas A&M 10, #9 Texas 2
Records: Texas A&M (43-19, 19-11), Texas (47-22, 14-10)
WP: Micah Dallas (7-3)
LP: Lucas Gordon (7-2)
Box Score
---
OMAHA, Neb. — In a marathon second-inning at-bat, Texas A&M's Trevor Werner seemed determined to foul off pitches until the cows came home.
Then he literally started the process of sending the cows home.
Werner hit the 11th pitch of the at-bat for a two-run single to highlight a four-run rally that propelled #5 A&M (43-19) to a 10-2 victory over the #9 Texas Longhorns (47-22) in a Men's College World Series elimination game on Sunday afternoon.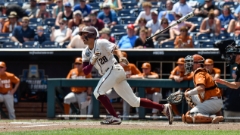 Jamie Maury, TexAgs
A&M advances to play either Notre Dame or Oklahoma on Tuesday.
Werner's hit staked A&M to a 4-2 lead and dramatically altered the game's trajectory. They steadily added to the margin while pitchers Micah Dallas, Jacob Palisch and Brad Rudis handcuffed the high-scoring and home-going Longhorns over the final seven frames.
In the Aggies' march to Omaha, they've routinely worn down opponents in long, time-consuming duels of attrition. Werner's at-bat embodied the Aggies' entire season.
With two out and the score tied 2-2, Werner stepped in against Texas starter Lucas Gordon (7-2) — the first of six Longhorns pitchers.
Werner fouled off the first four pitches. He took a ball and then fouled off two more. Gordon missed the strike zone on his next two pitches to bring the count full. Werner fouled off another pitch.
Then, with the predominantly maroon and orange-clad crowd of 24,056 at Charles Schwab Field raising decibel levels, Werner smashed the 11th pitch from Gordon into left field.
Brett Minnich and Jordan Thompson came around to score and gave the Aggies a lead they never surrendered.
"We knew Werner, throughout the fall and going into the season, if he was healthy, he does a really good job knowing the difference between a ball and a strike," first-year A&M coach Jim Schlossnagle said. "Now, he swung at a ball four several times in that at-bat, but normally, he doesn't swing and miss much."
Texas was left lamenting the inability to finish Werner's at-bat sooner.
"They've got a good offense, no doubt," Texas head coach David Pierce said. "Early in the game, I didn't think we made pitches. They fouled off some bad pitches. Not to discredit their efforts and discredit their fight at home plate, but we had opportunities to put guys away, and we didn't."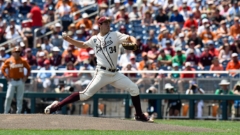 Jamie Maury, TexAgs
The Aggies were opportunistic the rest of the way and seemed to capitalize on every chance to score.
They got a run on a three-base fielding error in the third. Jack Moss delivered a two-out single to plate Thompson in the fourth.
In the fifth, Thompson drew a bases-loaded walk. Another run scored on a double play. Ryan Targac scored on a double steal in the seventh. Austin Bost delivered a run-scoring double in the eighth.
It was doubles and bubbles for the Aggies offense. It was trouble and rubble for the Longhorns.
Texas ranked fourth in the nation in home runs and seventh in runs but managed only four hits — all singles — from the third to ninth innings.
Dallas (7-3) allowed six hits and only one earned run in five strong innings of work.
"After the first inning, I knew I had my stuff. I knew that it was going to be effective," Dallas said. "And it was really all about sticking to our game plan and not getting too ahead of myself and just sticking to our training like we say."
Dallas appeared to tire in the sixth inning with A&M holding a 6-2 lead.
Texas catcher Silas Ardoin led off with a single, and Dylan Campbell reached on a bunt single.
Schlossnagle promptly called on Jacob Palisch, who turned in arguably the best relief showing in college baseball this season.
The transfer from Stanford struck out the first two batters he faced but issued a walk to load the bases for Texas slugger Ivan Melendez.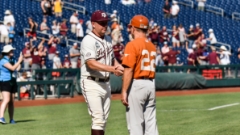 Jamie Maury, TexAgs
Known as the "Titanic Hispanic," Melendez led the nation in home runs and RBIs en route to being the favorite for the prestigious Golden Spikes Award.
Palisch didn't flinch. He struck out Melendez to end the only real threat the Longhorns generated.
"(Bringing in) Palisch, that was a super easy decision," Schlossnagle said. "The game's in question. Our season's in doubt. And you got to go to him right there."
Dallas heaped praise upon Palisch for his performance.
"It's exactly what we needed and more, honestly," Dallas said. "That inning could change around the whole game. I think it was bases loaded with one of the best hitters in the country up to bat. And for him to attack them, fastball, fastball, showing no fear at all, it's inspiring to our staff."
Palisch struck out five and allowed just one hit before giving way to Rudis with two out in the eighth. Rudis retired all four batters to send the Aggies to the next round.
And send the Longhorns home.
Never miss the latest news from TexAgs!
Join our free email list