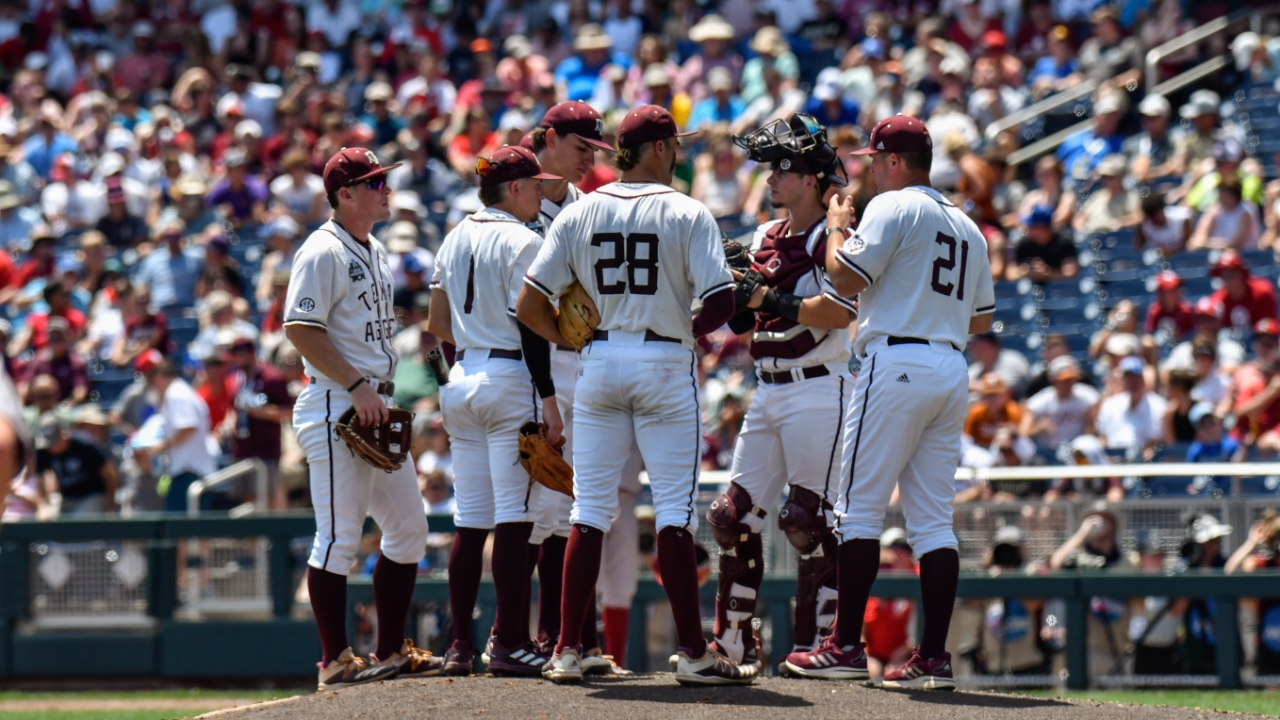 Jim Schlossnagle
Jacob Palisch
Texas A&M Baseball
Texas Death Match: Aggies set to battle Horns in MCWS elimination game
---
OMAHA, Neb. — In the maroon corner is the Texas A&M Aggies (42-19).
In the orange corner are the Texas Longhorns (47-21).
Their 1 p.m. CT clash on Sunday at Charles Schwab Field in the Men's College World Series is like a good old fashion rasslin' Texas Death Match in which the loser leaves town.
Except, the identity of an opponent isn't really an issue in an MCWS elimination game. Not even for long-time archrivals who previously have played 378 times.
"Obviously, there is a lot of history between us," Texas A&M relief pitcher Jacob Palisch said on Saturday. "But we've been preaching all year that we play a nameless, faceless opponent. It's really just us going out there and playing the game.
"Obviously, there is a lot of history between us. But we've been preaching all year that we play a nameless, faceless opponent. It's really just us going out there and playing the game.
"Obviously, on a stage like this in a situation like this, there can be a lot of outside distractions that come from the history and tradition. But at the end of the day, it's still about us going out there and executing our game plan and playing the game we know we're capable of playing."
The Longhorns have a similar approach going into the first MCWS matchup against the Aggies.
"I really think (Texas players) understand we're trying to advance. We're trying to win the next game," Longhorns coach David Pierce said. "It happens to be against the Aggies.
"The team that wins continues to play. The other one has to go home and be eliminated by their rival. It's (rivalry) in there, but we have to stay concerned that it's about us. We've got to keep that mentality. The game is about us. It's not about our opponent."
But A&M coach Jim Schlossnagle said if any individual wants to use the rivalry as motivation he's OK with it.
"Whatever gets you going. If that's what gets you going because you're an Aggie and that's what helps you grind and win pitches, that's great," Schlossnagle said. "If it's playing the game and not paying attention to who's on the other side, that's great, too.
"I just want to keep playing. I don't care who it's against. At the end of the day, they're playing for their season, and we're playing for ours. Whatever floats your boat, use that."
The Aggies look to right-handed pitcher Micah Dallas (6-3, 5.40 ERA) to keep championship hopes afloat.
He'll be tested by the Texas lineup led by Ivan Melendez, who heads an offense that is fourth in the nation with 128 home runs and seventh with 536 runs.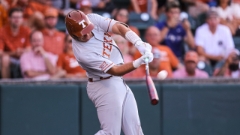 Aaron E. Martinez / American-Statesman
Melendez, dubbed the "Hispanic Titanic," leads the nation with 32 home runs and 94 RBIs.
However, Texas was limited to three runs and six hits in a 7-3 first-round loss to Notre Dame.
Perhaps Dallas can keep the Longhorns hitters under control. He has before. Pitching for Texas Tech last season, Dallas struck out eight and allowed just three runs in 7.1 innings of a 5-3 victory over the Longhorns.
"I think it goes two ways," Schlossnagle said. "They're familiar with him. They're going to go back and watch that tape, but he can also take a lot of confidence in what he's done.
"At the end of the day, it's going to come down to him executing pitches. If he does that, he'll give us a good chance. If not, that's a really good offense over there that can bloody you pretty quick."
Schlossnagle is likely more concerned with A&M's pitching and defense than Texas' offense.
The Aggies allowed almost 20 free bases in an opening 13-8 loss to Oklahoma on Friday. The free passes included 10 bases on balls, three hit batters, a pitcher's error and some suspect defensive lapses that were generously scored as infield hits.
Those miscues created obstacles that not even A&M's powerful batting order could overcome. Jordan Thompson and Austin Bost hit home runs and the Aggies scored four times in the seventh, but couldn't come back from an early 8-0 deficit.
The Aggies hitters face another challenge against Texas pitcher Gordon Lucas (7-1), who has a 2.86 earned run average and has struck out 76.
That may be a tall order. But A&M, which was a preseason pick to finish 13th in the Southeastern Conference, has overcome obstacles and odds to reach Omaha.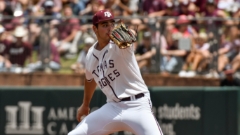 Jamie Maury, TexAgs
The Aggies remain confident they can overcome the obstacles to stay here.
"This team has never been one to back down from adversity," Palisch said. "We've certainly had our fair share of ups and downs throughout the year. Gut punches left and right.
"But if there's one thing I know about this team, it's that whenever we get punched we always get back up. I'm excited to see how we respond because I know this team can come back and come back in a big way."
Schlossnagle echoed those thoughts.
"We've been here before," he said. "The only problem is there's no second chance now. You've got to have the ability to have a short memory and compete pitch to pitch, keep playing and try to go on a one-game win streak.
"This is a super resilient team. I truly believe in them."
Never miss the latest news from TexAgs!
Join our free email list