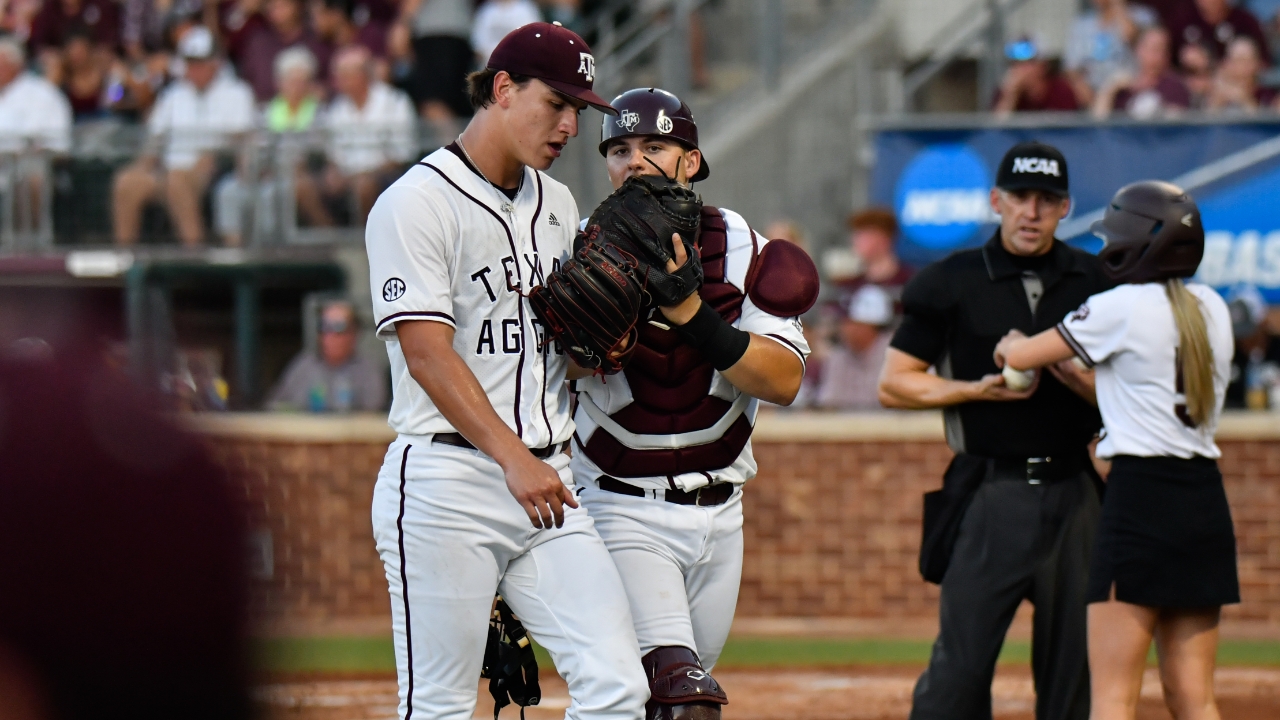 Texas A&M Baseball
#5 Aggies look to continue postseason run on Friday vs. Oklahoma
---
OMAHA, Neb. — Troy Clauch may have feelings of deja vu.
Standing on the playing surface of Charles Schwab Field Omaha, the home of the Men's College World Series, the Texas A&M catcher likely felt he'd already experienced his present situation.
Of course, that's because he has.
Claunch was a backup catcher on Oregon State's 2018 national championship baseball team as a freshman. Though not playing much behind All-American Adley Rutschman, Claunch got a good look at the characteristics of a championship team.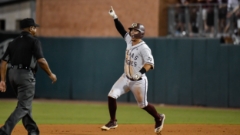 Jamie Maury, TexAgs
He said on Thursday he sees a lot of the same characteristics in Texas A&M (42-18), which opens the Men's College World Series at 1 p.m. on Friday against Oklahoma (42-22).
"Just that grit and resilience," Claunch said. "In 2018, the message of our team was to finish. They got here in 2017 and felt like they came up short, so we had that grit to finish. Everything we broke on was the word 'finish,' and that was our goal. And we just gritted our way through it the whole time.
"This team…each team has a different story. We've had a different story, a different road of getting here, but I think our grit and our resilience is the same."
Grit and resiliency propelled the Aggies to Omaha. It will likely take more than that to keep them here.
A&M coach Jim Schlossnagle, who has also previously appeared in the Men's College World Series five times as coach at TCU, knows what it takes to be successful.
"We've got to limit free bases, we have to catch the baseball and get some timely hits against some really good pitchers," Schlossnagle said.
That's especially the case against Oklahoma, which has won nine of its last 11 games.
The Sooners have a .298 team batting average, are 20th in the nation in runs scored and fourth in stolen bases with 142.
Six Sooners have stolen ten bases or more. Outfielder Tanner Treadway hits .373 and has stolen 23 bases in 27 attempts. Infielder Peyton Graham hits .311 and has stolen 32 bases in 34 attempts.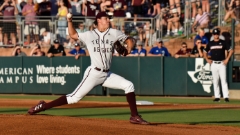 Jamie Maury, TexAgs
"Oklahoma is a real offense. Like, that's a real baseball team," Schlossnagle said. "The SEC has a lot more bangers, a lot more homers. The parks are smaller. Oklahoma is built to win this thing. I can tell you that because the run game, the bunt game, that's a real offense. And obviously, we're facing a great pitcher and a great pitching staff, so we have a lot of challenges ahead of us."
One of the main challenges is keeping the leadoff batter off base. That will fall to sophomore right-hander Nathan Dettmer (5-2), who draws the start for the Aggies.
Dettmer appeared to become a bona fide ace in April when allowing just five total earned runs in five starts against Alabama, Kentucky, Georgia, Arkansas and Vanderbilt.
However, he then developed a blister on his right foot and struggled to push off on pitches. As a result, he has not gotten past the fifth inning and has an 8.63 ERA in his last six outings.
"When I tried to push off, it hurt," Dettmer said. "I'm not sure how it popped up. I think maybe the cleats had something to do with it. I switched cleats. It's feeling good, totally 100 percent healed. Feeling good. No issue at all now."
Fingers are crossed he can return to his April form.
"I think he's won SEC Pitcher of the Week twice during that stretch against Alabama, Georgia and Vanderbilt," Schlossnagle said. "He's certainly capable of pitching well here. He's ready. He's rested. And so hopefully, he can go out there and give us some length."
The A&M hitters will also be challenged by expected Oklahoma left-handed starter Jake Bennett (9-3), who is projected to be selected within the top-three rounds of the upcoming Major League Baseball draft.
"I think at the end of the day, it just comes down to playing good baseball. We've got to limit free bases, we have to catch the baseball and get some timely hits against some really good pitchers."
A&M's offense can challenge any pitcher.
First baseman Jack Moss is hitting .391. Left fielder Dylan Rock is hitting .332 with 18 home runs and 61 RBIs. Designated hitter Austin Bost is hitting .350 with nine homers and 43 RBIs. Second baseman Ryan Targac is hitting .298 with 15 homers and 57 RBIs.
Overall, the Aggies are hitting .292 as a team and have bashed 80 home runs. They've also hit 117 doubles.
That may be a more vital stat in spacious Charles Schwab Field Omaha. Schlossnagle is well aware it's not known as a hitter's park.
"In terms of the ballpark, this is obviously a lot bigger ballpark than most people play in, foul ground included," he said. "Speed in the outfield, being able to cover ground I think is important on this field. The grass is a lot slower, being in a northern climate.
"But we play on different fields all the time. We played in Frisco early in the season, which is similar to this, in terms of the playing surface.
"But I think at the end of the day, it just comes down to playing good baseball."
Never miss the latest news from TexAgs!
Join our free email list
PRESENTED BY