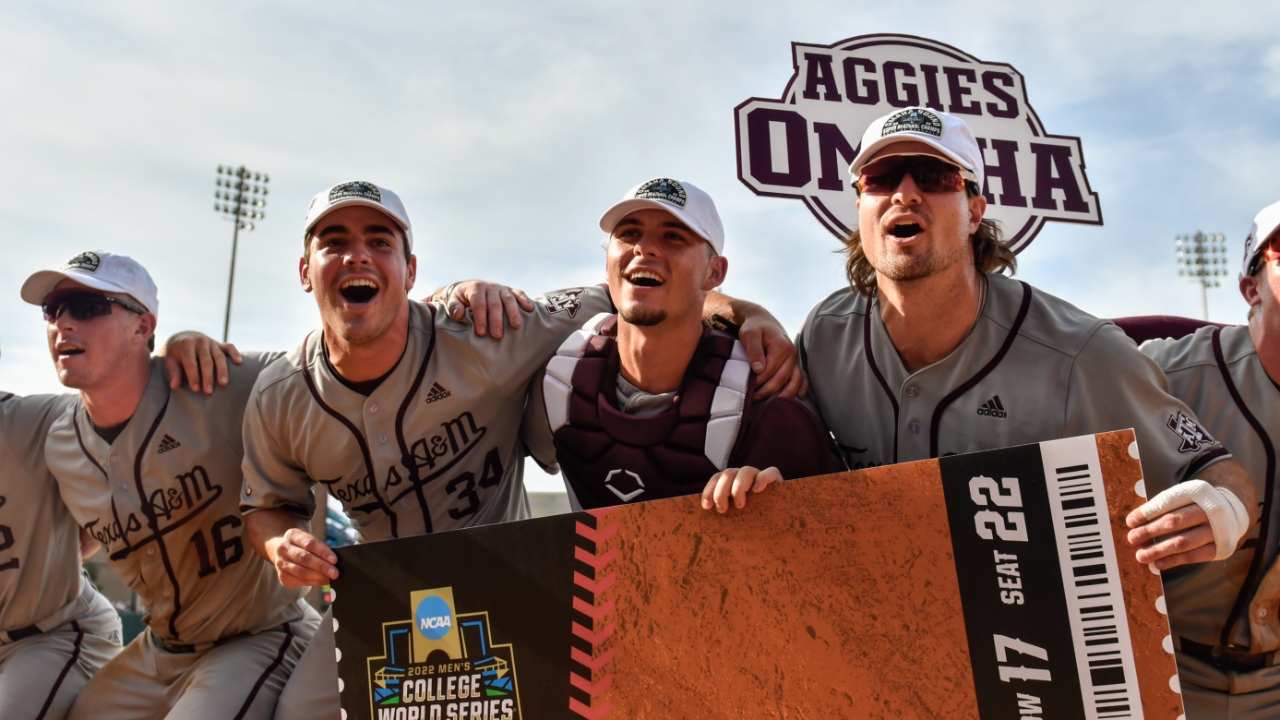 Photo by Jamie Maury, TexAgs
Texas A&M Baseball
By the Numbers: Aggies bound for Omaha after super sweep of Cards
---
The Aggies are headed to OMAHA.
There will be bubbles. The Pringles will pop by the dozens. And the Texas Aggies, in their seventh College World Series appearance, have a good chance of making a deep run.
Texas A&M won one game in Omaha in its first appearance in 1951. It did not win another CWS game until 1993 and has not won a single game on the grand stage since the opening game victory over Kansas 29 years ago.
Head coach Jim Schlossnagle has this team in the final eight in his first season in Aggieland during what has undoubtedly been a coaching job worthy of National Coach of the Year consideration.
Schlossnagle knows what it takes to make a deep CWS run. He's won 11 games in Omaha and brings a team into America's Heartland playing as well as just about anyone else in the country. The Aggies have won 12 of their last 14 games and are undefeated in the NCAA Tournament at 5-0.
Schlossnagle knows what it takes to make a deep CWS run. He's won 11 games in Omaha and brings a team into America's Heartland, playing as well as just about anyone else in the country. The Aggies have won 12 of their last 14 games and are undefeated in the NCAA Tournament at 5-0.
Heck, two super regionals hadn't even started by the time A&M had wrapped up its pair of wins over Louisville. When Schlossnagle & Co. take the field on Friday, they should be well-rested, rejuvenated and ready to keep it rolling in their quest for a national title.
Texas A&M got by Louisville differently than it had been prior to last weekend. In the regional round, the Ags didn't pitch all that well but overcame that by hitting .477 with two outs, .435 with runners on base, .462 with runners in scoring position and driving in a ridiculous 18 runs with two outs.
Last week was about the bats. This past week was about pitching, defense and a timely hit or two when necessary.
In the Louisville series, the Aggie offense hit .205 with runners on and .143 with RISP.
Yet, they found a way to win a couple of one-run, low-scoring games to get to Omaha. And now that this team has that experience in its back pocket, they should have a ton of added confidence knowing they can win games in several different ways.
Schlossnagle is way ahead of schedule in his effort to reestablish the Aggies as one of the truly elite programs in college baseball. However, it's easy to think about how bright the future is in Aggieland as he uses year number one as a springboard in recruiting and culture building.
Here's a statistical look, By The Numbers, at A&M's 2-0 weekend and sweep of Louisville in the College Station Super Regional to advance to the College World Series...
.095 - Batting average vs. Louisville for hitters 3-5 in the A&M lineup. The trio of Dylan Rock, Austin Bost and Ryan Targac combined to go 2-for-21 on the weekend, leaving 12 runners on base. Rock was 0-for-5 but drove in two runs in Saturday's win (one via a bases-loaded walk and the other a sacrifice fly) and reached base four times in the series via a walk or a hit batsman.
Bost went 1-for-8 (.125) with an RBI and stranded seven runners vs. the Cardinals. Targac also went 1-for-8, but that one hit was a towering 462-foot home run off the Rec Center in left-center to tie the game at 3-3 in the sixth on Saturday.
The fact that the Aggies can find a way to sweep an excellent Louisville team on a weekend where they got such little production from this all-important group of hitters speaks to the toughness and will to win of this team. They find a way to get it done by any means necessary.
.455 - Jack Moss' batting average vs. the Cardinals. The sophomore sensation went 5-for-11 in super regional play with no strikeouts. So far in the NCAA Tournament, Moss is 14-for-25 (.560) with five RBIs and six runs scored. Factoring in the SEC Tournament, Moss is hitting .541 (20-for-37) and has raised his average 25 points from .366 to .391 in that span.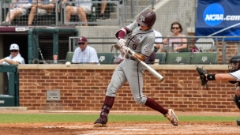 Jamie Maury, TexAgs
A continuous torrid pace from the Aggies' two-hole hitter and All-American candidate could put him over .400 on the season. Something that has not been done at A&M since Jason Tyner (.407) in 1996.
0 - Runs allowed by the A&M bullpen in two games vs. the dynamic Louisville offense. The relief stable of Joseph Menefee, Jacob Palisch, Will Johnston and Brad Rudis combined for nine scoreless innings — allowing 10 hits and four walks but striking out 10. Palisch got the pitching win on Friday by tossing the final two innings, then came on in the ninth inning of Game 2 with the tying run on first base and no outs and in a 3-2 count on dynamic hitter Ben Metzinger.
Palisch got Metzinger to swing and miss on a slider for strike three and proceeded to get the next two hitters out to pick up his fifth save of the season and send the Aggies to Omaha.
1 - Run allowed by Brad Rudis in five postseason appearances thus far. That spans 7.1 innings in which he's allowed six hits and one walk with five strikeouts. In his last four outings of the regular season, the freshman from Madisonville had given up 16 earned runs on 18 hits in 9.1 innings (15.43 ERA). What an emergence when the Aggies were desperate for a right-hander out of the pen to step up his game.
2 - Errors all weekend in super regional play. Both came in the fifth inning of Game 1 — a fielding error on second baseman Ryan Targac and an errant pickoff attempt from Joesph Menefee.
The A&M infield was exceptional on the weekend, with 19 assists and only one error on the dirt in two games. The outfield also made several outstanding plays, including a diving grab in the right-center field gap by Brett Minnich and several plays by Dylan Rock and Jordan Thompson ranging back to the fence.
And you have to mention the outstanding job behind the plate by Troy Claunch. The grad transfer from Oregon State was masterful at blocking balls in the dirt and threw out all three potential Cardinal base stealers.
5 - As in the Five Factors ... a stat that we've tracked for years in the old "Diamond Notes" feature and are continuing here. The five factors to success offensively and defensively on the mound ... hitting with two outs, with runners on, with runners in scoring position, getting the leadoff man on base and two-out RBIs. Here's how A&M did on offense and positionally in the two super regional games...
Offensively:
- Two outs - .261 (6-for-23) ... down 216 points from last week
- Runners on - .205 (8-for-39) ... down 230 points from last week
- Runners in scoring position - .143 (3-for-21) ... down 319 points from last week
- Leadoff OBP - .444 (8-for-18) ... same as last week
- Two-out RBIs - three ... down 15 RBIs from last week
Defensively:
- Two outs - .190 (4-for-21) ... down (A&M improvement) 163 points from last week
- Runners on - .220 (9-for-41) ... up (opponent improvement) three points from last week
- Runners in scoring position - .211 (4-for-19) ... up 64 points from last week
- Leadoff OBP - .519 (14-for-27) ... up 119 points from last week
- Two-out RBIs - one ... down three RBIs from last week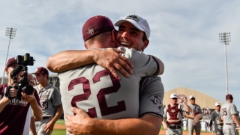 Jamie Maury, TexAgs
6 - College World Series appearances for Jim Schlossnagle. All six have come in the last 12 years as a head coach (2010-present).
For comparison purposes, Florida's Kevin O'Sullivan has gone seven times, Vanderbilt's Tim Corbin has gone five times, Louisville's Dan McDonnell, Texas Tech's Tim Corbin and Arkansas' Dave Van Horn have gone four times in that span.
As a reminder from last week's story, Schlossnagle has won 11 games in Omaha in his coaching career. Texas A&M has two wins ever in the CWS (one in '51 and the other in '93).
7 - Trips to Omaha for the Aggie Baseball program. Texas A&M reached the College World Series in 1951, 1964, 1993, 1999, 2011, 2017 and 2022 in year one for Jim Schlossnagle.
Beau Bell led the Aggies to the CWS in his first season (1951), but since then, it's been more of a slow build to Omaha prior to Schlossnagle & Co. breaking through in year one.
Tom Chandler did not get to the CWS until year six. For Mark Johnson, it was year nine and again in year 15. Childress got the Aggies to Omaha in year six and year 12.
12 - Wins for the Aggies in their last 14 games. That dates back to the sweep of Mississippi State four weeks ago. A&M went 5-1 against the Mississippi schools to close out the regular season and capture the division crown, then picked up a couple of wins in the SEC Tournament before going 3-0 in regional play and sweeping Louisville in super regional action. A&M enters the CWS as quite possibly the hottest team in the sport.
19 - Times against Louisville that A&M hitters reached base via a walk or hit batters. A&M walked 10 times and reached on HBP four times in Friday's win. On Saturday, the Aggie bats walked four times and reached via a hit batter one time. Leadoff man Trevor Werner had just one hit in the series but had four walks and one HBP. The only hitter in A&M's lineup to not reach base via a walk or an HBP is Moss.
Here's hoping the bubbles and Pringles continue to flow for the next couple of weeks and that the Aggies find a way to keep it rolling towards their first national championship.
Regardless of what happens, it has been a remarkable and truly unbelievable run for this program. A tone-setting season with many characters that won't be forgotten any time soon.
Never miss the latest news from TexAgs!
Join our free email list
PRESENTED BY