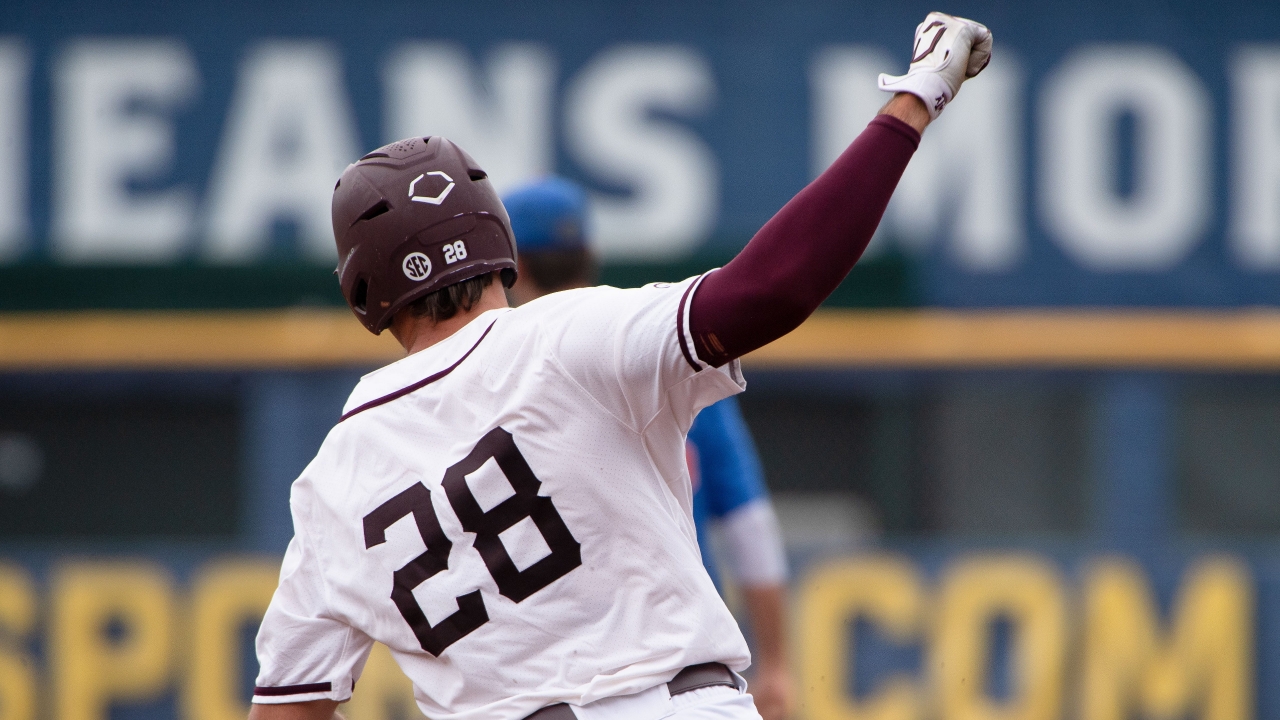 Texas A&M Postgame
Florida Postgame
Texas A&M Baseball
Worth the Wait: Texas A&M run-rules Florida in SEC Tournament, 10-0
---
Press conference video courtesy of the Southeastern Conference.
---
Game #53: #2 Texas A&M 10, #7 Florida 0 (SEC Tournament, second round)
Records: Texas A&M (36-17, 19-11), Florida (36-21, 15-15)
WP: Micah Dallas (5-3)
LP: Brandon Neely (3-2)
Save: Joseph Menefee (1)
Box Score
---
There should be no debate Texas A&M (36-17) has earned one of the vital top-eight seeds in the upcoming NCAA baseball tournament.
That issue should have been settled by the Aggies' 10-0 seven-inning demolition of Florida (36-21) on Thursday in the Southeastern Conference postseason tournament in Hoover, Ala.
The Aggies are ranked No. 5, won the SEC West and currently have a No. 17 RPI ranking, which is sure to rise after the Gator annihilation.
However, that easy victory might inspire another debate. Was A&M's hitting or pitching more valuable?
That's a tough call.
The Aggies belted four home runs off four different Florida pitchers. Three of those homers came in a decisive seven-run sixth inning that might have caused pangs of sympathy from even the most blood-thirsty Raggies.
"I think today was a good emphasis on my change-up... I got some good swings and misses on it. I kept them off my fastball. I had all three pitches working in the bottom of the zone, and that's where I need to stay."
That offensive onslaught might have been overshadowed by a much-needed gem from right-handed starter Micah Dallas (5-3).
Dallas had struggled since pitching seven innings in a 17-3 victory over Kentucky on April 9. He'd failed to pitch beyond four innings in any start and was even relegated to the bullpen.
He returned to form in his return to the mound, allowing just one hit and striking out seven in five brilliant innings of work.
The only semblance of trouble came in the third inning. An error and a hit batter gave Florida two base runners with two out.
Not to worry. After a quick chat with pitching coach Nate Yeskie, Dallas got the powerful Jud Fabian to ground out unassisted to third baseman Trevor Werner.
Dallas exited after striking out the last two batters he faced in the fifth inning. Joseph Menefee came on in relief and retired all six batters he faced — the first four via strikeouts.
"He's actually a little under the weather," Texas A&M coach Jim Schlossnagle said of Dallas. "He was kind of out of gas (in the fifth inning). I think that's probably a good thing. Micah tends to get a little over-excited, pitches with a lot of energy, kind of overthrows his pitches sometimes.
"Today, because of how he felt, he was a little more under control, which I think was a real good learning opportunity for him. I told him when I took him out, your 80 percent is probably about where you need to pitch. I definitely wanted him to come off the mound feeling really good about it because we're going to need that next week."
There was no doubt Dallas was feeling good after the game.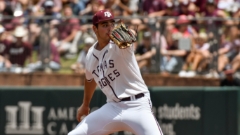 Jamie Maury, TexAgs
"I think today was a good emphasis on my change-up," Dallas said. "Just being able to throw that in any part of the count. I got some good swings and misses on it. I kept them off my fastball. I had all three pitches working in the bottom of the zone, and that's where I need to stay."
Schlossnagle, who's had to juggle starting pitchers since Dallas' struggles began, obviously was thrilled.
"That's the Micah Dallas that we saw in the first four or five weeks of the season," Schlossnagle said. "He's the same guy. You can have a slump on the mound the same way you have a slump at the plate. I still believe his best pitching is ahead of him, and we're going to need that to be."
No doubt, if Dallas continues to pitch with such efficiency, the Aggies could make a long run through the NCAA Tournament.
That's especially the case if ace Nathan Dettmer proves on Friday against Alabama that he's sufficiently healed from a bothersome foot blister.
Speaking of blisters. The Aggies hitters blistered Florida pitchers Brandon Neely (3-2), Fisher Jameson, Philip Abner and Tyler Nesbitt for 12 hits. They had four doubles to go along with the four home runs. They also drew four walks.
"It's been the same thing we've done all season," said Werner, who blasted a home run and a double. "It's all about winning pitches and having the same approach one through nine, sticking to our plan. It sounds simple, but take the balls and hit the strikes. We took advantage of their pitchers' mistakes. That's how we did it."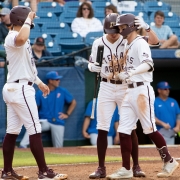 Gary Cosby Jr. / USA TODAY NETWORK
The assault started simple enough, with centerfielder Jordan Thompson drawing a third-inning walk off Neely. One out later, Werner launched a shot over the left-field wall for a 2-0 lead.
A&M added to the margin with a Jack Moss RBI single to score Kole Kaler, who opened the fifth inning with a double down the right-field line.
The Aggies then blasted a trio of out-of-the-park missiles off the reptiles in a sixth-inning decimation.
Ryan Targac led off with a home run off Jameson. An ensuing single by Troy Claunch led to the entrance of Abner. He gave up a two-run homer to Thompson for a 6-0 lead.
Nesbitt then came on for the Gators. Two walks and a double by Werner later, Dylan Rock lofted a one-out sacrifice fly for a run.
Austin Bost followed with a three-run shot, which enabled A&M to win by the 10-run rule.
Dallas' effort was still the most welcomed aspect of the victory.
"We had a lot of things go our way today," Schlossnagle said in a gross understatement. "Micah was outstanding. That's a huge, huge sign for our team going forward."
Never miss the latest news from TexAgs!
Join our free email list
PRESENTED BY