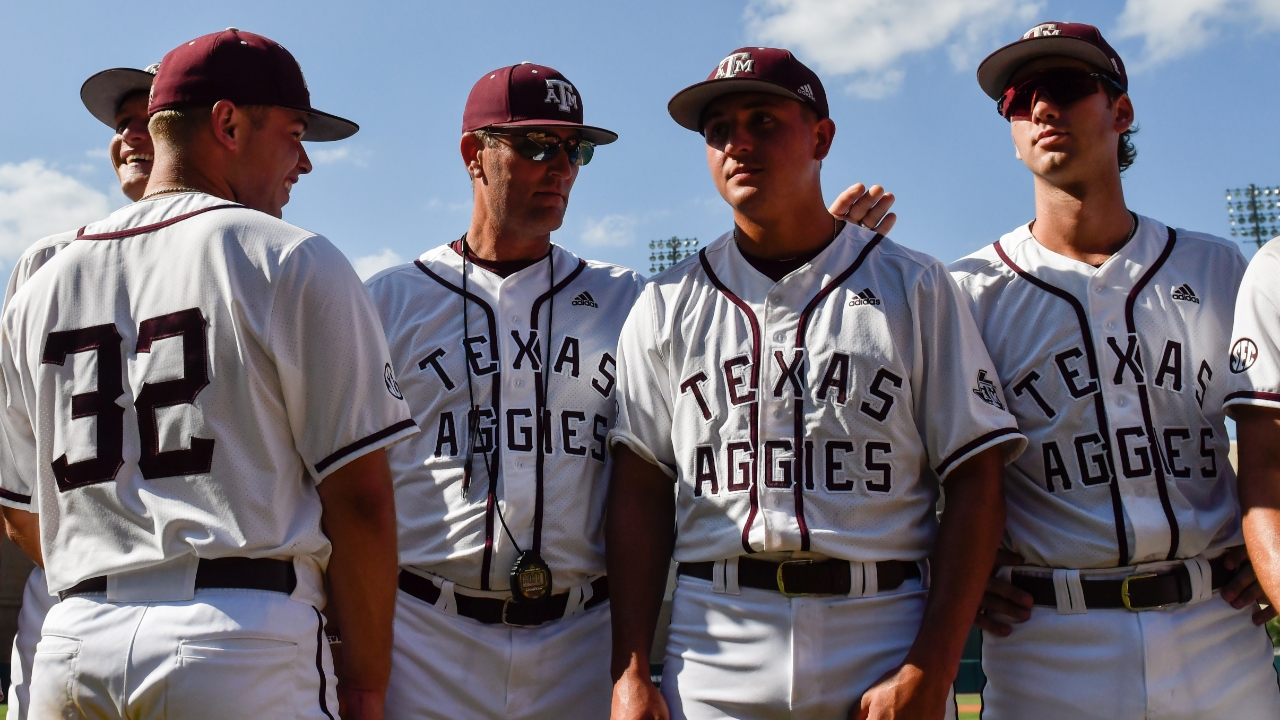 Photo by Jamie Maury, TexAgs
Texas A&M Baseball
Series Preview: No. 6 Texas A&M at Ole Miss
---
Who: Ole Miss Rebels (31-19, 13-14 SEC)
Where: Swayze Field – Oxford, Mississippi
When:
Thursday: 6:30 p.m. CT (SEC Network+)
Friday: 7:00 p.m. CT (SEC Network+)
Saturday: 1:30 p.m. CT (SEC Network+)
Pitching matchups
Thursday: Nathan Dettmer (RHP, 5-2, 3.62) vs. Dylan Delucia (RHP, 5-0, 4.28)
Friday: TBA vs. Hunter Elliott (LHP, 3-3, 2.84)
Saturday: TBA vs. Derek Diamond (RHP, 4-4, 5.24)
Scouting Ole Miss
Once upon a time earlier in the 2022 season, the Ole Miss Rebels were ranked No. 1 in all of college baseball. Then they ran into a few injuries, the pitching faltered, and the Rebels found themselves in a tailspin midway through the SEC schedule after being swept by Tennessee and Alabama. Head coach Mike Bianco moved some arms from the bullpen to the starting rotation, and those moves have paid off. Ole Miss also started getting healthy in recent weeks.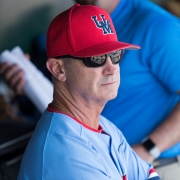 Brett Rojo-USA TODAY Sports
The results have been pretty remarkable.
On May 5, the Rebels were 7-14 and dead last in the SEC West. They haven't lost since, pulling off a road sweep in Baton Rouge against the LSU Tigers — something they haven't done since the two teams first played each other in 1906. Ole Miss now stands at 13-14 in SEC play and in the middle of the fight for an NCAA Regional berth. A series win over the top-10 Aggies would definitely clinch their postseason aspirations. The last time the Aggies visited Oxford, Ole Miss registered a sweep of No. 6 Texas A&M by a combined score of 21-9 in 2019.
This will be a huge challenge for the Aggies.
When comparing the statistics, it's amazing just how similar these two teams are on the bump from a numbers standpoint. The two pitching staffs are virtually identical statistically, but the key for the Rebels has been the emergence of Dylan Delucia and freshman Hunter Elliott during this late-season resurgence. Both pitchers went deep into their starts against LSU. Delucia gave up three runs in seven innings while Elliott surrendered just a single run in 6.2 innings of work at a pretty tough place to pitch — Alex Box Stadium. In fact, Elliott's performance garnered him SEC Freshman of the Week honors.
Ole Miss also has a pretty good closer in Brandon Johnson, who has saved four SEC games in 2022. After that, the bullpen depth and the game-three starter appear to be the weak links on this team. That's been a common theme for A&M opponents this season.
The key will be to find a way to run up the pitch count on Delucia and Elliott and get into the bullpen early and often.
At the plate, the Rebels can be dangerous, and they have the power sticks to prove it. Tim Elko leads the team in most offensive categories with a .337 average in SEC play with 12 home runs and 32 RBIs. Jacob Gonzalez also has double-digit home runs in the SEC play (10) and 23 RBIs. If you compare the power numbers, Ole Miss is very similar to Texas A&M. However, Aggie batters are more patient getting on base at a significantly higher clip. The Aggies have walked 45 more times than Ole Miss. That lack of patience is also seen in the strikeout numbers where the Rebels have whiffed 275 times to just 247 for Texas A&M. Ole Miss is dangerous in the middle of the order, but this lineup doesn't go as deep as the Mississippi State lineup from last week.
| | | | | | |
| --- | --- | --- | --- | --- | --- |
| Hitting (SEC) | Avg. | Runs | Slugging % | On-Base % | Strikeouts |
| Texas A&M | .288 | 205 | .470 | .394 | 247 |
| Ole Miss | .255 | 166 | .468 | .337 | 275 |
| | | | | | | |
| --- | --- | --- | --- | --- | --- | --- |
| Pitching (SEC) | ERA | WHIP | Walks | Opp. Avg. | Strikeouts | Fielding % |
| Texas A&M | 5.04 | 1.49 | 99 | .270 | 255 | .970 |
| Ole Miss | 5.41 | 1.48 | 98 | .271 | 261 | .979 |

Texas A&M storylines to watch
Going into the last regular-season series of the year, I don't need to tell Aggie fans the important storylines of this game for the Maroon & White. This offense is the best in the SEC and will hit the ball hard and score runs. There are simply too many weapons at the plate to hold down this bunch for a weekend. So Texas A&M will score, but how early and how often? The A&M offense has to run up the pitch count on the Ole Miss starting pitchers and get into the bullpen as quickly as possible. If recent history is any indication, the Aggie offense is up to the task.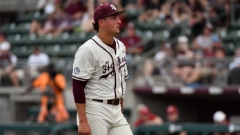 Jamie Maury, TexAgs
The big question is whether Texas A&M can pitch and keep a near equally explosive Ole Miss team in check.
That has been the dominant storyline for two months now, about the time veteran Saturday starter Micah Dallas started struggling on the mound. That has forced veterans like Jacob Palisch and Joseph Menefee to step up and eat innings in middle relief. It has forced untested freshmen like Wyatt Tucker, Chris Cortez and Will Johnston into the fire. So far they have held the rope, which is just enough for the offense to do its thing and outscore the opponent.
With Dallas still trying to find his way, the bullpen will need to deliver one more weekend with everything on the line. Will they be up to the task in a hostile environment against a surging Rebel offense? We'll see.
What's at stake this weekend
Well, this is it.
Every coach says the goal is to be playing for something on the last weekend of the season. Texas A&M has certainly accomplished that. Everything a college baseball team strives for in the regular season is still attainable.
Aggie baseball has clinched a spot in the NCAA Regionals. Hosting a regional is well within their grasp, and landing a top-eight national seed is certainly in the realm of possibility.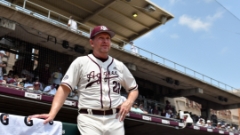 Jamie Maury, TexAgs
If Aggie baseball can win a seventh consecutive series against the talented and red-hot Ole Miss Rebels, they all but clinch a top-16 seed in the NCAA Regionals, which means they will host the first round of playoffs at Olsen Field — which goes without saying is a huge advantage. Winning two also opens the door for this team to go to Hoover, win a couple of games in the SEC Tournament and walk away with a top-eight national seed and a potential host in the Super Regional round.
That means as long as this team is alive and playing to go to the College World Series, they will be doing it in the friendly confines of Olsen Field at Blue Bell Park. If A&M were to sweep the Rebels this weekend (which will be very difficult), then the team will likely earn that coveted top-eight seed.
That's the ultimate goal of every college baseball team in the country in February.
It's there for the taking in Oxford this weekend.
Never miss the latest news from TexAgs!
Join our free email list
PRESENTED BY