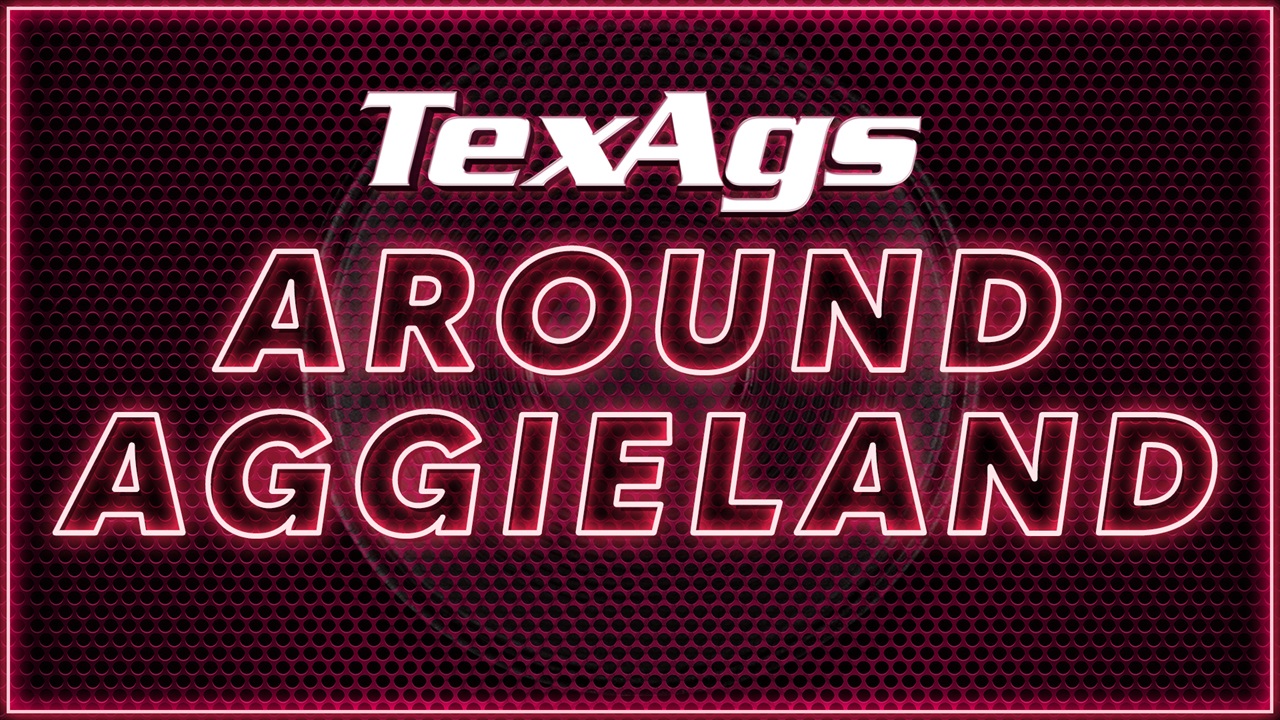 Texas A&M Baseball
Around Aggieland (5/16)
---
During Monday's edition of TexAgs Radio, Richard Zane joined to take us Around Aggieland and provided updates from the tennis courts, the diamonds and beyond as there is plenty going on with Texas A&M Athletics.
---
Women's Tennis (33-1, 13-0 in SEC)
#7 Texas A&M's historic season keeps getting better as the Aggies swept Vanderbilt, 4-0, on Saturday afternoon in a super-regional match at the Mitchell Tennis Center.
The Aggies won the doubles point, 2-0.
Carson Branstine won her match over Anna Ross in straight sets (6-4, 7-5).
Mary Stoiana won her match over Anessa Lee in straight sets (6-2, 6-0).
Jayci Goldsmith won her match over Marcella Cruz in straight sets (6-2, 6-2).
For the second time in program history, the Aggies advance to the NCAA Quarterfinals, which will be played in Champaign, Illinois.
#7 Texas A&M will face #2 Oklahoma on Friday at 7 p.m. CT at the Atkins Tennis Center/Kahn Outdoor Tennis Complex on the campus of the University of Illinois.
The match will be streamed on the TennisOne App.
Softball (29-26, 6-18 in SEC)
For the 22nd consecutive season, Texas A&M is headed to the postseason as the Aggies have made the NCAA Tournament field of 64 as a two-seed in the Norman Regional.
#2 Texas A&M will play #3 Minnesota on Friday afternoon at Marita Hynes Filed in Norman, OK.
First pitch is set for 4 p.m. CT, and the game will be televised on ESPN2.
Also in the Norman Regional is #1 overall national seed Oklahoma and Prairie View A&M.
Baseball (33-16, 17-10 in SEC)
Over the weekend, No. 10 Texas A&M swept defending national champion Mississippi State at the final regular-season series at Olsen Field for the 2022 campaign.
Friday: No. 10 Texas A&M 8, Mississippi State 7

A&M led 4-0 after two but trailed 7-4 after six.
In the seventh, Austin Bost worked a bases-loaded walk before Troy Claunch's bases-clearing, go-ahead double with two outs to give A&M the lead.
Trevor Werner hit a home run in the second.
Will Johnston retired one batter for the final out, earning his first career save.

Saturday: No. 10 Texas A&M 9, Mississippi State 6

The win clinched Texas A&M's sixth consecutive SEC series victory.
A&M trailed 4-0 early.
Dylan Rock hit a two-run home run in the third.
Werner hit a two-run home run in the fifth.
Jack Moss hit a go-ahead double in the seventh, and Ryan Targac hit a go-ahead double in the eighth.
Chris Cortez: W, 5.0 IP, 4 H, 1 R, 1 ER, 0 BB, 5 K

Sunday: No. 10 Texas A&M 8, Mississippi State 2

Ryan Prager: 4.1 IP, 4 H, 1 R, 0 ER, 2 BB, 3 K
Robert Hogan: 2.1 IP, 2 H, 1 R, 1 ER, 1 BB, 2 K
Johnston: 2.1 IP, 0 H, 0 R, 0 BB, 5 K
Targac: 3-for-3, 2 R, 1 RBI
After the sweep, Texas A&M is up to No. 6 in the latest D1Baseball.com poll.
At 17-10, the Aggies are tied with No. 7 Arkansas atop the SEC West, and the Aggies hold the tiebreaker over the Razorbacks.
Texas A&M can finish no lower than fourth in the SEC standings and have clinched a bye in the SEC Tournament.
The Maroon & White travel to Oxford this weekend for the final series of the regular season with the Ole Miss Rebels, which begins on Thursday.

Thursday: 6:30 p.m. CT, streaming on the SEC Network+
Friday: 6:30 p.m. CT, streaming on the SEC Network+
Saturday: 1:30 p.m. CT, streaming on the SEC Network+
Track & Field
At the SEC Outdoor Track & Field Championships in Oxford this weekend, Texas A&M had a number of standout performers.
The Aggie men finished sixth with 70 points, while the women finished fifth with 74 points.
Moitalel Mpoke won the men's 400m hurdles with a time of 48.84.
Lamara Distin won the women's high jump with a clearance of 6-4.75/1.95m.
Men's Golf
No. 12 Texas A&M's postseason runs begin on Monday as the Aggies host the Bryan Regional at the par-72, 7,146-yard Traditions Club.
The event begins Monday, May 16, and concludes on Wednesday, May 18.
Also competing in the Bryan Regional are No. 6 Pepperdine, No. 10 Georgia, No. 19 Tennessee, Kansas, Arizona, Michigan State, SMU, Boise State, Oregon State, Colorado State, Southeastern Louisiana and Texas Southern.
Texas A&M's lineup includes Sam Bennett, Walker Lee, William Paysse, Daniel Rodrigues and Phichaksn Maichon.
Never miss the latest news from TexAgs!
Join our free email list