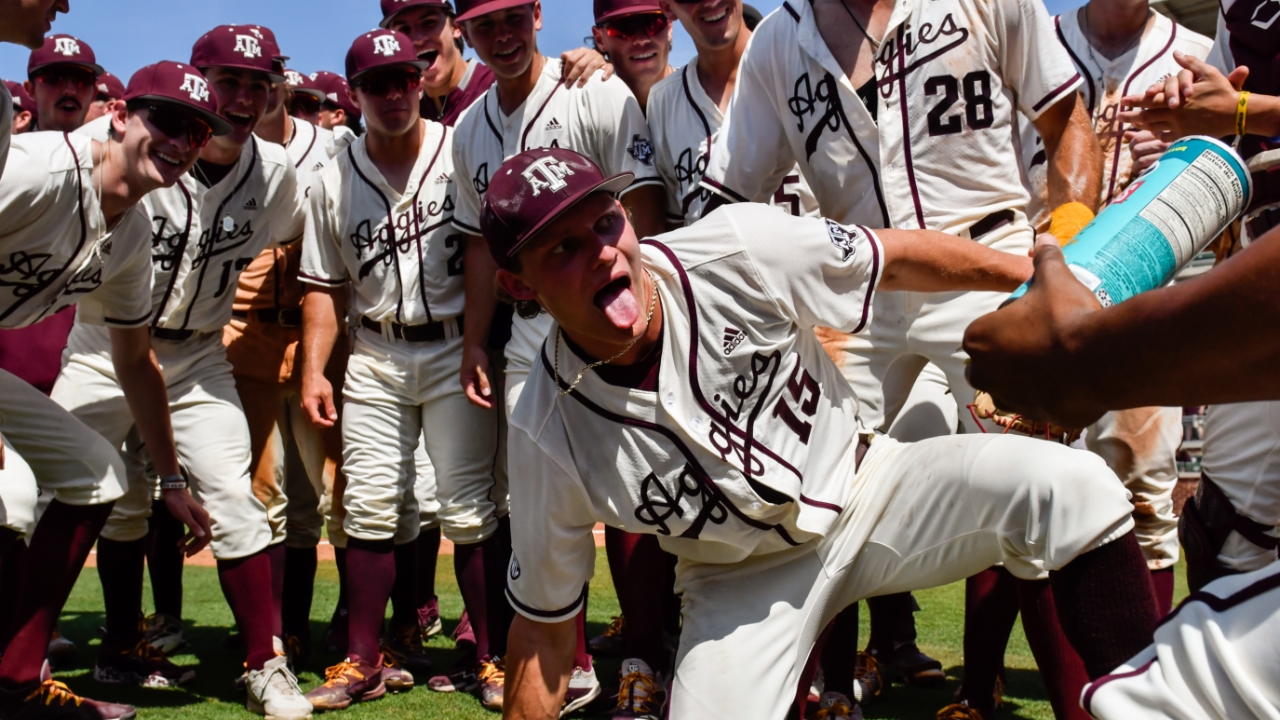 Jim Schlossnagle
Will Johnston
Ryan Prager
Ryan Targac
Texas A&M Baseball
Atypical Sunday secures sweep of State as No. 10 A&M's surge continues
---
Game #49: No. 10 Texas A&M 8, Mississippi State 2
Records: Texas A&M (33-16, 17-10), Mississippi State (25-27, 9-18)
WP: Robert Hogan (3-1)
LP: Cade Smith (4-3)
Save: Will Johnston (2)
Box Score
---
Churches were open and Chick-fil-A was closed, but it didn't seem like Sunday at Blue Bell Park.
Texas A&M pitchers typically have struggled in Southeastern Conference baseball games on Sunday.
Yet, in an atypical showing, Ryan Prager, Robert Hogan, and Will Johnston combined to allow just one earned run in an 8-2 victory to close out a series sweep over Mississippi State (25-27, 9-18).
A&M (33-16, 17-10) had not swept an SEC series since 2019 against Kentucky. It was the Aggies' first sweep since taking three straight from Fordham to start the 2022 season.
"I think the most important thing for us is we had to prove to ourselves that we could win three games in a row. To win a regional, to win a conference tournament you're going to have to do that."
Trevor Werner and Austin Bost each drove in a pair of runs, and Ryan Targac went 3-for-3 with two runs and an RBI as A&M worked over seven Mississippi State pitchers.
Still, the pitchers were different in the victory.
Prager allowed just one unearned run in 4.1 innings. Hogan (3-1) gave up a run in 2.1 innings. Johnston, who came on with two out in the seventh, retired all seven hitters he faced — five by strikeout.
"If you told me beforehand that we're going to give up two runs, I'd say we're going to be in pretty good shape," Texas A&M coach Jim Schlossnagle said. "I thought Will [Johnston] really did an awesome job. You can kind of see him gaining more and more confidence. That's a good sign for us because he's really good."
Previously, A&M had given up an average of 9.4 runs in SEC Sunday games against South Carolina (9), Arkansas (10), Alabama (8), Auburn (13) and LSU (7).
The visiting Bulldogs managed only six hits. Only twice did they get two hits in the same inning. They left eight runners on base.
"The pitching staff … we've talked the past couple of days and the past couple of weeks about how things have been going," Prager said. "It's not who we want to be. It's not what we want our identity to be.
"We had to make a conscious decision for things to change. That started mentality-wise. Kind of brought that in today. It's a great feeling for all of us. We can celebrate today that we did our job. We gave our team a chance, and we just have to keep that going for the next week at Ole Miss and then to SEC and postseason play."
A throwing error enabled Mississippi State to take a 1-0 lead in the top of the fourth.
However, A&M also took advantage of errors to take a 3-1 lead in the bottom of the inning.
Brett Minnich went from first base to home on an errant throw that went into right field. Targac followed with a single to drive in Troy Claunch. Targac eventually came home on a Werner sacrifice fly.
The Aggies also scored three runs in the sixth via RBI singles by Kole Kaler and Werner and a sacrifice fly by Dylan Rock.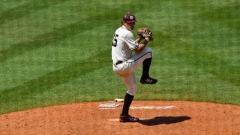 Jamie Maury, TexAgs
That was more than enough run support for the Aggies pitchers, who were not threatened again until the seventh inning.
Hogan allowed a triple, a base hit and a walk, but with two on and two out, Schlossnagle called on Johnston to protect the Aggies' 6-2 lead. Johnston promptly struck out Mississippi State designated hitter Hunter Hines.
"The kid [Hines] was sitting on a first-pitch breaking ball because that's all we threw him the other day," Schlossnagle said. "We spit a fastball right by him. I think that sped him up a little bit. Then, [Johnston] was just outstanding the rest of the way."
Johnston stormed through the following two innings with four strikeouts. He did not allow the ball to be hit out of the infield.
"I truly believe that I have what it takes to do what I want to do in this game," Johnston said. "It really is just confidence and going out and executing. It's just what coach Coach Schloss preaches to me all the time."
Even though Johnston was dominant, Schlossnagle was still relieved that Bost delivered a two-run double to plate Jack Moss and Rock in the eighth.
"That double in the bottom of the eighth was huge because I don't trust anything with the way the wind blows here," Schlossnagle said. "I'm real proud of our guys. It's hot. It's been a long weekend. I think Claunch was about out of gas. We need some rest and then get ready to go to Oxford."
The Aggies face Ole Miss in their final SEC series next week. Then, they head to the SEC Tournament and the NCAA Tournament.
Schlossnagle said sweeping Mississippi State was vital if just for the Aggies to prove they could string three wins together.
"I think the most important thing for us is we had to prove to ourselves that we could win three games in a row," Schlossnagle said. "To win a regional, to win a conference tournament, you're going to have to do that. That was good for us. We hadn't swept anybody since the first weekend against Fordham.
"It was good for us to get that accomplished."
Never miss the latest news from TexAgs!
Join our free email list