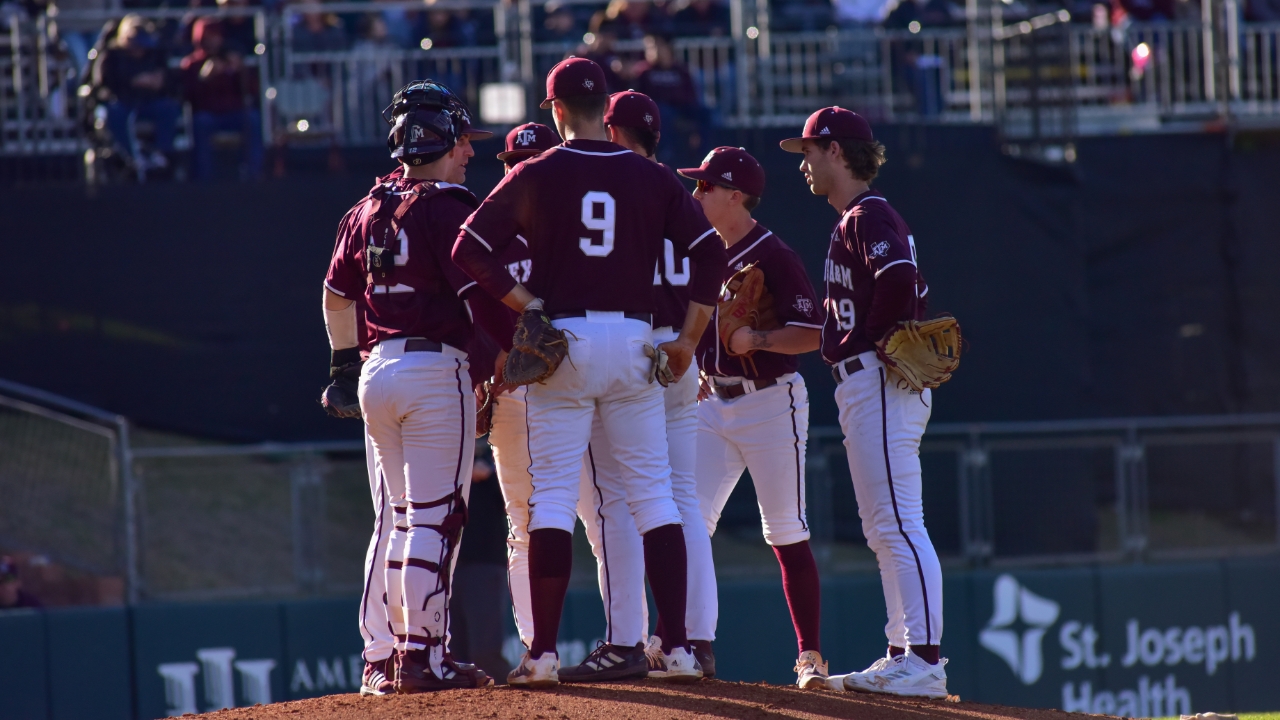 Texas A&M Baseball
By The Numbers: Texas A&M claims series victory over Santa Clara
---
The good news is that the Aggies enjoyed a bit of a bounce-back week after back-to-back 1-2 showings the previous two weekends. A&M went 3-1 on the week and took the series with Santa Clara at home, 2-1. There were certainly some bright moments last week that we'll get into when we dive into the numbers, but the main objective one week before opening conference play at LSU was to win games. The Ags did that this past week.
The bad news is that the injury bug continues to bite this team on the infield. Third baseman Trevor Werner — who might have had the best opening weekend in college baseball but has barely played since — is out for at least two-to-three more weeks recovering from hand surgery. And in game one of Saturday's doubleheader with Santa Clara, shortstop and defensive wizard Kalae Harrison injured himself on a swing and did not return to action the rest of the weekend. Jim Schlossnagle confirmed that Harrison could be out as long as "four-to-six weeks" on Monday's edition of TexAgs Radio. That forces talented local freshman Ty Hodge — likely the only fourth-generation A&M athlete in school history — into the lineup at second base and moves Kole Kaler to shortstop for the time being.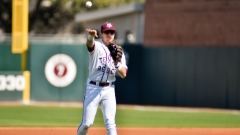 Brooke Homfeld, TexAgs
Harrison had been struggling mightily at the plate, but it's hard to put a value on what he gives the Aggies defensively in the middle of the field. Not even the wildest guess among Aggie fans during preseason would have been able to come up with this infield lineup just a week before SEC play: Troy Claunch (first), Hodge (second), Austin Stracener (third), Kaler (short). However, that's exactly what it looked like vs. Santa Clara on Sunday. Schlossnagle & Co. are clearly in "spitball" mode right now, attempting to throw whatever they can up against the wall and see what sticks while they await the return of Werner and Harrison.
Here's a statistical look, By The Numbers, at Texas A&M's 3-1 week and series win over the Broncos...
.290 - A&M's average in the Santa Clara series with two outs. The Aggies were just 1-for-9 in this category against Tarleton but dramatically improved with two outs against the Broncos. Good to see some life with two outs for this offense as it gears up for the start of SEC play.
.357 - Troy Claunch's batting average last week. The grad transfer from Oregon State went 4-for-4 in A&M's lone loss over the weekend but managed just one hit the rest of the week, going 5-for-14. Claunch has had a very nice season to date, slashing .340/.386/.460. He's second on the team in hits (17) and in total bases (23) and is first in doubles (six).
.368 - A&M's batting average vs. Santa Clara with runners in scoring position ... after a 0-for-7 showing against the Texans on Tuesday. The Aggies produced 14 hits in RISP in the series with the Broncos. The previous two weeks saw the Aggies hit just .195 and .174 in this category, respectively. Hopefully a sign of good things to come in this critical area offensively moving into SEC play.
.385 - Austin Bost's batting average in four games last week. The junior went 5-for-13 with a home run to elevate his slash line back to respectability by his own lofty standards (.304/.421/.457).
.392 - A&M's average with runners on base vs. Santa Clara. That's after going 0-for-13 in that category vs. Tarleton on Tuesday. The Ags racked up 20 hits in the series with at least a man on. That's a huge jump from recent struggles, where the Aggies hit just .226 with runners on in each of the previous 2 weeks.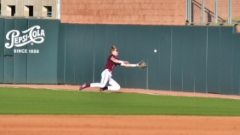 TexAgs
.400 - Brett Minnich's batting average vs. Tarleton and Santa Clara. The junior went 6-for-15 on the week with six RBIs and four runs scored. He also stole two bags in the game against the Texans. Minnich is currently hitting .320/.444/.500 and is the current team leader in runs (13), RBIs (15 - six more than anyone else), total bases (25) and slugging percentage (.500). He's also tied for the team lead with two homers this season.
.500 - Jack Moss' batting average last week, elevating his numbers to a lofty .408/.500/.449. The sophomore went a cool 6-for-12 vs. Tarleton and Santa Clara, including four walks and six runs scored. Moss' .408 average (10th in the SEC) and his .949 OPS lead the team but sits just five points higher than the emerging Brett Minnich in OPS. The lefty bat is also tops on the roster in hits (20), OBP (.500, ninth in the SEC) and fewest strikeouts (5).
#1 - A&M's SEC ranking in fewest walks allowed (35) and fewest home runs allowed (2) this season. Those are the only major pitching categories in which the Aggies rank near the top of the league. A&M currently sits 10th in ERA (3.57), ninth in opponent average (.228), eighth in hits allowed (114) and 13th in strikeouts (137).
2 - A&M pitchers that currently rank in the top nine in the SEC in ERA (min. 1.0 IP per game to qualify). Freshman Ryan Prager ranks fifth (1.35), while Texas Tech transfer Micah Dallas ranks ninth (1.78). Prager also ranks third in the conference in opponents average (.136), hits allowed (9) and runs allowed (3). Dallas ranks second in the league in innings pitched (25.1), fourth in walks allowed (2), eighth in strikeouts (29) and 10th in runs allowed (5).
#3 - SEC ranking for Kole Kaler in the walks category. The transfer from Hawaii has walked 15 times this season as a mainstay in the leadoff spot. That's just three free passes behind Florida's Jud Fabian for tops in the league.
3.9:1 - A&M's strikeout-to-walk ratio so far this season as a pitching staff. The total in four games last week was 36:10, which seems impeccable but is actually down a touch by the season's standards. Even at 3.6:1 last week, that is quite impressive, but it actually started out at 22:1 in the first two games before closing the week with 16 Ks and nine walks in the last two games of the Santa Clara series. On the season, the Aggies have tallied 137 strikeouts to just 35 walks. A total of 10 of the 16 arms that have seen action have at least a 2:1 K:BB ratio, and eight of them are at 3:1 or better.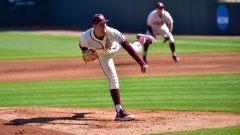 Madelyn Giles, TexAgs
5 - A&M pitchers that have tossed at least 3.0 innings and have an ERA under 1.80. In order from lowest ERA ... Rawley Hector (0.00 in 3.0 IP), Khristian Curtis (0.68 in 13.1 IP), Ryan Prager (1.35 in 20.0 IP), Robert Hogan (1.50 in 6.0 IP), Micah Dallas (1.78 in 25.1 IP).
9 - Aggie arms that boast an opponent's average of .238 or lower thus far. In order from lowest opp. BA: Rawley hector (.000), Trey Dillard (.000), Jonathan Childress (.000), Robert Hogan (.091), Ryan Prager (.136), Chris Cortez (.200), Micah Dallas (.215), Khristian Curtis (.235), Will Johnston (.238).
9.2 - Strikeouts per 9.0 innings for A&M's starting rotation through the first month of the season. The combination of Nathan Dettmer, Dallas, Prager and Curtis has racked up 79 strikeouts in 77.0 innings of work. Dallas leads the way with 29 Ks in 25.1 innings (10.3 Ks per 9.0 IP). Prager has 21 strikeouts in 20 frames (9.45 Ks per 9.0 IP). Dettmer has fanned 17 hitters in 18.1 innings (8.3 Ks per 9.0 IP). Curtis has struck out 12 in 13.1 innings (8.1 Ks per 9.0 IP).
#14 - A&M ranks 14th — dead last — among SEC teams in the following offensive categories entering the start of league play this weekend: Batting Average (.262), Hits (126), RBIs (78), Runs (88), Slugging Percentage (.383), Home Runs (9), Total Bases (184), Strikeouts (139). The only major category in which the Aggies rank near the top of the league is stolen bases (fourth with 22).
19:3 - Strikeout-to-walks for A&M's starting rotation last week. Khristian Curtis started things off with a seven-strikeout, no-walk effort on Tuesday, allowing just one run on seven hits in 4.1 innings vs. Tarleton. Micah Dallas was brilliant in game one vs. Santa Clara, allowing two earned runs on six hits in 6.0 innings to improve to 3-0. He fanned seven and walked just one in his fourth Aggie start. Nathan Dettmer was quite hittable for the second straight start, giving up four earned runs on six hits in just 3.0 innings of work to fall to 1-2. The sophomore walked one and struck out two. Freshman Ryan Prager closed the weekend with a bang, fanning three with just a single walk in 6.0 innings. He allowed just one run on two hits to see his ERA dip to a minuscule 1.35.
20 - Strikeouts this season for now injured shortstop Kalae Harrison. That's the second most Ks in the SEC this season.
It's an interesting week ahead for the Aggies.
It starts with a home game with Houston. The Cougars are 10-6 on the year and are coming off of a series loss at Louisiana Lafayette. Then it's onto the SEC and a huge three-week swing with 8-of-11 games away from Olsen Field at Blue Bell Park. That starts with a trip to LSU this weekend to face the sixth-ranked Tigers. LSU is 13-3 and just a half-game behind Ole Miss in the overall SEC West standings as of today. The Tigers can really hit. They're in the top-four in the league in many offensive categories, including average, hits, runs, RBIs, doubles, homers, on-base percentage, slugging percentage and total bases. On the mound, LSU ranks sixth in the league in ERA, is third in opponents average and second behind A&M in walks allowed. It's a very good baseball club in year one under new coach Jay Johnson. It'll be a wild and raucous crowd at Alex Box Stadium all weekend long.
Texas A&M has to carry that small amount of offensive momentum from this past weekend to Baton Rouge and will rely heavily on the strength of the team — its weekend rotation — to limit the damage done by the LSU bats to give this team a chance to pull off a series win.
We'll see what happens. Catch you at the ballyard soon!
Never miss the latest news from TexAgs!
Join our free email list