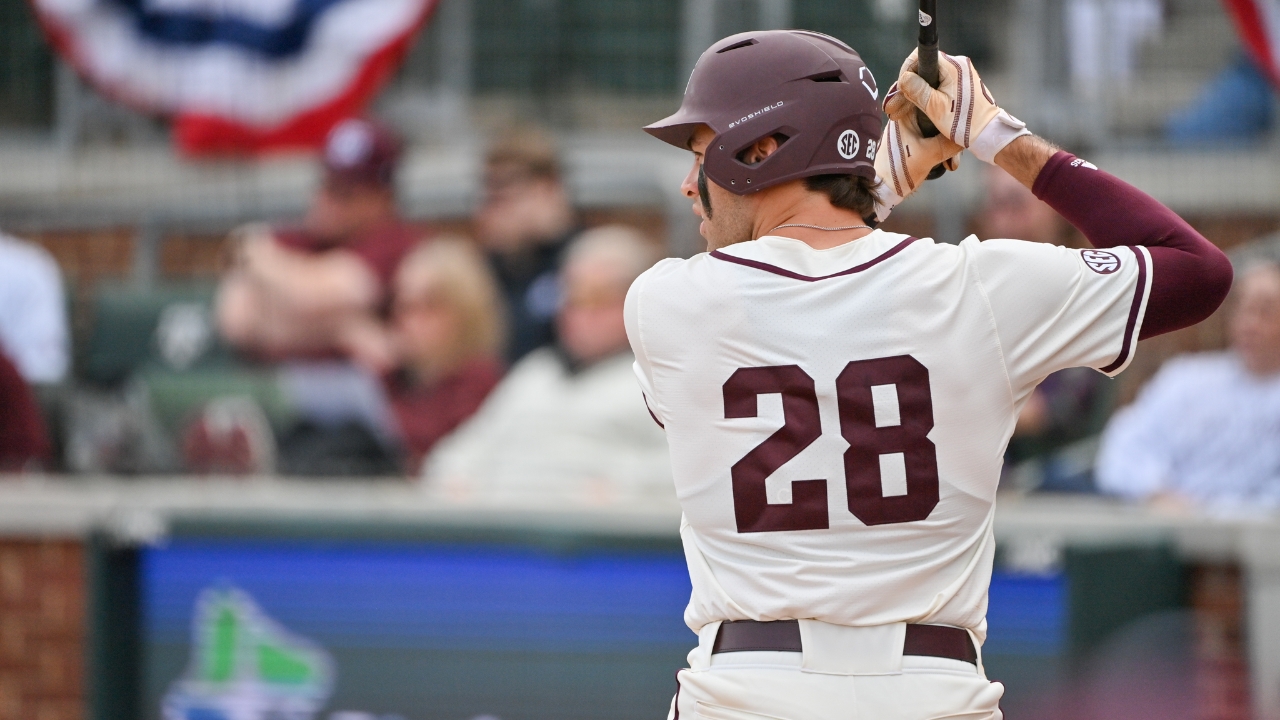 Photo by Jamie Maury, TexAgs
Texas A&M Baseball
By The Numbers: Aggie baseball off to 3-0 start in Schlossnagle era
---
What a way to start the Jim Schlossnagle era!
The opening series sweep over Fordham gave us a little bit of everything. A blowout on Opening Night, a comfortable victory on Saturday that never really felt in question and a little Olsen Magic on Sunday thanks to Logan Britt. We saw some solid pitching throughout the three games, quite a few very positive developments offensively and a new, exciting brand of baseball on full display at Olsen Field at Blue Bell Park.
Here is a statistical look at the season-opening series sweep of the Rams and a 3-0 start to the season.
.095 - Batting average in the series from the top-two spots in the Aggie lineup. That includes a 0-for-9 showing from new leadoff man and Hawaii transfer Kole Kaler. Dylan Rock went 1-for-8 in the two-hole on Friday and Saturday but did have a clutch pinch-hit single in the bottom of the ninth on Sunday right before Britt's walk-off home run. Austin Bost went 1-for-3 out of the two-hole on Sunday. And Ty Hodge went 0-for-1, pinch-hitting for Kaler in game one.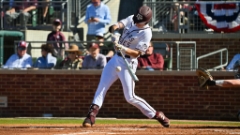 Jamie Maury, TexAgs
.417 - Jack Moss' batting average in the Fordham series. The sophomore Arizona State transfer collected five hits in 12 at-bats while hitting in the three-hole throughout the weekend. He also walked once and didn't strikeout in the series. Moss hit .305 with six homers as a true freshman last year at ASU and followed hitting coach Michael Earley to Aggieland in the offseason. He was widely considered one of the top transfers last summer and is expected to see the power numbers go way up as a sophomore to go along with a high average and great ability to grind out at-bats.
0.70 - Total WHIP for A&M pitching through three games. The Aggie pitching staff, under the direction of new pitching coach Nate Yeskie, walked just three batters in 27 innings and gave up just 16 hits. Four brand new Aggie pitchers — Xavier Lovett (Mississippi State), Rawley Hector (freshman), Chris Cortez (freshman) and Robert Hogan (freshman) — went out in their first A&M stint and did not give up a hit or a walk.
.992 - Fielding percentage for the Aggies in the series. The only error in 120 chances came via a mental fielding flub from Hogan late in game two, which ended with him recording his first career save. The middle infield duo of Kalae Harrison and Kaler — one Hawaii native and one Hawaii transfer — combined to record 17 assists and 10 putouts without an error on the weekend.
1.62 - Combined ERA on the weekend for A&M's starting pitching trio of sophomore Nathan Dettmer, Texas Tech transfer Micah Dallas and true freshman Ryan Prager. Dettmer gave up just one run on three hits in six innings of work in the opener, striking out seven without issuing a walk. Dallas took the ball in game two and allowed a run on six hits over 6.1 frames, walking nobody and punching out five. Prager worked 4.1 innings on Sunday, giving up a run on two hits with just one walk and three Ks.
2.00 - Team ERA through three games this season. That includes six pitchers with an ERA of 0.00 (all bullpen arms: Lovett, Hector, Cortez, Hogan, Joseph Menefee and Walker Zander). Of the 10 pitchers who got into action over the weekend, only one (Stanford transfer Jacob Palisch at 8.10) has an ERA over 2.08.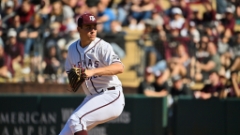 Jamie Maury, TexAgs
+4 - A&M's free-passes-to-strikeout margin in the opening series. Aggie hitters walked 21 times and reached four times via a hit-by-pitch while fanning 21 times. Last year, A&M struck out 173 more times than they reached base via a walk or HBP. Something interesting to follow. Even very good offenses will typically have a -100 margin in this category, so by no means do I expect A&M to remain in positive territory. It's still a highly encouraging opening weekend and something worth following.
5 - A&M hitters with an OPS (On-Base + Slugging) at 1.000 or higher in the series. Trevor Werner leads the way at 1.538 (.538/1.000). Brett Minnich is sitting at 1.288 (.538/.750), followed by Taylor Smith's 1.056 (.55 /.500), Harrison's 1.012 (.583/.429) and Britt's 1.000 (.333/.667). Interestingly, all five of the above names were on the A&M roster last season and holdovers from the Rob Childress era.
5 - Walks in the series for Kalae Harrison. The sophomore shortstop had just two hits on the weekend, but the five-walk effort puts him at .583 a OBP through three games, leading all Aggie hitters.
6 - Aggies that hit .333 or better on opening weekend. Werner paced A&M hitters at .500, followed by Moss (.417), Minnich (.375), Troy Claunch (.375), Britt (.333) and Smith (.333). Those six guys claimed 23 of A&M's 28 hits against Fordham, including five of the six doubles, all three home runs, 15 of the 21 RBIs, 16 of the 23 runs scored and all three stolen bases.
7 - A&M pitchers with opponents averages under .168 through one series. That includes five guys that didn't give up a hit. Aggie arms allowed just three extra-base hits in 27 innings, all doubles.
8.0 - Strikeout-to-walk ratio for Aggie pitching in the series. A&M's stable of arms absolutely attacked the strike zone for three games, striking out 24 Fordham hitters while issuing only three walks. Now, the Aggies did hit seven batters, but I have no problem with that. HBPs typically come from aggressiveness and in an effort to establish the inside part of the plate. With that, hit batsmen happen here and there, and that also brings the memory for the hitter the next time he stands in the box. A&M boasted a 64.0 percent strike rate on the weekend. Leading the way was Opening Day starter Dettmer, who fanned seven without allowing a walk in six innings of work to get the win.
Jamie Maury, TexAgs
44.4% - Percentage of A&M's extra-base hits on the weekend collected by Werner alone. The third-year sophomore blasted three doubles and a home run as part of his six-hit, six-RBI weekend. Through just three games, Werner is slashing .500/.538/1.000 in the early going. He struck out just once in 13 plate appearances and even stole a bag. All of that to go along with some serious flashing of the leather at third base. We've been waiting a good while for the light to fully turn on for Werner. So far, so good!
A lot to love about the way the Aggies played ball over the weekend. And still so many interesting questions remain as we continue in the early going of the '22 campaign...
• Who will grab the leadoff spot long-term?
• Who hits in the two-hole?
• Can Werner and Minnich keep it rolling?
• How great can Moss be for the middle of this lineup?
• Will Harrison continue to reach base at a high clip, and if he does, could he be an option for the top of the lineup?
• Where do you hit Britt if he continues producing like he did in week one?
• Who challenges the Detmer-Dallas-Prager trio and vies for a weekend rotation spot if anyone slips up between now and conference play?
• Who comes out of this crowded group of bullpen arms to establish themselves as "go-to" guys late in games and in critical, high-leverage spots?
• Who's the closer?
• Will Werner pitch at all?
• What about holdover arms like Will Johnston and Jonathan Childress? Surely they'll get a shot in the early going to see if they can carve out a role, but what will that look like?
And on and on and on.
This was just one stream of consciousness, and I'm sure you can think of quite a few more fun and interesting questions. Hit me with some of yours that I didn't even mention here.
Four games this weekend at Olsen, with Lamar coming in Tuesday night and Penn coming into Aggieland for a three-game series starting Friday night. I can't wait to get out to the ballyard this weekend. See you then!
Never miss the latest news from TexAgs!
Join our free email list