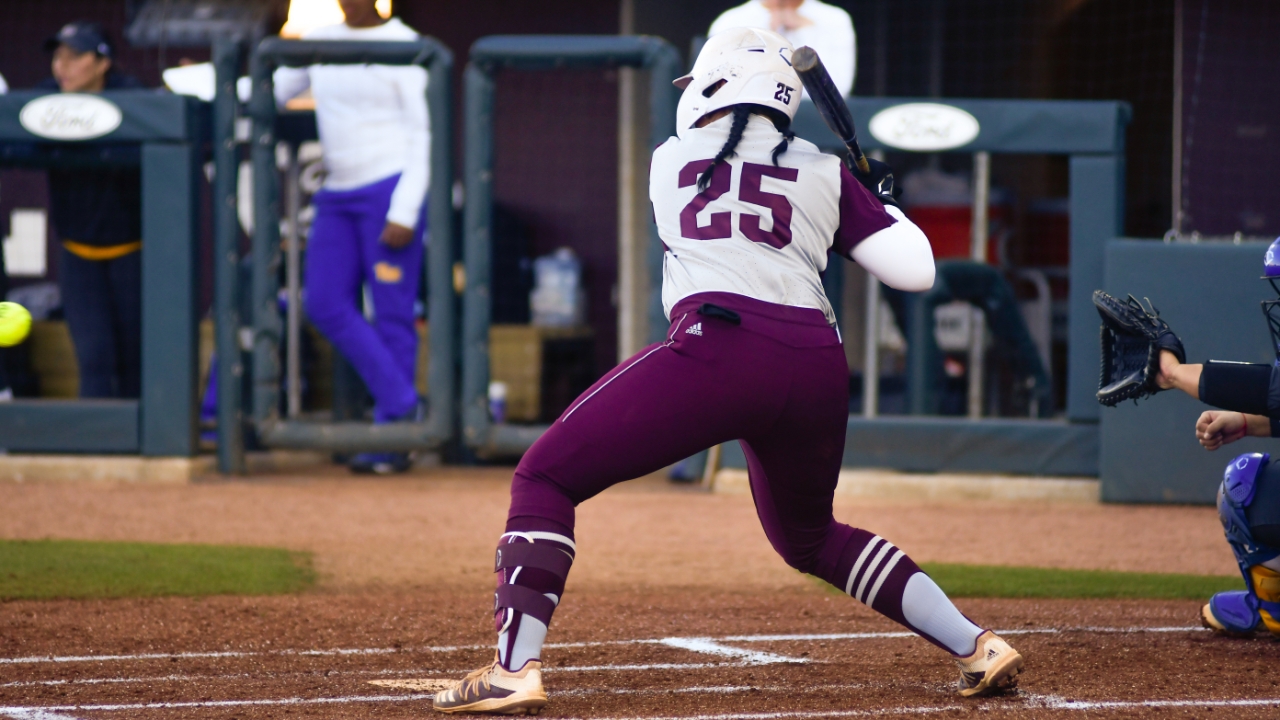 Jo Evans
Shaylee Ackerman
Texas A&M Softball
Aggies improve to 10-0 after Saturday sweep at the Texas A&M Invitational
---
Game 1: Texas A&M 7, SFA 5
After a slow start, Texas A&M got it done.
Pitcher Kayla Poynter made her second appearance in the circle for the 2022 season. In the first, SFA's Shaylon Govan opened it up with a home run to left-center. Poynter was not having much luck as SFA's Gaby Garcia upped the score to 2-0 with a homer of her own.
The Ladyjacks weren't done there. An RBI single from Sydnee Hebert brought Shaylon Govan around to home plate, taking an early 3-0 lead over the Aggies.
"SFA came out swinging," head coach Jo Evans said. "They kept pressure on us the whole game. I thought that our team handled it well. Down three runs, you can start to stress. and we didn't do that."
"Going out there as a pitcher and knowing that Makinzy has your back in every situation, it makes everything so much easier."
A&M to freshman pitcher Emiley Kennedy, who has accumulated quality experience over the past two weekends.
Despite the slow start, the Aggies made a comeback.
Freshman Koko Wooley scored on a groundout by senior Makinzy Herzog — her first RBI of the day.
Senior Morgan Smith added with an RBI single of her own in the third inning.
When the Aggies needed her, Herzog came in clutch. With bases loaded and two outs in the fourth, Herzog hit a three-RBI double to left field, taking the lead 5-3.
"Makinzy's been killing it," said junior Shaylee Ackerman. "She's really buckled down. Her first weekend wasn't terrible, but she expects more, and we all expect a lot of her. Going out there as a pitcher and knowing that Makinzy has your back in every situation, it makes everything so much easier."
In the top of the fifth, the Ladyjacks put themselves in position to do damage. With bases loaded and nobody out, SFA scored just one unearned run as Kennedy limited the damage.
Trinity Cannon's two-run double gave A&M a 7-4 lead. SFA scored on a wild pitch, but it wasn't enough to defeat the Aggies at Davis Diamond.
"I liked our fight," Evans said. "I liked the way we played the game. It wasn't comfortable, and we learned that we can win games when we are not completely comfortable and we're being challenged."
Game 2: Texas A&M 10, Pitt 0 (5 inn)
In game two of the doubleheader, the Aggies started hot and never burned out.
Ackerman made with her second appearance of the season in the circle. She etched a 7-strikeout performance — a career-high for the junior.
"It's exciting," Ackerman said. "It's been a long time building up for these moments."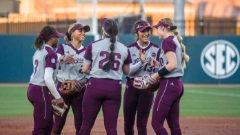 Corinne Moody, TexAgs
Herzog started the game with a two-run double. Sophomore Rylen Wiggins followed that up with her own two-run double to push the lead to 4-0. To end the first inning, freshman Katie Dack hit a two-run triple to right-center field, making it 6-0.
Herzog finished with six RBIs on the day.
"It's great to see us come out and take care of business in the first inning," Evans said.
In the second, Smith knocked her first home run of the year.
To keep Davis Diamond hot in the cold February weather, Wooley launched an RBI double, scoring Wiggins. Subsequently, Haley Lee slammed her second homer of the season, two-run shot.
Pitt couldn't respond offensively as Herzog closed out Ackerman's career night.
"All in all, it was a good day," Evans said. "Playing two games can be a long day. It's physically and emotionally taxing but I think our team handled it well."
The Aggies finish day three of the Texas A&M Invitational on Sunday when they take on Kansas at 11:30 a.m.
Never miss the latest news from TexAgs!
Join our free email list