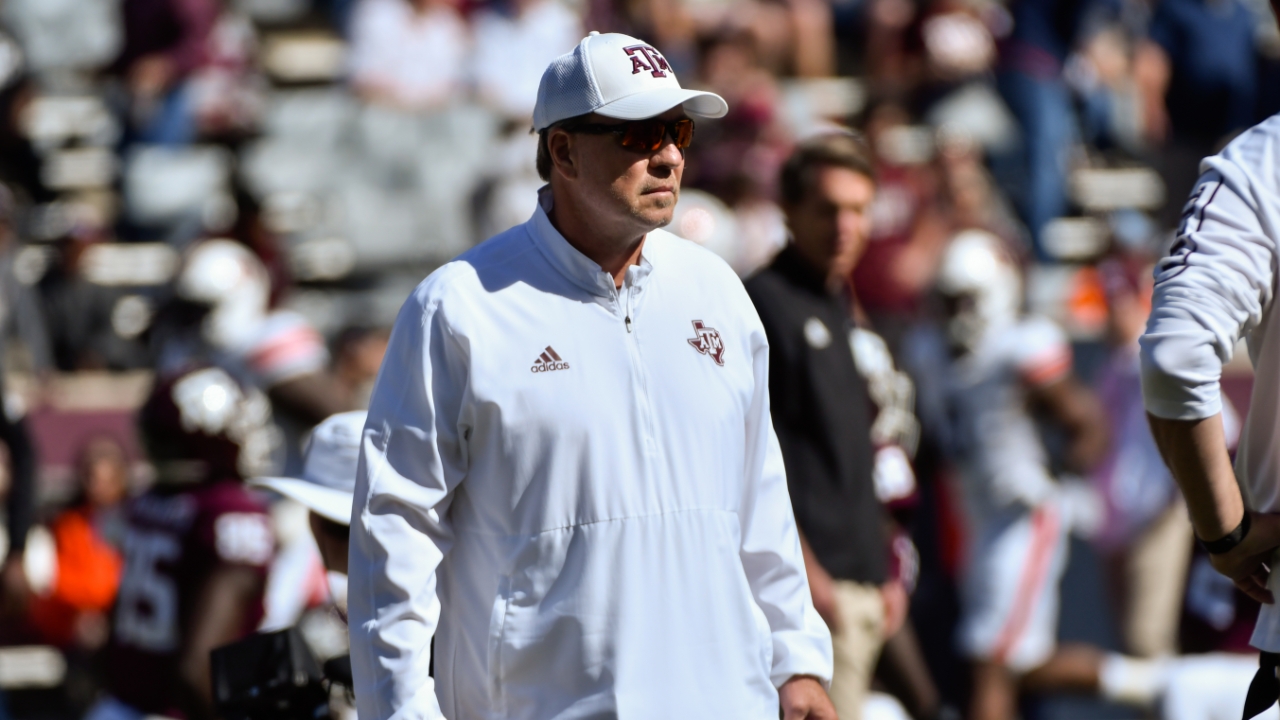 Photo by Jamie Maury, TexAgs
Texas A&M Football
Beaming to Steaming: Jimbo Fisher lashes back at NIL rumors
---
One minute, Texas A&M football coach Jimbo Fisher was beaming. The next, he was steaming.
During a National Signing Day press conference on Wednesday, Fisher transformed from Michelangelo to Michael Corleone.
He went from putting his signature on the Sistine Chapel of college recruiting classes to just waiting to settle all family business.
An elated Fisher was raving about five-star defensive end Shemar Stewart‍ choosing Texas A&M over Miami and Georgia on National Signing Day.
"He's a guy that can rush, play the run. He can play the past. He can overpower you. He can outspeed you," Fisher said. "Just a tremendous player. A tremendous addition to our class. On top of that, he's a better person than he is a player."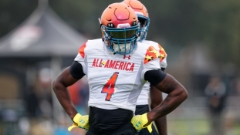 David Bowie
On Wednesday evening, the Aggies added five-star safety Jacoby Mathews‍, who chose A&M over finalists Florida and LSU.
The addition of Stewart and Mathews ensured A&M's 2022 class is the highest-rated class in the modern history of college football recruiting.
"(We) Put the finishing touches on our signing class and the future of our organization, which I think is extremely bright," Fisher said.
Then Fisher went dark.
When asked about accusations that a $30 million slush fund to pay recruits enabled A&M to assemble that heralded class, Fisher took aim at an anonymous writer who started the rumor and those who perpetuated it.
Fisher called out BroBible, the website where the accusation by a writer called "Sliced Bread" was first posted.
Fisher called out Notre Dame Vice President of University Relations Lou Nanni, who tweeted A&M spent a fortune to land its class.
Fisher called out college football media, who reported the BroBible report as fact. Fisher called out SEC coaches, who repeated it as fact.
On Tuesday, Ole Miss coach Lane Kiffin suggested A&M should pay a luxury tax because of how much money the Aggies spent on their signing class.
"There is no $30 million fund. There is no $5 million. There is no $10 million. This is garbage."
Kiffin said he was joking. Fisher wasn't amused.
"There is no $30 million fund. There is no $5 million. There is no $10 million. This is garbage," he said. "It pisses me off. It comes from a site called BroBible by a guy named 'Sliced Bread.' And everybody runs with it. So, it's written on the internet as gospel. How irresponsible is that?
"There's some very reputable writers in college football and sports that wrote it and have said it and done things. That's unbelievable to me. When I first heard it, I laughed. I said, 'Oh yeah, what a clown.'"
Fisher was just getting warmed up. Those unsubstantiated accusations were a slap in the face to his coaching staff, the recruits and to Texas A&M University as an institution. He said there was a litany of reasons recruits would choose A&M.
"To me, it's insulting to the players that we recruited that that's why they would come here," Fisher said. "You ever been to a game here? You ever come to school here and seen the education? Ever talk about the 12th Man and the Aggie Network when you're done? There ain't a better university in this country. It's insulting.
"And we've got writers that have said it and done it off 'Sliced Bread,' who made it up. I'd love to see who 'Sliced Bread' is and who put it out there. Let me find out where it comes from.
"And then to have coaches in our league and across this league say it … Clown acts."
In truth, many Texas A&M players have made thousands of dollars since Name, Image & Likeness was made legal last summer. Some have started their own lines of sports gear. Some have endorsed businesses. Some have been paid to sign autographs or give exclusive interviews.
But Fisher adamantly maintained that none have been funneled money from a slush fund.
"And then to have coaches in our league and across this league say it … Clown acts."
A&M players aren't alone in making NIL deals.
A south Florida gym owner offered to pay Miami players $500 a month to promote his gym. A company that produces energy bars announced it would provide full tuition to BYU walk-ons.
Quarterback Quinn Ewers reportedly received a $1 million NIL deal to go to Ohio State. An Austin reporter tweeted that "first-round" money was "on the table" if Ewers transferred to Texas. He did.
A Texas booster also sought to establish an NIL initiative that would pay offensive linemen $50,000.
Last July at the annual Texas high school coaches convention, Alabama coach Nick Saban bragged that quarterback Bryce Young had gotten nearly $1 million in NIL deals.
"It's funny. When Nick Saban said his quarterback got an $800,000 deal, it was wonderful," Fisher said. "Now it ain't wonderful no more, huh? We ain't got that. Ours are on record what comes up. We ain't doing all them big deals.
"The hypocrisy is a joke. It's an absolute joke. It's insulting to our staff, how hard we work, to how we do things. And it's insulting to Texas A&M because there ain't a better place to go to school and play ball.
"If you don't like that we're coming on, get used it to. All right? We're not going anywhere."
Some in national media and some college football officials don't want Fisher and A&M to be successful. There still seems to be animosity Fisher received a 10-year, $7.5 million per year contract to leave Florida State for Texas A&M. In the minds of some, A&M is not supposed to challenge the established elite.
Therefore, unproven accusations by questionable sources are accepted and reported as fact.
http://instagr.am/p/CZfbe5tK_vJ
"We worry the kids in social media and internet," Fisher said. "How about grown-ups? How about the guy that's supposed to be setting an example? How about writers who are supposed to be writing the right thing? How about coaches that are supposed to be doing the right thing?
"I'll tell you what, I know how some of those guys recruit, too. Go dig into that. I know the history. I know the traditions. I know things. Trust me, you don't want to go down that avenue."
And maybe you don't want to go down that, Lane.
Oct. 29 might be circled on A&M's 2022 football schedule. That's the day Kiffin and Ole Miss visit Kyle Field.
Fisher might be looking at that day to settle family business.
Never miss the latest news from TexAgs!
Join our free email list