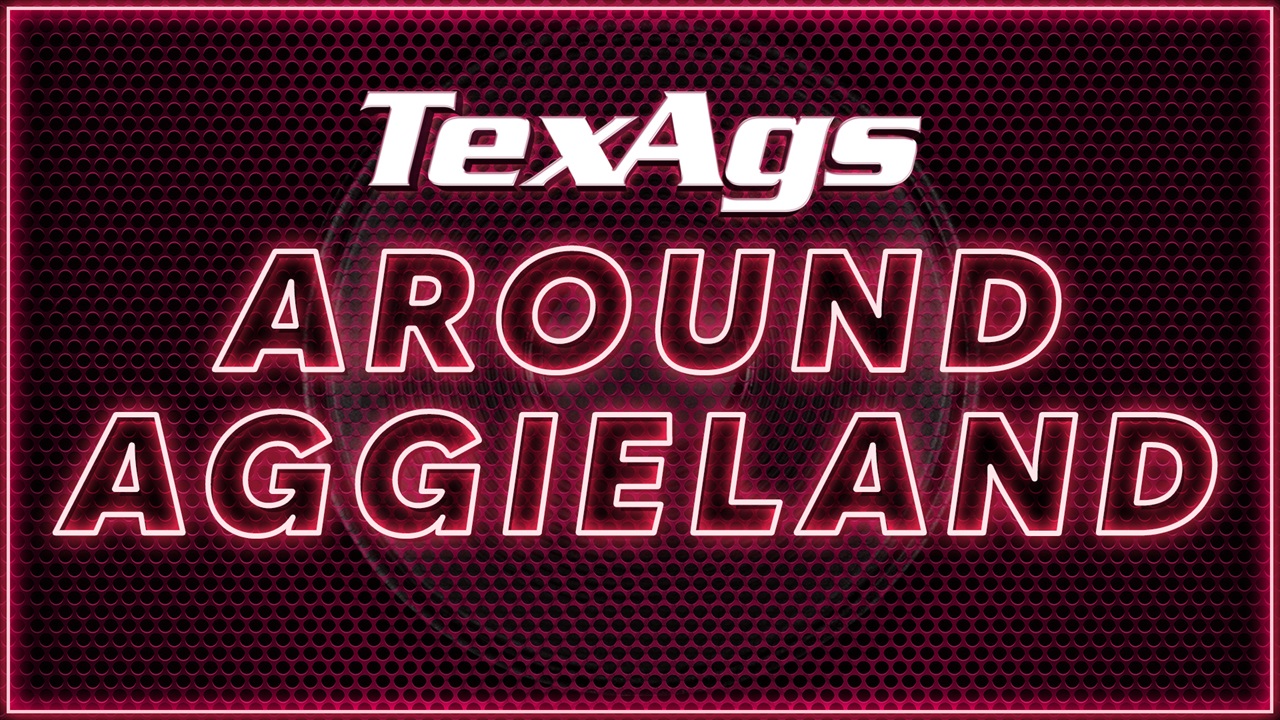 Texas A&M Football
Around Aggieland (12/3)
---
During Friday's edition of TexAgs Radio, the fishbowl's own Richard Zane joined to share updates from the latest in Aggie Athletics as there is plenty going on in College Station despite Jimbo Fisher & Co. not being in action.
---
On Thursday, Texas A&M Athletics announced its highest Graduation Success Rate (GSR) in the athletic department's history as the Aggies posted a GSR of 84%.
The men's swimming & diving, volleyball and women's golf teams each posted a perfect GSR of 100%.
In addition, equestrian, men's basketball, soccer, softball, women's basketball, women's swimming & diving and women's tennis posted GSRs of 85% or higher.
Football (8-4, 4-4 in SEC)
On Monday, R.C. Slocum rang the bell at Baylor Scott and White hospital in College Station, signaling the completion of his cancer treatment.
Frisco Liberty wide receiver Evan Stewart‍ has announced his commitment to Texas A&M as the Aggies' 2022 class has grown to 19.
http://instagr.am/p/CW4fZNvL2-1
Junior defensive end DeMarvin Leal announced on Wednesday afternoon that he will enter the upcoming 2022 NFL Draft, forgoing his final year of eligibility at Texas A&M.
http://instagr.am/p/CW9NNool-bp
Leal is expected to be a first-round selection, with some mock drafts projecting him as high as third overall.
The Converse Judson product did not comment on whether or not he will play in the Aggies' upcoming bowl game.
Graduate student Keldrick Carper has been named to the SEC's Community Service Team.
The defensive back helped create Texas A&M's B.L.U.E.print and has also worked with Twin City Mission in Bryan.
Track & Field
On Wednesday, former Texas A&M phenom Athing Mu was named the 2021 World Athletics Female Rising Star.
Presented by the track & field world governing body, the award spotlights the top under-20 athlete of the year.
Texas A&M's indoor home opener this weekend has been canceled, and as a result, the Aggies will travel to Fayetteville to compete in the Woo Pig Classic.
The meet begins on Friday, Dec. 3, at the Randal Tyson Track Center.
A&M's next indoor home meet will be the High School Classic, which will be held Jan. 7-8.
Women's Basketball (8-0, 0-0 in SEC)
On Wednesday afternoon, No. 17 Texas A&M defeated Little Rock, 65-50, to continue its perfect start to the 2021-22 season.
Aaliyah Patty posted a double-double with 11 points and 10 rebounds.
Kayla Wells and Destiny Pitts scored 15 points each.
Gary Blair tied Shelby Metcalf for the most career victories at Texas A&M with 438.
The Aggies renew the rivalry with a top-25 showdown against No. 15 Texas on Sunday afternoon at Reed Arena.
Tip-off is set for 3:00 p.m. CT and will be televised on the SEC Network.
Men's Basketball (7-1, 0-0 in SEC)
Buzz Williams & Co. continued their hot start to the 2021-22 campaign with an 85-65 over New Orleans on Tuesday night.
Five Aggies scored in double figures as Andre Gordon led the way with 15 points.
Tyrece Radford scored 13 points.
Hassan Diarra and Wade Taylor IV each added 11 points, while Marcus Williams contributed 10.
Texas A&M is 7-1 for the third time since 2015-16.
Next up for the Aggies is a Battleground 2k21 showdown against TCU at the Toyota Center in Houston.
The contest is scheduled for Saturday, Dec. 11, and will tip-off at 5:30 p.m. CT on the SEC Network.
Swimming & Diving
Both Texas A&M's men's and women's teams will be in action this weekend, but both will be competing away from Aggieland.
Men: Friday at Incarnate Word - 3:00 p.m. CT at the Ann Barshop Natatorium
Women: Saturday at Rice - 12:00 p.m. CT at the Rice Aquatics Center Natatorium
Volleyball (14-14, 7-11 in SEC)
Texas A&M libero Allison Fields earned SEC Defensive Player of the Week following the Aggies' series sweep of the Missouri Tigers.
The senior finished with 43 digs on the weekend, including a career-high 27 in the regular-season finale on Saturday.
On Thursday, Notre Dame's Caroline Meuth announced via Twitter that she will join the Aggies next fall as a grad transfer.
The San Antonio, TX native was listed as a sophomore this season.
Meuth was named to the ACC All-Freshman Team in 2019.
Soccer
In her first appearance for the Venezuelan senior national team, Texas A&M's Barbara Olivieri scored her first international goal and registered her first international assist in Venezuela's 2-1 win over India on Tuesday night.
Olivieri's game-winning goal was scored in the 81st minute.
Olivieri and Katie Smith were named to the United Soccer Coaches All-Southeast Region Team.
Equestrian
Caroline Dance was named the NCEA's Standout Athlete of the Month for November.
Dance posted a 3-0 competition record in Flat and earned two Most Outstanding Performer honors en route to being named the NCEA's Flat Rider of the Month.
Outside of competition, the West Chester, PA native was also pivotal in the AggiesCAN campaign, in which Texas A&M student-athletes provided 40,000 meals for the Brazos Valley through a canned food drive.
Baseball
Jim Schlossnagle stayed hot on the recruiting trail, picking up verbal commitments from two of California's top 2023s this week.
2023 Orange (CA) shortstop Gavin Grahovac
2023 Petaluma (CA) utility man Carl Schmidt
Never miss the latest news from TexAgs!
Join our free email list