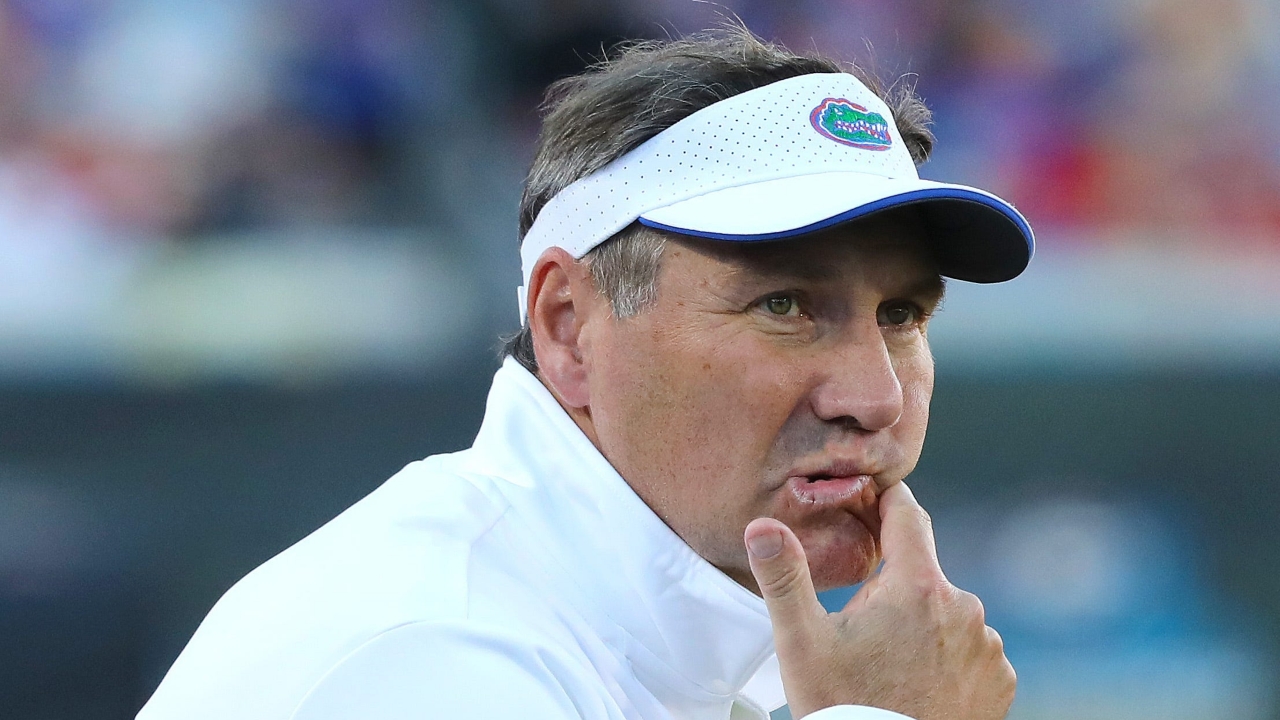 Photo by Brad McClenny /USA Today Network
Texas A&M Football
SEC Round-up: Mullen looking for answers, scapegoats for Florida's futility
---
Not that long ago, Florida was among the stud horses of the Southeastern Conference.
Then, Florida threw a shoe.
Since safety Marco Wilson hurled a shoe 20 yards downfield to draw a penalty that enabled LSU to claim a 37-34 upset victory last season, the Gators have been circling the drain.
Florida is 4-8 since then with victories this season over Florida Atlantic (5-4), South Florida (2-7), Tennessee (5-4) and Vanderbilt (2-7).
The Gators' season may have gone down the drain in a stunning 40-17 loss to South Carolina last week.
Suddenly, Florida fans are longing for the good old days of the Will Muschamp and Jim McElwain regimes.
OK. That's a stretch, but the natives are restless in Gainesville. Coach Dan Mullen knows it. So, he did what any embattled coach does. He looked for scapegoats.
Mullen fired Defensive Coordinator Todd Grantham and running game coordinator John Hevesy because… well, the problem couldn't be Mullen.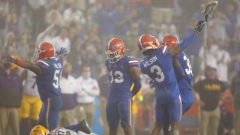 Brad McClenny via Imagn
Indeed, Mullen is quite confident he'll solve the case of the dying Gators.
"What I'm pretty confident in is finding the solution," Mullen told the Gainesville Sun this week. "It's never as good as it seems, never as bad as it seems. I could have said that about this season up until Saturday. I think I really could have."
"Over the last couple of years, everybody's like, 'Wow. Maybe we weren't quite as good as we thought.' We found a way to (win games) before this weekend. I'm disappointed. I apologize. That's not what the Gator Nation expects."
Florida expects to contend for championships. This season, Gator fans will begrudgingly settle for a bowl appearance. Bowl eligibility should be attainable. Florida (5-4) just needs to win two of its last three remaining against Samford, Missouri and Florida State.
Of course, South Carolina was also supposed to be an easy win, too.
If Florida falls short and, even worse, loses to Florida State, Mullen might be cast away like an old shoe.
Around the SEC
Who's hot: Texas A&M defensive end Tyree Johnson has posted 7 sacks in the last four games. He had two against Alabama, two against South Carolina and two against Auburn. He has 8 for the season, which is the third-highest total in the SEC.
Who's not: Ole Miss is struggling to mount any run defense. The Rebels have allowed more than 200 rushing yards in five of their last six games. Liberty ran for 284 yards against them last week.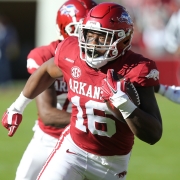 Nelson Chenault-USA TODAY Sports
Keep an eye on: Arkansas receiver Treylon Burks is third in the SEC with 780 receiving yards and first with eight touchdown receptions. Those numbers may soar. The Razorbacks face LSU's moribund pass defense. At least one opposing receiver has starred against the Tigers in each of their last three games. Florida's Justin Shorter caught six passes for 113 yards and two touchdowns against LSU. Ole Miss receiver Dontario Drummond had eight catches for 93 yards. Alabama's Jameson Williams burned the Tigers for 160 yards and a touchdown on 10 catches. Look for a similar output from Burks.
The pressure is on: South Carolina needs another victory to attain bowl eligibility. Even though the Gamecocks are riding high after upsetting Florida, they still were blown out by Georgia, Tennessee and Texas A&M and rallied in the final seconds to beat woeful Vanderbilt by one point. A road trip to Missouri certainly provides a good chance to get the required sixth win for postseason play, but it's no guarantee. If the Gamecocks don't beat Missouri, they will be looking for that sixth win against either Auburn or Clemson.
Best matchup: Once again, Texas A&M is involved in one of the few games in the nation pitting ranked opponents. The No. 11 Aggies face No. 15 Ole Miss in Oxford where they typically struggle. A&M is 4-1 at Vaught-Hemingway, but no victory has been by more than seven points. The outcome may be decided by the matchup of the Rebels' passing offense against A&M's pass defense. Ole Miss averages 286 passing yards to rank third in the SEC. A&M's pass defense is allowing an average of 194.7 yards to rank fourth in the SEC.
Never miss the latest news from TexAgs!
Join our free email list