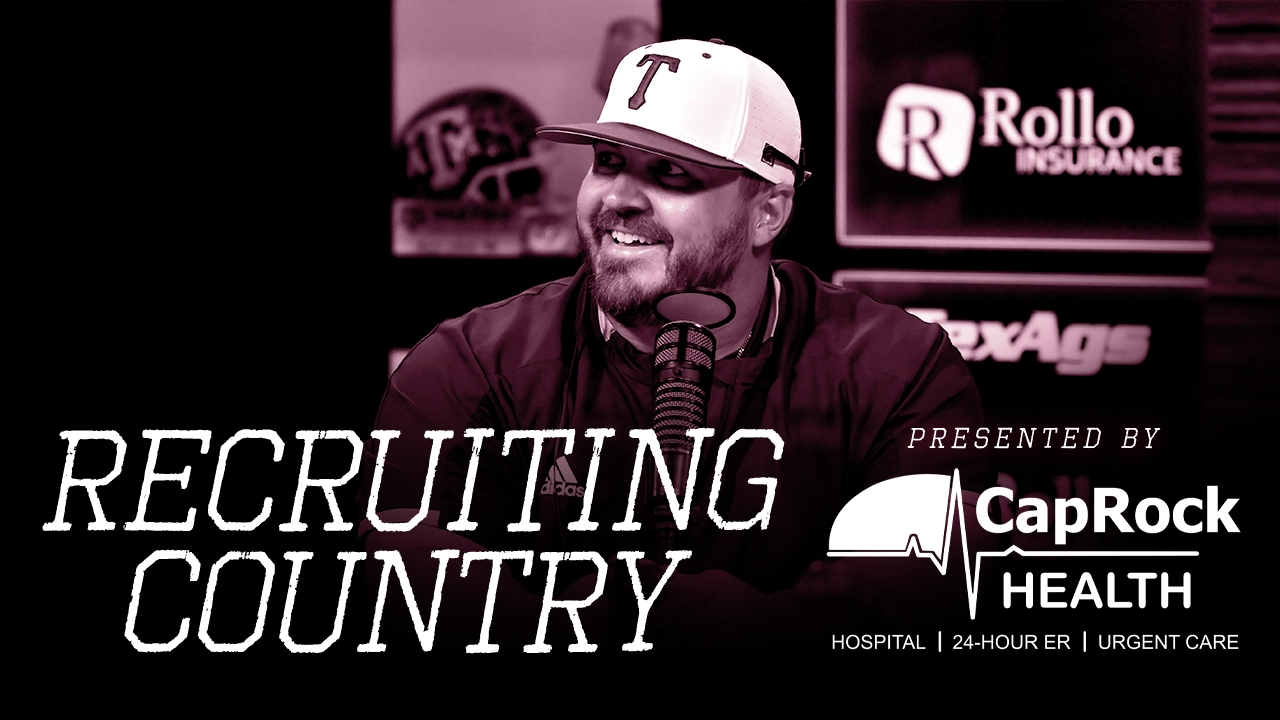 Photo by Jamie Maury, TexAgs
Texas A&M Football Recruiting
Recruiting Country: The latest recruiting news surrounding the Maroon & White
---
Key notes from Recruiting Country
There is no way to tell what this Jeff Banks situation at Texas will do to their recruiting. I would have loved to have been a fly on the wall in that coaches' meeting on Monday night when someone told Sarkisian there was an issue. To be a fly on the wall would have been incredible. They were probably game-planning for Iowa State, and some GA or intern had to walk in and show them Twitter. It's impossible how it has affected recruiting to this point, but you would have to assume it will become an issue going forward. All is fair in love, war and recruiting. There will be somebody in a living room somewhere that will make them have the uncomfortable conversation surrounding Jeff Banks' life decisions. When you're paying him $1.3 million, the money will insinuate that Banks is worth something. It will be interesting to see what they do between now and signing day. Sarkisian tweeted something this morning, and the responses were all monkey gifs.

Bobby Taylor‍ and Walter Nolen‍ got on an Instagram live and sort of unfurled the weekend ahead of what's going to happen in College Station. Nolen is coming back this weekend, and that was planned after the South Carolina weekend, which was scheduled after the Alabama weekend. Evan Stewart‍ is going to be here as well. Bobby and Walter had a lot of other names they said were coming in, including Enai White‍, Deyon Bouie‍ and Omari Abor‍. I think Abor will come, but the rest of those names are currently "maybes." Jason Howell is not confident White will be here, but he could be back before February. I'm expecting Kam Dewberry‍ on campus. I'm expecting Chris Marshall‍ on campus. The visitor list continues to top itself, and that's just recruiting under Jimbo Fisher. There is no peak.

A best-case scenario for A&M is that they could sign seven five-stars. I don't think they will, but when you look at each of these recruitments, you examine who is in a better position than A&M. Do you like anybody more than A&M in those recruitments? A lot of times, the answer is "no."

Nolen loves it here, and he wants to come back. He has been an unapologetic fan of A&M and everything that has happened on campus when he has been here. Bryce Anderson‍ is also coming back this weekend, as are Malick Sylla‍, Ish Harris‍ and Donovan Green‍. The work that those 14 commits have built, with Bobby Taylor being the megaphone for it all, has helped the remaining targets feel a part of their group already.

These kids compete with each other. Bryce Anderson has talked about how he's a better recruiter than Bobby, and I'll mention it to Bobby, and he'll laugh. The camaraderie they have is special. As some of these big-time battles continue to unfold and the visits dry up and it becomes decision time for Harold Perkins‍ and Shemar Stewart‍, we will find out how big of a piece of the pie the current 14 commits get for helping Texas A&M sign the best class in its history. That's not to belittle the job done by Jimbo Fisher and the coaching staff, either.

Together, Terry Price and Elijah Robinson have formed the best defensive line recruiting tandem in the country, and it's not even close. If they close the way they could with Nolen, Shemar Stewart, Anthony Lucas‍ and Enai White with Malick Sylla and Jadon Scarlett‍ already committed, that would be the best position haul in the country.

One thing you hear a lot from parents about Jimbo Fisher is that there are no-frills about him. He is who he is, and he's genuine and comfortable in his own skin. He was at Harold Perkins' game on Friday just talking football with athletic directors and coaches on the sidelines. Their approach of being honest has made for some uncomfortable conversations but it has helped them in the long run.

I think the biggest changes you're going to see is if programs don't get the kid they want out of high school, they'll probably leave those spots open for a grad transfer or a transfer portal guy. A&M is still in it for many of their top targets, so it will be interesting to see what they do if they miss. Do they go to the next high school prospect

PJ Williams‍ and Hunter Erb‍ are committed. I saw PJ last week, and he looks very good. He reminds me a lot of Cedric Ogbuehi, who came in as a skinny guy out of Allen. PJ has only grown and grown. I think Erb is one of the best offensive line prospects in Texas. From there, you go Mark Nabou‍ and Kam Dewberry. Conversations surrounding Kelvin Banks‍ have started to surface. I'm not sure Banks will come this weekend, but I expect him to come to campus at some point before signing day. It has gone from the door being completely shut to the door being cracked.

This recruiting and coaching staff is all on the same stage. That's from the recruiting staff under Malchow to the game day staff to the photography and graphics crew. They all know where they want to go, and it takes that sort of understanding to recruit top-five classes year in and year out.

The knee-jerk reaction is usually the worst reaction. I've always thought a 48-hour rule is important. If you're pissed about something and wait 48 hours, you usually find it wasn't that big of a deal. Sure, the coaches don't like mistakes and want to clean it up. However, if you panic, that energy goes to your players and the rest of your staff. Look at the obstacles this team has handled, including the starting quarterback breaking his leg. They have rebounded. This is what I meant when you have to look at the season in its entirety. It's never as good as the hour after the Alabama win. It's never as bad as the Mississippi State loss.

This Saturday is enormous. You have never beaten Auburn inside Kyle Field. Regardless of the result on the field, you have to endear these recruits to the culture around here. The student body and the crowd inside the stadium understand what kind of effect they can have on the game, and they can do that again on Saturday. If you're going to be inside Kyle Field, not only can you impact the game, but you can impact the recruits. The best way to help is to make a lot of noise and make that place rowdy.
Never miss the latest news from TexAgs!
Join our free email list
PRESENTED BY