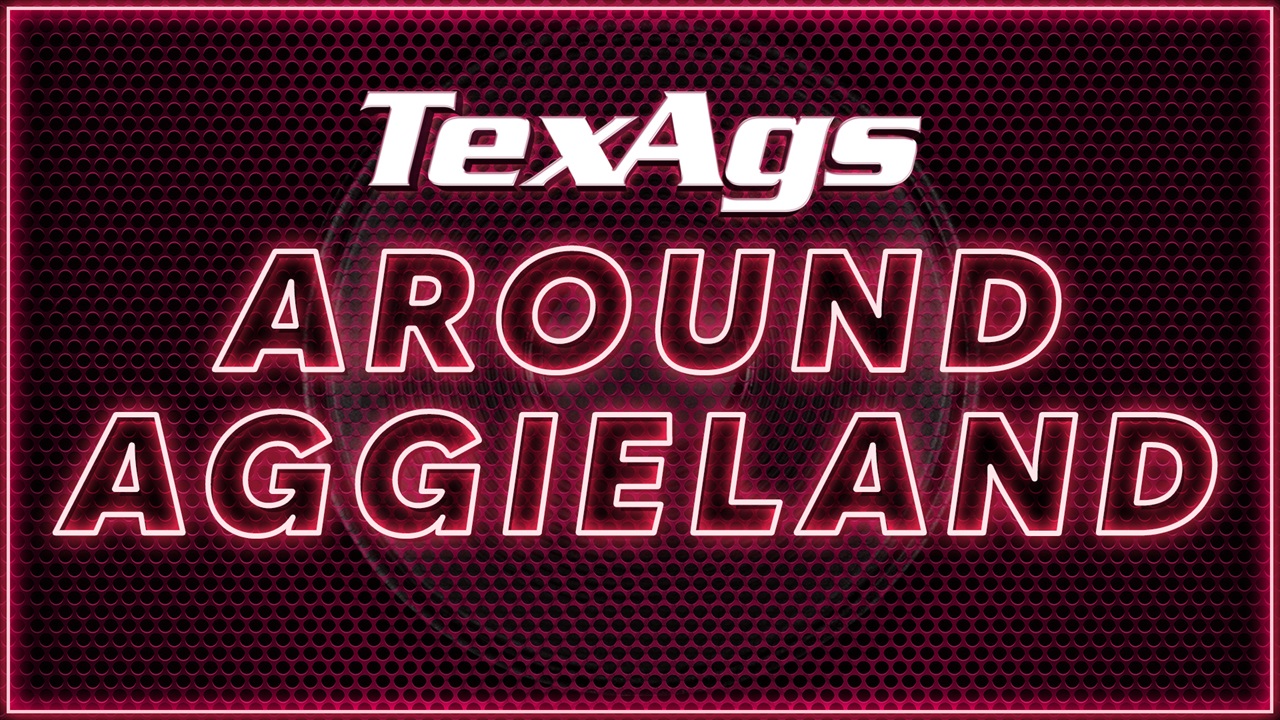 Texas A&M Football
Around Aggieland (11/1)
---
During Monday's edition of TexAgs Radio, Richard Zane joined to take us Around Aggieland and provided updates from the gridiron and beyond as the calendar has officially turned from October to November.
---
Equestrian (3-1, 2-0 in SEC)
In a top-five clash on Friday morning, No. 5 Texas A&M took down defending national champion No. 2 Georgia, 13-6, at the Hildebrand Equine Complex in Bryan-College Station.
A trio of Aggies earned Most Outstanding Performer honors as Haley Redifer (fences), MacKenzie Chapman (horsemanship) and Lisa Bricker (reining) stood out in A&M's big win.
The Aggies are off until Nov. 12 when they travel to Martin, Tenn., to take on Tennessee Martin at the McWertier Agricultural Pavillion.
Football (6-2, 3-2 in SEC)
Despite being idle this week, Texas A&M has moved up in both the AP and Coaches Polls heading into this weekend's tilt with Auburn.
AP Poll: No. 13 (Up one spot from No. 14 last week)
Coaches Poll: No. 12 (Up two spots from No. 14 last week)
The first College Football Playoff rankings are set to be revealed on Tuesday at 6:00 p.m. CT on ESPN.
Kickoff time for a top-15 clash between No. 13 Texas A&M and No. 12 Auburn at Kyle Field was announced on Sunday.
Kickoff is at 2:30 p.m. CT, and the game will be aired on CBS.
The SEC Network's pregame morning program "SEC Nation" with Laura Rutledge, Tim Tebow, Roman Harper, Jordan Rogers and Paul Finebaum will air live from College Station this week.
On Monday, Jimbo Fisher, Jalen Wydermyer, Isaiah Spiller, Tyree Johnson and Demani Richardson will speak to the media as the Aggies prepare for the Tigers.
Full coverage of the press conference will be available on TexAgs.com as well as @TexAgs on Twitter.
Soccer
Despite a rough season, four Aggies picked up All-SEC postseason honors following Texas A&M's 7-9-2 (3-6-1) campaign.
Barbara Olivieri and Katie Smith were named All-SEC second-team selections.
Mia Pante and Maile Hayes were named All-SEC freshman-team selections.
Cross Country
The Aggies ran in the SEC Championships on Friday at the Gans Creek Course in Columbia, Missouri.
As a team, Texas A&M's men finished ninth with 229 points, while the women placed 11th with 270 points.
Eric Casarez was the Aggies' top performer in the Men's 8K race, finishing 25th overall with a time of 24:18.0
In the Women's 6K race, Gemma Goddard paced the Aggies with a 36th-place finish at 21:32.4. Goddard earned All-SEC Freshman honors, finishing as the second-fastest true freshman in the race.
Men's Tennis
Texas A&M wrapped up the Gamecock Scramble on Sunday, winning 24 matches over the course of the weekend. Also playing in the tournament were Wake Forest, Florida State, Presbyterian College and South Carolina.
Day 1 (Friday): Eight total wins (6 individual, 2 doubles)

Individual wins: Anish Sriniketh, Kenner Taylor, Raphael Perot, Noah Schachter, Guilio Perego and Austin Abbrat.
Doubles wins: Sriniketh/Rahul Dohkia and Matthis Ross/Perego.

Day 2 (Saturday): 11 total wins (7 individual, 4 doubles)

Individual wins: Abbrat, Schachter, Luke Casper, Rollins, Dhokia, Stefan Storch and Sriniketh.
Doubles wins: Perego/Perot (x2), Storch/Dhokia and Dhokia/Casper.

Day 3 (Sunday): Five total wins (all individuals)

Individual wins: Sriniketh, Dhokia Abbrat, Casper and Taylor.
Women's Tennis
Playing in the Rice Invitational this weekend in Houston, the Aggies posted 19 total victories. Also playing in the tournament were BYU, Houston, Texas-Arlington, SMU and Rice.
Day 1 (Thursday): Six total wins (4 individual, 2 doubles)

Individual wins: Gianna Pielet, Isa Di Laura, Jeanette Mireles and Ellie Pittman.
Doubles wins: Renee McBryde/Pielet and Mireles/Robbins.

Day 2 (Friday): Seven total wins (7 individual, 0 doubles).

Individual wins: Katya Townsend, Mireles, Pielet, Di Laura, Robbins, Pittman and McBryde.
0-for-4 in doubles play.

Days 3 (Saturday): Six total wins (4 individual, 2 doubles)

Individual wins: Pielet, Mireles, Robbins and Kayal Gownder.
Doubles wins: Pittman/Robbins and Mireles/Pielet.
Men's Basketball
Buzz Williams and the Aggies host Texas A&M-Kingsville in an exhibition game at Reed Arena on Monday night.
Tip-off is set for 7:00 p.m. CT and admission and parking will be free. The game will not be televised.
Baseball
Playing in the 2021 Maroon & White World Series, the Maroon team took the first two games to win the series.
Friday: Maroon 2, White 1
Saturday: Maroon 4, White 3

Jack Moss hit a walk-off sacrifice fly.

Game 3 will be Monday at Olsen Field at Blue Bell Park. The game will not be televised.
In the World Series, AJ Minter and the Atlanta Braves hold a 3-2 lead over Brooks Raley and the Houston Astros.
Game 1: ATL 6, HOU 2

Minter: W, 2.2 IP, 3 H, 1 R, 1 ER, 0 BB, 3 K
Raley: 1.2 IP, 0 H, 0 R, 0 BB, 1 K

Game 2: HOU 7, ATL 2
Game 3: ATL 2, HOU 0

Minter: H, 1.0 IP, 0 H, 0 R, 0 BB, 2 K

Game 4: ATL 3, HOU 2

Raley: H, 0.1 IP, 1 H, 1 R, 1 ER, 1 BB, 0 K

Game 5: HOU 9, ATL 5

Minter: L, 1.0 IP, 3 H, 3 R, 3 ER, 2 BB, 2 K

Game 6: 7:09 p.m. CT on FOX
Game 7*: 7:09 p.m. CT on FOX
Softball
Texas A&M hosts Blinn College for their final fall exhibition on Monday afternoon at Davis Diamond.
First pitch is set for 4:00 p.m. CT, and admission is free.
Swimming & Diving
Both the men's and women's teams will host TCU on Friday evening at the Rec Center Natatorium.
The swimming events begin at 5:00 p.m. CT and will be streamed on the SEC Network+.
It is also "Alumni Weekend" in Aggieland.
Former Texas A&M All-American Shaine Casas was named the Team USA's roster for the upcoming FINA Short Course World Championships.
The 15th annual FINA Short Course World Championships will be held in Abu Dhabi in December (16-21).
Volleyball (11-9, 4-6 in SEC)
Texas A&M returns to Aggieland for a pair of matches this week against the Auburn Tigers at Reed Arena.
Thursday: 6:00 p.m. CT on the SEC Network+
Friday: 6:00 p.m. CT on the SEC Network+
Never miss the latest news from TexAgs!
Join our free email list