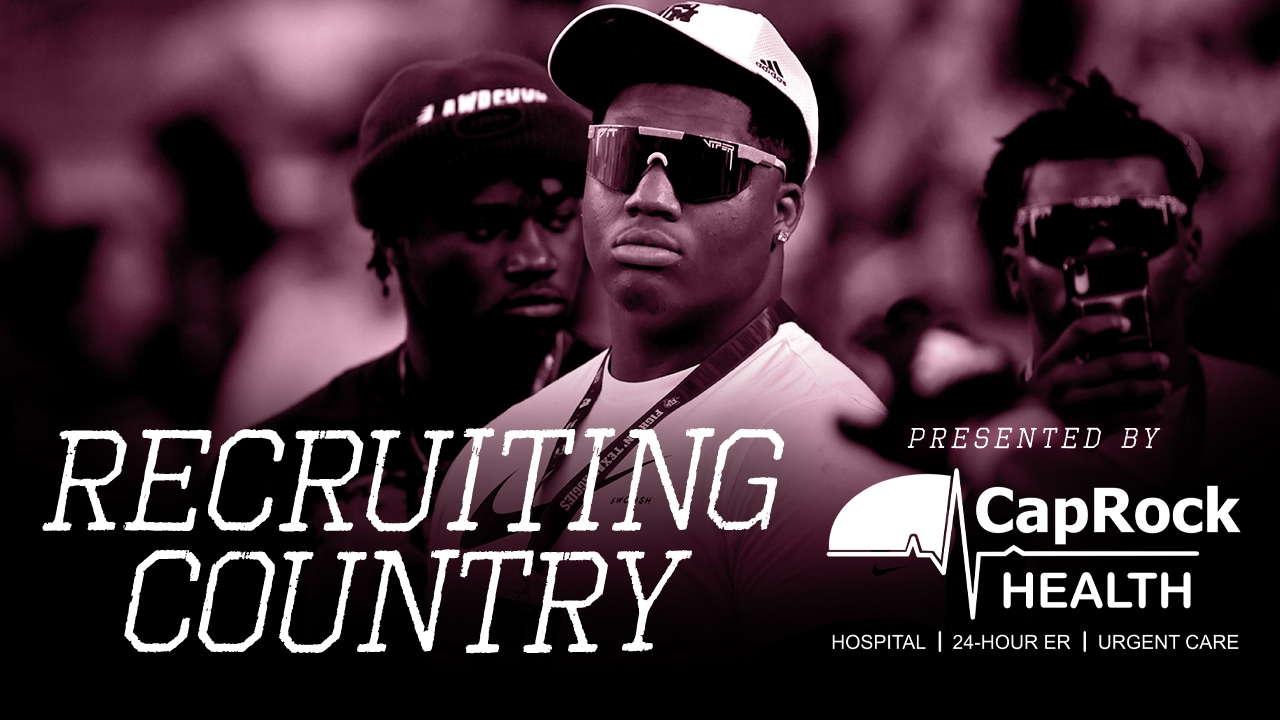 Texas A&M Football Recruiting
Recruiting Country: The latest recruiting news surrounding the Maroon & White
---
Key notes from Recruiting Country
On Saturday night, we were doing the Post Game Wrap in this studio, and Brandon Leone was doing a great job. I was enjoying the content, and I walked outside to get something out of my car. I saw a big dude standing in the street. I walked down and it was Bobby Taylor‍ and Walter Nolen‍. They came into the office to hand out and wait. Walter walked by the window and asked to go in. They joined the Post Game Wrap, and after that finished, they did an interview as well. Walter's response to being in College Station for the second time and with Bobby being the ring leader, it has been a fun week.

I've been getting phone calls all week from people I haven't heard from in a long time, and it's all because of what Texas A&M is doing in recruiting right now.

Momentum is the keyword because it has been a while since Texas A&M has gotten a commitment. It's not like their targets are falling off the board and going elsewhere. We did record an In-Home Visit that should go out tomorrow discussing the latest in recruiting. One of the conversations is how they lost out on two national five-stars in Gabriel Brownlow-Dindy‍ and Bear Alexander‍, finishing runner-up for both, and it may not matter. Think about years past when you missed out and how you were filling those spots. It would've been a huge blow and awful for the class. Now, it's whatever.

I think having Bobby Taylor here, it cannot be overstated the impact he has had on this recruiting class. If they close how they can, how much credit do you give to Bobby? Obviously, the A&M recruiting staff and the relationships they've built are huge, but Bobby deserves a slice of the credit. There has been a great group of supporting guys in the class that have been recruiting in Ish Harris‍ and Donovan Green‍ as vocal guys as well as Bryce Anderson‍ and Conner Weigman‍. Weigman is respected by everyone and all of the big-time prospects in Texas, and Anderson is a big-time texter who has created great relationships with those top targets.

Bobby Taylor has guaranteed a top-five class. The momentum and the scenarios that could play out, it definitely could end up that way. Still, recruiting is a very fickle atmosphere. Two days in recruiting is like two years. The long-standing relationships and the momentum with what Texas A&M is after, it could be a special close.

In the next three weeks, yes, I think they will add to the class. I will leave it at that.

Chris Marshall‍ was in our office after the Alabama game. Alabama has turned up their interest in him, but he did not go on an official visit that was planned last week. I would think Chirs is a guy you should keep an eye on as one who could make a decision soon. We will see if he goes back to visit Alabama. A&M has a built-in advantage with Marshall after landing Devon Achane from Fort Bend Marshall.

Since Darrell Dickey has been hired, I have not heard a single bad word about him from players, coaches, families, etc. He is extremely well connected in the state of Texas. I get glowing remarks about Dickey as a man. I think the Fort Bend Marshall coaching staff was endeared to Dickey for how he handled the Malik Hornsby‍. They were completely honest with Hornsby, and he made a good decision for himself with Arkansas and has been on the field some this year.

Ty Kana‍ and Julian Humphrey‍ both backed away from commitments this week. I don't think A&M will be involved in either one of those. They're both really good players. I think they'll both find their ways to Power 5 schools, but I don't think it will be Texas A&M.

Here's the short version with what A&M has done with Evan Stewart‍: They've gone from being off the radar to being right in it. I'm still not sure they'll win that race. Stewart said they just didn't know about Texas A&M until the visit, so he and his inner circle had their eyes opened.

Connor Stroh‍ is a 2023 offensive lineman from Frisco Wakeland. A&M has not gotten really heavy with their offers in-state in 2023. That's the approach they've taken, just waiting to evaluate the tape at the end of the year. I would imagine that Stroh would be on the shortlist.

Not much has changed with Harold Perkins‍. He had a good time on his visit, and he has a great relationship with Tyler Santucci. The longstanding relationship he has with Santucci, Mike Elko and Jimbo Fisher along with the relationships he has with the current commits, A&M has set themselves up well to ultimately land him. I still think it's a tight race, but I like where A&M is at.

With all 14 commits, I don't see a reason for them not to sign early. Reasons might pop up as we get closer.
Never miss the latest news from TexAgs!
Join our free email list
PRESENTED BY