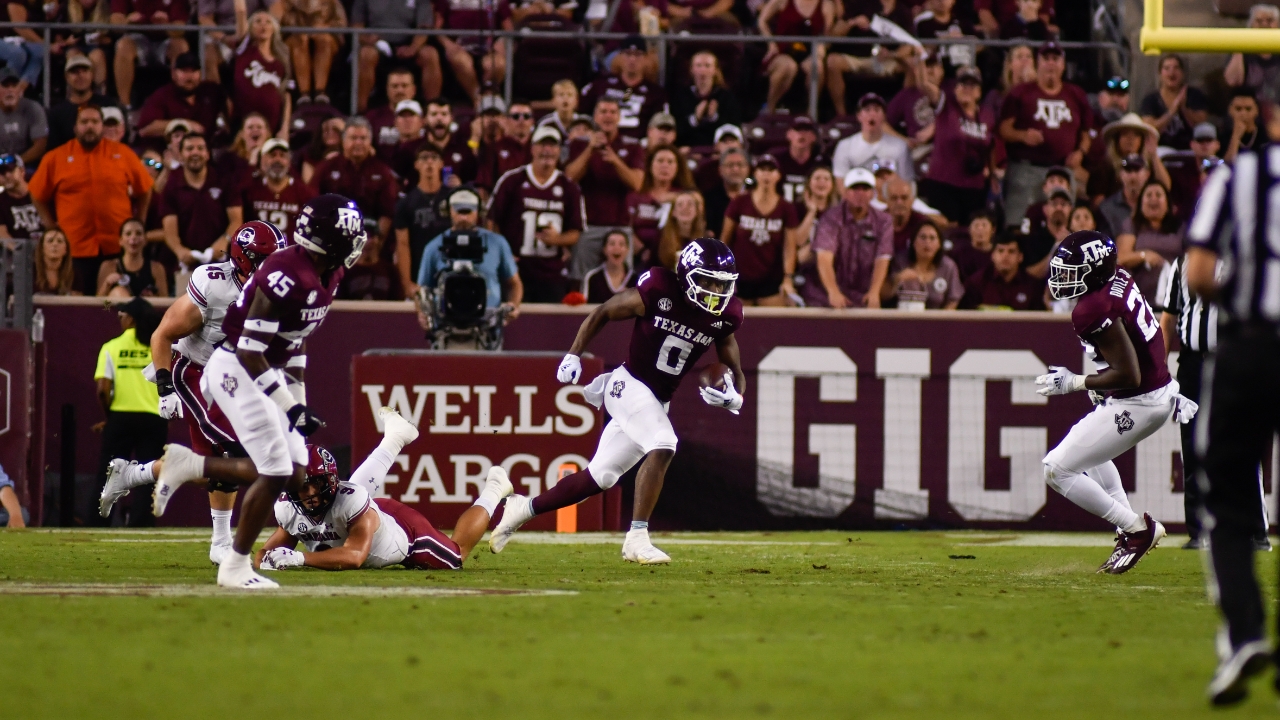 Photo by Jamie Maury, TexAgs
Texas A&M Football
Ainias Smith named SEC Special Teams Player of the Week
---
A wise man once said to never field a punt inside the 10-yard line.
That man has never won the Southeastern Conference's Special Teams Player of the Week award.
Texas A&M's Ainias Smith picked up the honor on Monday after taking a Kai Kroeger punt 95-yards to the house in Saturday night's 44-14 drubbing of South Carolina at Kyle Field. Surprisingly, it is the first SEC POTW award Smith has won in his career.
Just over two minutes into the contest, Kroeger punted from his 38 to Smith, who caught it on the 5-yard line near the numbers closest to the A&M sideline.
"When I saw the ball in the air, I looked down for a second, and I was like, 'Yeah, I might get a return right here,'" Smith said postgame.
Indeed he did. After jumping to the 8-yard line, Smith cut to his left between three defenders. Along the 10, he made another man miss and was then off to the races, following Edgerrin Cooper down the sideline. With Cooper throwing one more block inside Gamecocks' 10-yard line, Smith cut towards the middle of the field and crossed the goal line.
The play was undoubtedly a tone-setter, and the Aggies never looked back.
"My whole message to the team was, you know, let's go ahead and start fast," Smith said. "Let's start fast. Let's start strong and go ahead and get an edge on them real quick, and it just so happened that my opportunity came."
Smith's special teams touchdown was the first score of the game, and the Aggies capitalized on the energy inside of an electric Kyle Field, eventually taking a stranglehold on the game with a 31-0 lead at halftime.
All of that despite breaking the 10-yard-line rule. Head coach Jimbo Fisher said Smith has the "free light" to field punts wherever he is on the field.
"Punts are different now," Fisher said. "Those Australian kicks, they'll deaden them things, and they'll go at the 1."
It was the first punt return for a touchdown by an Aggie since Christian Kirk's 90-yarder vs. New Mexico in 2017. Smith's 95-yarder ranks as the third-longest in program history and is currently the longest in the FBS this season
"A few of the guys, they were thanking me on offense because they didn't have to go out there and whatnot," Smith said. "It was pretty cool."
Never miss the latest news from TexAgs!
Join our free email list