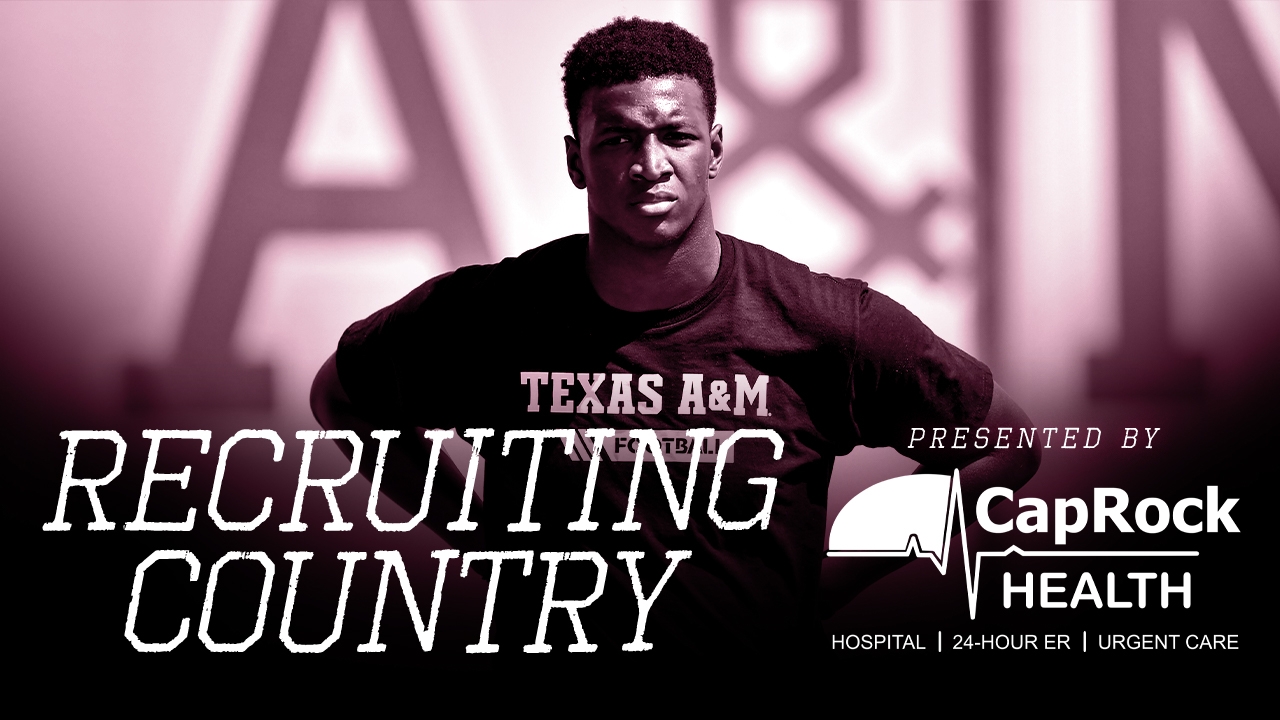 Texas A&M Football Recruiting
Recruiting Country: The latest recruiting news surrounding the Maroon & White
---
Key notes from Recruiting Country
In some form or fashion, we have heard anywhere between 10-13 top 100 national players in College Station this weekend for the game. Some of those maybes are Walter Nolen‍ and Jacoby Mathews‍. Walter was on an Instagram live last night with Bobby Taylor‍ talking about it. There is still some work to be done in Nolen's recruitment, but if I had to pick a leader right now, I'd say it's Texas A&M.

Other maybes this weekend are David Hicks‍ and Javien Toviano‍ in the class of 2023. Rueben Owens‍ and Anthony Hill‍ are expected to be here this weekend.

Harold Perkins‍ and Conner Weigman‍ should be here this weekend. Shemar Stewart‍ and Deyon Bouie‍ will be here for their official visits, as well Evan Stewart‍.

The visit scheduled and the organization of the whole deal since Marshall Malchow has gotten here has become very efficient. They're very good at getting the kids in and making sure they all feel welcome. They show love and show all the facilities. The 12th Man and Kyle Field do the rest. The most impressive thing the recruiting staff does is run an organized visit. There is no stone left unturned. They think about the minute details that might help them with the kid and the parents.

There is a challenge again this weekend, not just for the football team on the field but to keep the momentum for Jimbo Fisher and what he wants to build rolling. I've seen some of the renderings of the renovations, and it's all going to be top-of-the-market. Still, the selling point is the experience at Kyle Field. When these recruits come in for a game against South Carolina, Texas A&M fans need to make that place as raucous and as rowdy as they can. They've done a great job of that so far. The fanbase has taken to recruiting, which helps when you're recruiting against Nick Saban, Kirby Smart and whoever LSU gets. Those fans know who these kids are, so they're shown love in every city they go to. You better make sure you show them love to make sure College Station is on par or better.

Part of the reason they fired Ed Orgeron is probably because of the off-field investigations. LSU will continue to recruit Louisiana as they always have, regardless of who the coach is. We'll see who they are and if they'll have time to get guys like Perkins, Mathews or Kam Dewberry‍. To get any of those kids, it would have to be somebody with a preexisting relationship with those kids.

There is a chance Dewberry makes it to Aggieland this weekend, but if not, I do think he'll get to campus before signing day.

Comparison for Owens, I don't know. He's really, really good. He doesn't get caught. Great top-end speed. Good vision and cut-back ability. Every time he puts out highlight clips, you're going, "Holy crap, this kid is incredible." It's hard to say who stands out right now, but it's probably A&M and Georgia.

With Brenen Thompson‍, that's a fresh commitment, and the high doesn't burn off that quick. He is still communicating with A&M. Things would have to go really bad in Austin and really good in College Station. The Aggies are getting Evan Stewart in this weekend and high on Chris Marshall‍. If I had to make a decision right now, I do not think Thompson would be in the class.

You could get out the class calculator and legitimately find a way to get the No. 1 class in the country. Guys like Nolen, Shemar Stewart, Enai White‍, Perkins, Dewberry, Marshall. It could legitimately be the class that Texas A&M has ever signed.
Never miss the latest news from TexAgs!
Join our free email list
PRESENTED BY