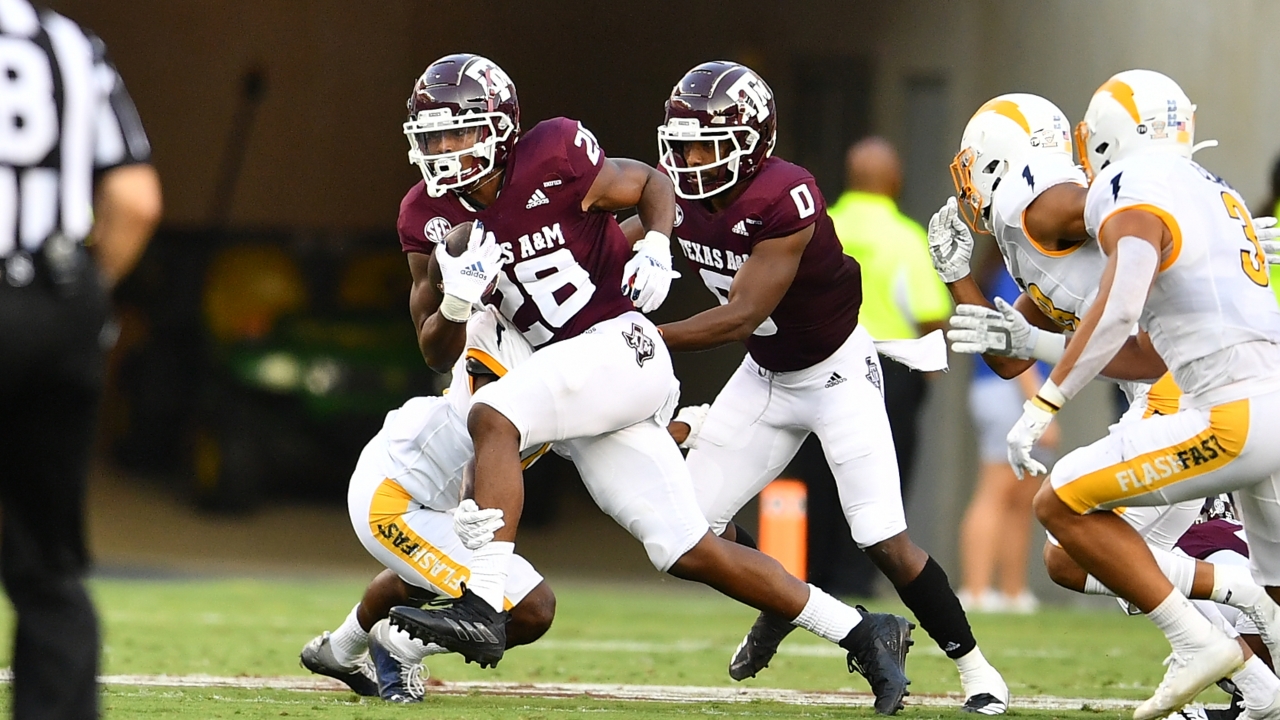 Photo by Maria Lysaker-USA TODAY Sports
Texas A&M Football
Post Game Review: No. 6 Texas A&M 41, Kent State 10
---
Leon just had to Wake 'Em Up.
Trailing by 10 midway through the third, Kent State was threatening to enter the red zone. From the Texas A&M 22, quarterback Dustin Crum's errant pass was picked off by safety Leon O'Neal who then covered 85 yards for a touchdown to give A&M a comfortable three-score edge.
From there, the sixth-ranked Aggies cruised to a 41-10 win on opening night at Kyle Field.
The first half showed spurts of Aggie dominance, but A&M never clicked until late.
Haynes King opened the game by completing all five of his attempts to five different receivers on A&M's first drive of the night, culminating in a four-yard touchdown pass to Ainias Smith.
Utilizing an uptempo offensive approach, the Golden Flashes marched quickly into Aggie territory, aided by a questionable facemask call against Brian George. A couple of plays later, Crum ripped off a 26-yard run to the A&M 12-yard line. On third-and-6, true freshman Shemar Turner sacked Crum for a loss of five, forcing Kent State to settle for a 30-yard field goal.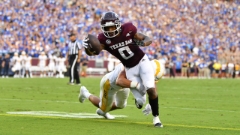 Maria Lysaker-USA TODAY Sports
The Aggies took over with excellent field position at the plus-46 following an onside attempt. A&M ran for 15 yards on their first two plays before back-to-back incompletions brought out the kicking unit for a long field-goal attempt. In his first action of the season, Seth Small nailed the 49-yarder to reclaim the seven-point advantage.
Kent State's next drive quickly stalled, but punter Josh Smith pinned the Aggies deep on their 9-yard line.
The second stanza was marred by interceptions as neither team found the scoreboard. King threw a pair of picks, including one in the red zone, but fortunately for Texas A&M, O'Neal pulled down what would be his first of two interceptions with 20 seconds remaining in the half to maintain the seven-point advantage.
A&M's defense held strong to open the second half, forcing a quick three-and-out.
On third-and-9, King found Jalen Wydermyer for 18 yards and a first down. Spiller then rushed for 10 yards and another first down. Ainias Smith took a pass for 14 yards, marking the third consecutive play to move the chains. After a Jahmir Johnson hold set them back, A&M settled for a 36-yard field goal to go up 10 points.
On Kent State's third play of the ensuing series, Crum was sacked by Fadil Diggs, but DeMarvin Leal committed a personal foul, moving the Flashes across midfield.
Then came the turning point. Two plays after a targeting call against him was reversed, O'Neal came away with the pick-six.
After another short Kent State drive, Achane showcased his track speed, blazing 63 yards to the endzone to put the Aggies up 17.
A&M's defense forced their second three-and-out of the night, but after a big pass to Chapman for 53 yards, King tossed his third interception of the game. Mike Elko's unit responded by forcing yet another three-and-out, punctuated by Leal's first sack of the season.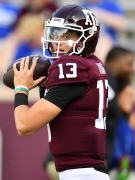 Maria Lysaker-USA TODAY Sports
Taking over near midfield, King led a seven-play, 53-yard drive and hooked up with Ainias Smith for their second touchdown connection of the night.
Down 31, Kent State marched down the field to find paydirt for the first time as Colin Schlee crossed the goal line on a one-yard carry to cap a 10-play, 75-yard drive.
Attempting their second onside kick of the night, Kent State nearly came up with the ball, but O'Neal held on as the Aggies took over at the Kent State 44. Four Achane carries later, including a 30-yard scamper to the 1-yard line, A&M found the endzone again. It was the Orange Bowl MVP's second touchdown of the night.
Poor special teams reared their ugly head following yet another Kent State three-and-out as Ainias Smith foolishly touched a punt inside the 10 as Xavier Williams came up with the muff at the 6-yard line. Glass ultimately missed a chip-shot, allowing the Aggies to maintain the 38-point lead.
Zach Calzada, Earnest Crownover and the Aggies' second-team offense entered the game with 3:18 to play, picking up 20 yards before Calzada tossed A&M's fourth interception with 1:10 remaining.
With two seconds left and facing fourth-and-2, Glass clanked a significant-to-some field goal attempt off the right upright, and the Aggies moved to 1-0 on the season.
No. 6 Texas A&M will travel to Denver to face Colorado next weekend.
RUMBLED: Everyone knows the Aggie backfield is loaded, but All-American Isaiah Spiller and Orange Bowl MVP Devon Achane dazzled on Saturday night. Spiller rushed for 113 yards on 17 carries with a long of 19, while Achane ran for 124 on 12 attempts for two scores, including a 63-yard house call.
STUMBLED: Haynes King showed flashes, but in his first start, the second-year freshman was far from great. A&M's signal-caller tossed three interceptions — including two in the red zone — and finished 21-of-33 passing for 292 yards and two touchdowns. The Longview product showcased his scrambling ability once but only rushed for 22 yards on five carries. Not awful, but if the Aggies are to reach their goals, King must step up his game as the season goes on.
TURNING POINT: Leon O'Neal's pick-six midway through the third quarter put the game out of reach, giving the Aggies a three-score lead. The 85-yard return undoubtedly woke up Kyle Field as the Maroon & White began to click.
UNSUNG HERO: Kicker Seth Small was 2-for-2 on the night, hitting from 49 and 36 yards. While A&M's lead wasn't comfortable until late, Small's contributions helped the Aggies maintain at least a two-possession advantage throughout most of the second half.
KEY STAT: Punts. Or lack thereof. While Kent State's Josh Smith pinned A&M inside the 10 twice, Nik Constantinou got the night off as A&M's punting unit never saw the field. Conversely, Kent State punted seven times.
Scoring Summary
First-quarter
A&M: 9:27 - Haynes King 4-yard touchdown pass to Ainias Smith. Drive: 10 plays, 75 yards. TOP: 5:33. Texas A&M 7, Kent State 0.
Kent St: 5:23 - Andrew Glass 30-yard field goal. Drive: 10 plays, 68 yards. TOP: 3:59. Texas A&M 7, Kent State 3
A&M: 4:11 - Seth Small 49-yard field goal. Drive: 5 plays, 15 yards. TOP: 1:12. Texas A&M 10, Kent State 3
Third-quarter
A&M: 10:02 - Seth Small 36-yard field goal. Drive 9 plays, 47 yards, TOP: 4:03. Texas A&M 13, Kent State 3
A&M: 7:27 - Leon O'Neal interception returned 85 yards for a touchdown. Texas A&M 20, Kent State 3
A&M: 3:49 - Devon Achane 63-yard touchdown run. Drive: 5 plays, 82 yards. TOP: 2:25. Texas A&M 27, Kent State 3
Fourth-quarter
A&M: 11:31 - Haynes King 14-yard touchdown pass to Ainias Smith. Drive: 7 plays, 53 yards. TOP: 3:12. Texas A&M 34, Kent State 3
Kent St: 8:27 - Colin Schlee 1-yard touchdown run. Drive: 10 plays, 75 yards. TOP: 3:04. Texas A&M 34, Kent State 10
A&M: 6:26 - Devon Achane 1-yard touchdown run. Drive: 4 plays, 44 yards. TOP: 1:57. Texas A&M 41, Kent State 10
Never miss the latest news from TexAgs!
Join our free email list