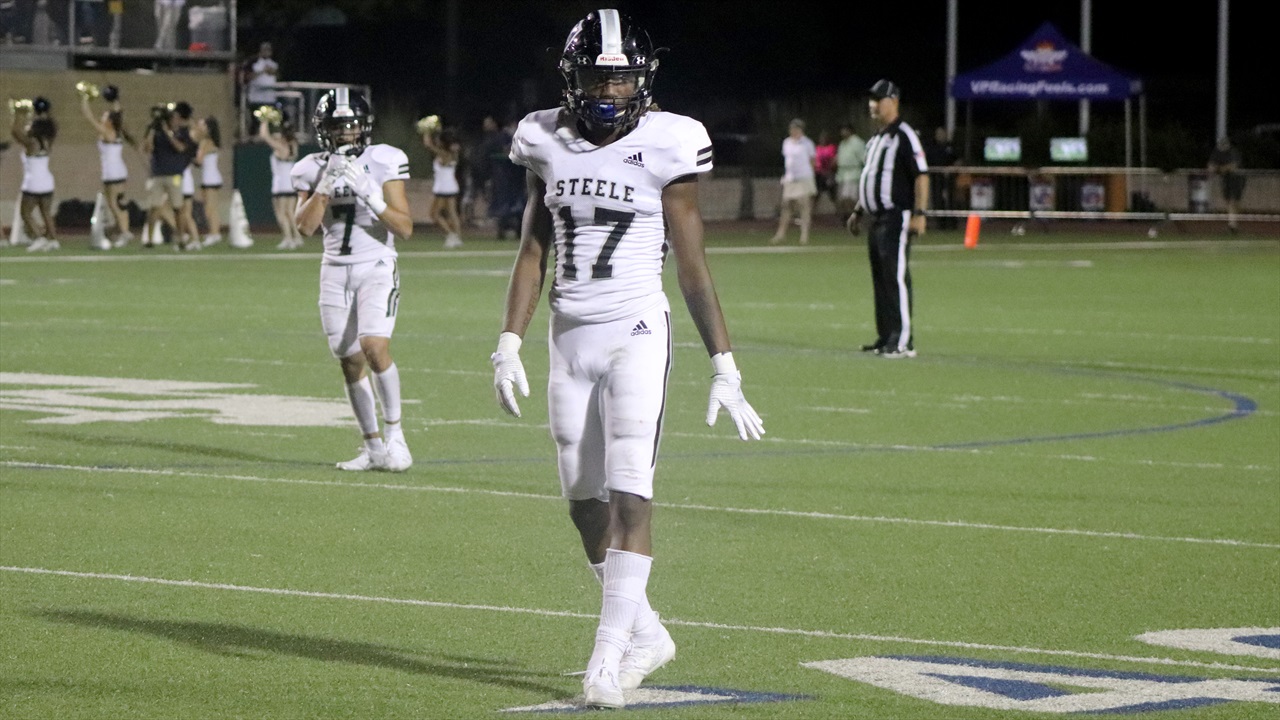 Photo by Walker Lott, TexAgs
Texas A&M Football Recruiting
Rebuilding the Wrecking Crew: Aggie defense improvement directly tied to recruiting
---
"It ain't like it used to be."
While A&M fans have grabbed on to that phrase and used it as a calling card for the new age of Aggie football ushered in by Jimbo Fisher, there are some elements of the program that those in Maroon and White are longing to have back - most notably, the Wrecking Crew. Since Jimbo arrived with Mike Elko in College Station, the mission to rebuild the Aggie defenses of old has started on the recruiting trail.
The overall standard of the program was raised, but the only thing that was going to get the 12th Man on board was the reconstruction of the defensive side of the ball. To win at the level Jimbo expects to win at, you've got to get players that the programs in front of you want.
The purpose of this piece is to go back and examine, year by year, the biggest recruiting wins for Jimbo and Mike Elko since they arrived in College Station. We talk about it a lot on the radio or on the message boards, but I think the real burden of proof happens when it's put in writing. So, let's go through these classes with the names of the guys expected to be key contributors to the Aggie defense this fall, who A&M beat for their services, and briefly relive the recruiting stories behind them. Then, on the other side of the breakdown, I'll take a look at the guys in the current 2022 cycle that A&M needs to land in order to continue this ever-increasing impressive trend.
Class of 2018 (transition class from Sumlin to Fisher)
Leon O'Neal - Safety - CySprings - Alabama, Clemson, Texas
A decommit then recommit, Leon's final stretch was full of ups and downs. Getting him back in the class was big for Fisher and Elko because it had become a high-profile showdown with Saban, Swinney, and (then) Herman.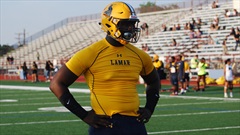 TexAgs
Bobby Brown - Defensive Tackle - Arlington Lamar - Alabama
The first sign that things were going to be different. Bobby famously flipped back to the Aggies on NSD after decommitting around Christmas that year in favor of Nick Saban and the Crimson Tide. Brown was drafted by the Los Angeles Rams after a standout career in College Station.
Jeremiah Martin - Defensive End - Cajon (San Bernadino, CA) - Washington, Oklahoma, USC
Although he's no longer on the roster after transferring to Washington, Martin was a contributor on defense the last few seasons and was viewed as a key win for Terry Price and Mike Elko when he chose A&M on the February Signing Day in 2018.
Class of 2019
DeMarvin Leal - Defensive End - Converse Judson - Alabama, Texas
This one felt like a 'must-win' in Jimbo's first full cycle in Aggieland, and he got it done. Leal's commitment caught a lot of folks off guard - most notably in the state capital.
Brian Williams - Safety - Bishop Dunne - Notre Dame, Texas
Another one that caught people off guard when he quickly came on board at A&M after Mike Elko was hired. The Aggies were previously thought to be a nonfactor in his recruitment.
Demani Richardson - Safety - Waxahachie - Texas, Alabama, Georgia
Demani and his inner circle played things very close to the vest during his recruiting process. Elko did a masterful job of working this one behind the scenes which ultimately landed him a highly touted two safety class.
Erick Young - Corner/Nickel - Ft Bend Bush - USC, Oklahoma, Ohio State
EY made a lot of noise when he didn't include Texas A&M in his Top 3 a day before he committed to the Aggies. The kid had fun with the process and looks like he'll be on the field quite a bit more in 2021.
Elijah Blades - Corner - Arizona Western College (Yuma, AZ) - Oregon
Like Jeremiah Martin above, I included Blades because he did play quite a bit of football for the Aggies before transferring to Florida this offseason. Jimbo and company swiped him from Oregon's grasp out of the junior college ranks.
Andre White Jr - Linebacker - Harrisburg (Harrisburg, PA) - Penn State
Elijah Robinson and Mike Elko's ties to the region opened up the door for the Aggies in this one. They landed him and held off a late surge from the in-state Nittany Lions.
Chris Russell - Linebacker - Dyersburg (Dyersburg, TN) - Tennessee
Chris was a kid that got hot late in the cycle due to his incredible physical profile that had kind of flown under the radar in small-town Tennessee. It wasn't viewed as a massive win nationally, but he was certainly prioritized by Elko down the stretch.
Class of 2020
Jaylon Jones - Corner - Cibolo Steele - Florida, Alabama, Texas
This one was fun to cover because I was getting really good intel behind the scenes that indicated the Aggies were the odds on favorites to win out despite reports from elsewhere. Huge victory for Jimbo and Elko here.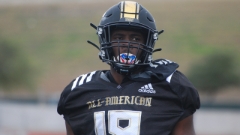 TexAgs
Donell Harris - Defensive End - Gulliver Prep (Miami, FL) - Florida, Miami
Harris had some signing day hijinks up his sleeve that caused quite the scene when he unzipped his jacket to reveal a Florida hoodie during his announcement only to then take that off to show everyone he had chosen the Aggies.
McKinnley Jackson - Defensive Tackle - George County (Lucedale, MS) - Alabama
Jimbo vs Nick head-to-head, but Fisher had the ace in the hole with Elijah Robinson. Jackson chose the Aggies on NSD2 and capped off an incredible haul on the defensive line. Folks went to bed the night before with no clue who the pick would be the next morning.
Antonio Johnson - Safety - East St Louis (East St Louis, IL) - Alabama, Tennessee, Georgia
Arguably the best player in the entire midwest in his class, Johnson chose Texas A&M in lieu of several other SEC programs who were doing all they could up to Signing Day to relent Jimbo's stranglehold.
Antonio Doyle - Linebacker - Lutheran North (St Louis, MO) - Oklahoma, Missouri
A one-time Mizzou commit, Doyle backed away from the home state Tigers and fell in love with the small-town feel of College Station and the opportunity to play in the SEC West.
Fadil Diggs - Defensive End - Woodrow Wilson (Camden, NJ) - Florida, Maryland
Diggs was a top 5 player in the state of New Jersey and put up crazy numbers during his senior campaign at Woodrow Wilson. Florida was the main competitor early on for the Aggies, but A&M did have to sweat a late trip to nearby Maryland who was recruiting at a historical level for their program.
Edgerrin Cooper - Linebacker - Covington (Covington, LA) - Oklahoma
The A&M momentum started to build in this recruitment long before Cooper backed away from his commitment to the Sooners. Lincoln Riley and company tried to reel him back in, but it was too late. There was also a brief flirtation with LSU down the stretch.
Isaiah Raikes - Defensive Tackle - St Augustine Prep (Richland, NJ) - Penn State
Like Andre White, this is a recruitment in which A&M would have stood little chance without the backgrounds and footprints of Mike Elko and Elijah Robinson. Those two were sold on Raikes' disruptive capabilities early, and that faith was well rewarded in the face of late overtures from Penn State.
Class of 2021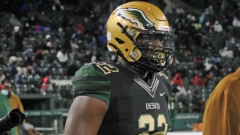 TexAgs
Shemar Turner - Defensive End - Desoto - LSU, Alabama
Monster recruiting win for Terry Price, Elko, and Fisher. This one had ups and downs, pretenders and contenders the whole time. Slow and steady won the race for the Aggies.
Tunmise Adeleye - Defensive End - Katy Tompkins - Alabama
Similar to Turner, Tunmise's longstanding relationship with TP was the straw that stirred the drink for the Aggies. For a long while, A&M was thought to be out of the race, but Adeleye and Price just kept talking to each other. It went beyond football with those two. Adeleye appreciated that.
Marcus Burris - Defensive Tackle - Texarkana Pleasant Grove - Texas, Oklahoma
People were up in arms when Landon Jackson (Burris' HS teammate) committed to LSU, and everyone subsequently penciled in Marcus to the Oklahoma class. A&M weathered the storm and was ultimately the pick when it came to decision time.
Elijah Jeudy - Defensive End - Northeast (Philadelphia, PA) - Georgia
Jeudy decommitted from UGA in September of last year. From that point on, it was a two-horse race between the Dawgs and Aggies. We had been hearing A&M was going to be the pick for a long time prior to his NSD1 pledge and letter of intent.
Dreyden Norwood - Corner - Northside (Ft Smith, AR) - Arkansas
A solid pledge to Texas A&M for the majority of the cycle, things started to get dicey for the Aggies with a late push and momentum from the in-state Razorbacks. He ended up sticking with his pledge and has been impressive in offseason workouts according to our sources.
Jahzion Harris - Defensive End - Erasmus Hall (Brooklyn, NY) - LSU
This kid was as quiet as anyone we've ever covered during his recruiting cycle. He lost his entire senior season due to Covid, but there were plenty of power programs across the nation who were sold on his potential. A&M's biggest competition was the Bayou Bengals.
Jardin Gilbert - Safety - University Lab (Baton Rouge, LA) - LSU, Alabama
"If LSU pushes, it's over." We heard that more than once from folks during Gilbert's recruitment. Well, LSU offered in November and did push, but they didn't get him.
Deuce Harmon - Corner - Denton Guyer - Texas, Oklahoma
Harmon had some family ties to both Austin and Norman which led to many folks confidently believing that Deuce would play his college ball somewhere in the Big 12. The appeal of competing in the SEC for Mike Elko and Jimbo Fisher won out.
Albert Regis - Defensive Tackle - LaPorte - Texas
Remember this one? I certainly do. Everybody had this one as a deadset lock for the Longhorns. Terry Price said 'not so fast my friend' and had quietly been setting the Aggies up to land Regis during the entire lead-up to his decision.
Tyreek Chappell - Corner - Northeast (Philadelphia, PA) - Penn State, Michigan
Another kid that the Aggies were on first and never waivered. Great evaluation by the defensive staff. Chappell's profile began to really increase down the stretch with Michigan trying to jump in late, but the A&M lead couldn't be overcome.
Class of 2022 (commits)
Malick Sylla‍ - Defensive End - Katy - Alabama, Texas, LSU, Florida State
The state's premier pass-rushing prospect, A&M landed his verbal in the face of the competition using the Aggies' current depth chart against them. Funny thing is, as good as the defensive line hauls have been, I don't know that they have a guy that does what Malick can do.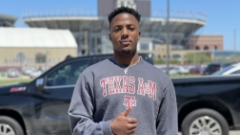 TexAgs
Bobby Taylor‍ - Corner - Katy - Alabama, Oklahoma
This was a big win on and off the field for the Aggies because they got a player with an extremely high ceiling in the defensive backfield and also an outstanding leader for the commit class. Bobby turned down visits to Norman and Tuscaloosa, completely shutting his recruitment down for Texas A&M.
Jarred Kerr‍ - Safety - Lexington - Oklahoma
Mike Elko and Jimbo Fisher never faltered in their pursuit of Kerr. This recruitment was trending heavily A&M's way prior to his commitment earlier this summer.
Ish Harris‍ - Linebacker - Pilot Point - Texas, Oklahoma
Much like Kerr above, Ish felt like the Aggies were going to win out on about the time of the Spring Game. He took a visit to OU only for it to hammer home the fact that he wanted to be at Texas A&M even more.
Martrell Harris‍ - Linebacker - The Woodlands - Notre Dame, Oklahoma
There was some thought that LSU would be jumping in the boat for the Louisiana native in the last few months, and, if they did, it would cause the Aggies some problems. LSU strung Martrell along, and the Aggies pursuit never stopped. Oklahoma and Notre Dame worked hard on getting official visits, but Harris had his mind made up.
2022 Targets
Gabriel Brownlow-Dindy‍ - Defensive Tackle - Lakeland (Lakeland, FL) - Oklahoma, Ohio State
It feels like a neck and neck battle down to the wire for one of the country's top defensive linemen between the Aggies and Sooners with Ohio State on the outside looking in. This one is too close (and difficult) to call at the moment but would represent a massive when for Mike Elko's group.
Bear Alexander‍ - Defensive Tackle - Ft Worth Brewer - Alabama, Georgia, Miami
This is the one a lot of Aggie fans have their eyes on...with good reason. Bear might be the best interior defensive line prospect to come through the state in the last five (or more) cycles. A&M is holding firm near amongst the favorites.
Jadon Scarlett‍ - Defensive Tackle - Argyle - Oklahoma, Missouri
Elijah Robinson, Terry Price and Mike Elko have prioritized Scarlett for a long time now due to his elite explosive traits and disruptive capabilities. It sounds like the clock is ticking on this one, and I think Oklahoma and Missouri better find a way to slow down time.
Anthony Lucas‍ - Defensive End - Chaparral (Scottsdale, AZ) - Notre Dame
The Aggies essentially came out of nowhere to become legit contenders in the race for Lucas. He was long expected to remain on the West Coast, but a recent shift in his recruitment has seen his focus move east, mainly toward South Bend and College Station.
Ernest Cooper IV‍ - Defensive End - Arlington Martin - Stanford
Hard to tell if the allure of playing in the SEC will be enough to overcome the academic prowess of the Cardinal out west, but if Martin does ultimately choose the Aggies, it would be another elite addition up-front.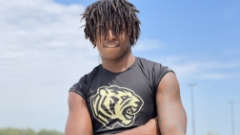 TexAgs
Harold Perkins‍ - Linebacker - CyPark - LSU, Texas, Florida
The main competition fluctuates, but Texas A&M has been a steady factor at the front of Perk's recruitment. I think LSU has staying power for the time being, but there's a lot that can happen between now and his stated December decision.
Deyon Bouie‍ - Corner - Bainbridge (Bainbridge, GA) - Georgia
Deyon "Smoke" Bouie is a name who came onto the A&M recruiting radar when the Aggies hired Nick Williams away from UGA earlier this year. He's grown close with some guys in the A&M class as well as some of Elko's top targets as we draw closer to decision time.
Marquis Groves-Killebrew‍ - Corner - North Cobb (Kennesaw, GA) - Georgia
Jimbo and company have become a thorn in the side of Kirby Smart here recently. I don't believe A&M is in the driver's seat here in any way, but the kid did visit, and you cannot count Jimbo Fisher out of any race he really wants to be in. He's currently committed to UGA.
Bryce Anderson‍ - Defensive Back - Beaumont West Brook - Texas
We've talked a lot about Bryce and what a commitment from a kid of his skill level and cache would mean for the Aggies. Upcoming trips to Austin and College Station to end the summer could be pivotal with a preseason announcement pending.
Kamari Wilson‍ - Safety - IMG Academy (Bradenton, FL) - Georgia, Alabama, Florida
This has the look to be one of those, like McKinnley Jackson or Donnell Harris, where everybody writes A&M off for most of the recruitment only to have the Aggies hanging around at decision time. There's still a lot of work to be done here, but Wilson is definitely in the 'holy crap they did it' category.
Xavier Nwankpa‍ - Safety - Southeast Polk (Altoona, IA) - Ohio State
As we sit here in mid-July, this one feels like it's headed toward the Buckeyes in Columbus. Nwankpa has visited College Station both unofficially and officially in the last few months, and I wouldn't be surprised to see him back at a game this fall. That said, I believe A&M is playing catch up in this one.
Never miss the latest news from TexAgs!
Join our free email list