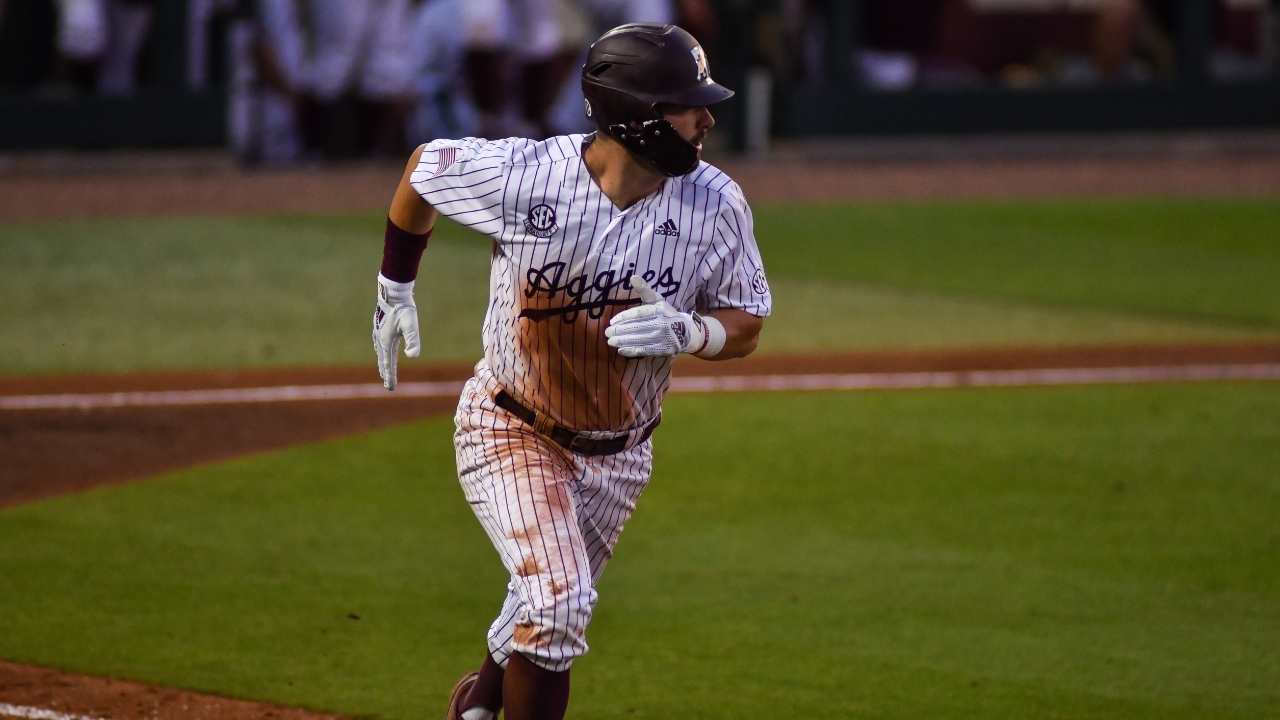 Rob Childress
Will Frizzell
Dustin Saenz
Texas A&M Baseball
Frizzell homer pushes Aggies past LSU in first game of series, 2-1
---
Game #54: Texas A&M 2, LSU 1
Records: Texas A&M (29-25, 9-19), LSU (32-21, 11-17)
WP: Dustin Saenz (6-6)
LP: Javen Coleman (2-1)
Save: Chandler Jozwiak (8)
Box score
---
Not done kicking.
Will Frizzell's late home run provided just enough support for Dustin Saenz as Texas A&M opened the final series of the regular season with a 2-1 win over LSU on Thursday night. The Aggies remain tied with Auburn for the 12th and final spot in Hoover following Auburn's blowout win over Missouri.
"That's what you want to see in the first game of a series in the Southeastern Conference," said Texas A&M head coach Rob Childress. "Two great pitching staffs going at it, making defensive plays behind them and just a couple of timely hits on our part."
Tied 1-1 in the eighth, Saenz punched out Brody Drost to get out of a bases-loaded jam and swing the momentum towards the Maroon & White.
"It's definitely been different the past two weeks, just knowing that if I do get pitches to hit that I need to do damage with them."
"Getting my team off the field right there and giving us a chance to win it in the eighth was something huge for us," Saenz said.
Frizzell capitalized in the bottom half, crushing his 19th homer of the season to left-center to give the Aggies the lead, 2-1.
"I was looking slider right there. [Coleman] just threw a fastball over the plate, and I got to it," Frizzell said.
The eighth-inning at-bat was the only time the Tigers dared to pitch to Frizzell, and the big lefty made them pay.
"It's definitely been different the past two weeks, just knowing that if I do get pitches to hit that I need to do damage with them," Frizzell said.
In the ninth, Chandler Jozwiak induced three flyouts on 11 pitches to nail down the victory.
Across his dazzling eight innings, Saenz allowed just two hits and struck out eight batters while walking three to earn his sixth win of the season.
"Being aggressive from the start, setting the tone for our team, getting off the field and throwing up zeroes is huge in this situation, especially when we're playing like it's our last one for the season," Saenz said.
Saenz was perfect through 3.1 before walking Dylan Crews, who later wrecked Saenz's no-hit bid with two outs in the sixth, crushing a no-doubt home run to left, tying the game, 1-1.
"Less one mistake, he was magnificent," Childress said. "As close to perfect as you can be."
For the first time since Saenz's April 1 start at Missouri, an Aggie starting pitcher has earned a winning decision in SEC play.
"I couldn't be more proud of Dustin," Childress said. "Far and away his best outing in the Maroon & White."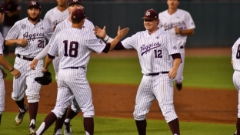 Jamie Maury, TexAgs
Saenz's lengthy outing allowed the A&M bullpen to rest, providing much-needed depth for the final two games of the series as the Aggies' entire pitching staff (sans Saenz) will be available Friday.
With the win, the Aggies are one step closer to clinching a spot in the SEC Tournament. Should A&M win the next two contests, they'd steal LSU's spot in Hoover.
"We know what was at stake this weekend," Saenz said. "We're playing as hard as we can for the next three days."
Texas A&M and LSU resume their three-game set on Friday night, with first pitch scheduled for 6:32 p.m. CT, and Bryce Miller will take the ball for the Maroon & White. Paul Mainieri has yet to name a starting pitcher.
Never miss the latest news from TexAgs!
Join our free email list