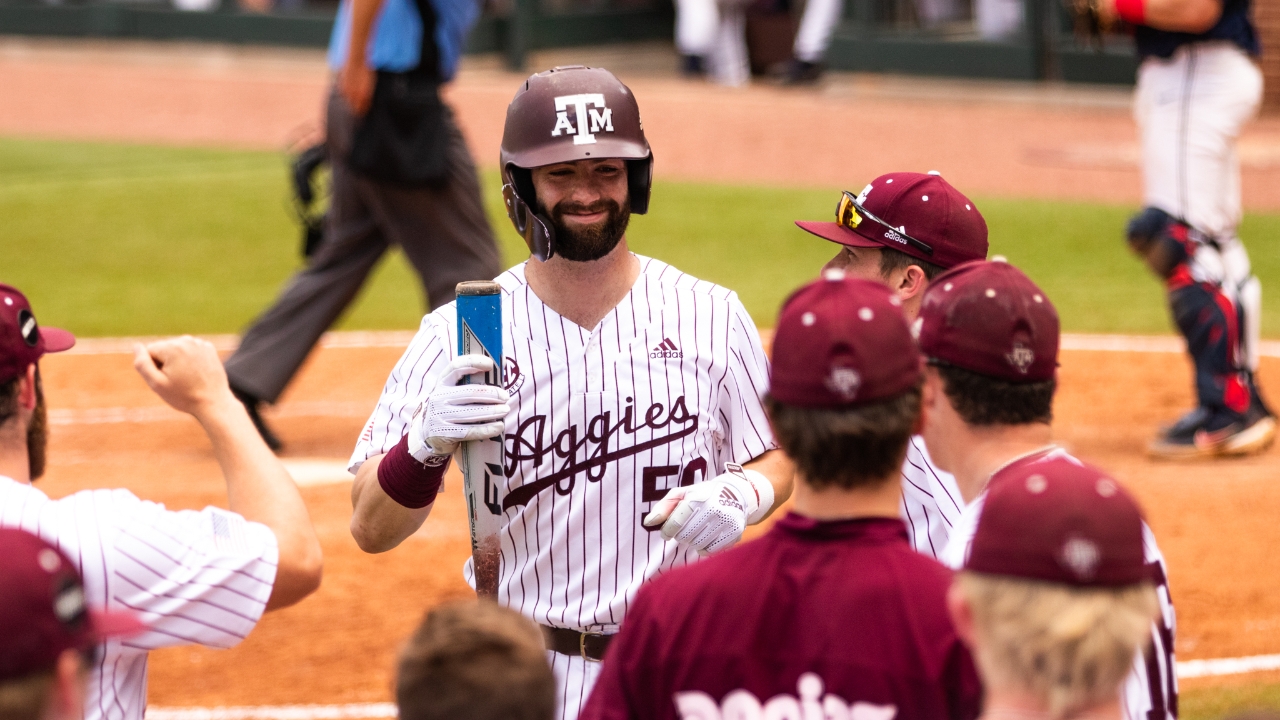 Photo by Angelina Alcantar, TexAgs
Texas A&M Baseball
Series Preview: Texas A&M vs. Louisiana State
---
Also included above is a radio segment with Scott Clendenin from Thursday morning, previewing this weekend's series between Texas A&M and LSU.
Who: LSU (32-20, 11-16 SEC)
Where: Olsen Field at Blue Bell Park – Bryan-College Station, Texas
When:
Thursday: 6:00 p.m. CT (ESPNU)
Friday: 6:30 p.m. CT (SEC Network+)
Saturday: 2:00 p.m. CT (SEC Network+)
Pitching matchups
Thursday: Dustin Saenz (LHP, 5-6, 4.60) vs. Landon Marceaux (RHP, 6-4, 2.15)
Friday: TBD vs. TBD
Saturday: TBD vs. TBD
Scouting LSU
It's uncharacteristic to find the LSU Tigers under Hall of Fame head coach Paul Mainieri residing near the bottom of the SEC standings and needing a win on the final weekend of the regular season to clinch a berth in Hoover. The same can be said of the Texas Aggie baseball team as well.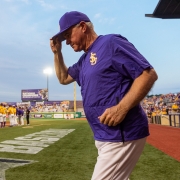 SCOTT CLAUSE/USA TODAY Network
Unthinkable just a couple of seasons ago, there are rumblings in Baton Rouge that well-accomplished head man could be in jeopardy of "forced retirement" if the Tigers don't put up a postseason rally and do some damage. I find it hard to believe that a great head coach with championship rings on his finger is in trouble. Yes, the 2021 season is a down year for LSU baseball, but barring a three-game sweep this weekend at the hand of the Aggies, the Tigers are likely headed to the NCAA Regionals.
Also, the team is very young, with several elite freshman hitters. Look no further than freshman first baseman Tre Morgan, who is No. 1in the SEC in runs scored and third in the conference with a bloated .370 batting average. The team's second-leading hitter is freshman outfielder Dylan Crews (.355), who has hit 12 home runs and leads the squad in slugging percentage at .615. Coming off SEC Player of the Week honors, Gavin Dugas is a huge run producer and a power bat, hitting 14 bombs and driving in a whopping 57 RBIs, good for second in the SEC. Overall, the Tigers are dangerous in the top half of the batting order. LSU is hitting .278 as a team (A&M, .263) with 74 home runs (A&M, 64) and a .464 slugging percentage (A&M, .421). As with most struggling teams, LSU's run production falls off significantly after the top 3-4 hitters.
On the mound, both teams are struggling and looking for answers when the pitching match-ups for the last two games of the series are both TBD vs. TBD. LSU definitely has the advantage on paper with Landon Marceaux coming off his last start against Alabama, throwing 6.1 innings of shutout baseball despite surrendering 10 hits. Overall, he's 6-4 with a 2.15 ERA, which is far superior to counterpart Dustin Saenz, who has seen his ERA balloon to 4.60 over the past three weeks.
After the opening game starting match-up, the arsenals from both teams are similar. LSU comes into the weekend with a 4.55 ERA, while Texas A&M sports a 4.51 ERA. Senior right-hander Ma'Khail Hilliard moved from the bullpen into the starting rotation in recent weeks, and he has a win over No. 1 Arkansas and Alabama to go along with a 2.60 ERA in his last three starts. I expect to see him get a starting assignment either Friday or Saturday. The Tigers have two relievers with four saves. Garrett Edwards (3.41 ERA) and Devin Fontenot (3.58) have solid numbers, but they are by no means dominant out of the bullpen.
The numbers on paper reflect a team that's 32-20 and 11-16 in the SEC. LSU is definitely talented and dangerous, but the unit lacks some depth both at the plate and on the mound.
Texas A&M storylines to watch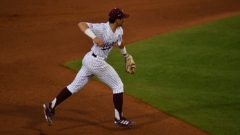 Jamie Maury, TexAgs
We can't start talking about storylines and not mention defensive miscues that lead to unearned runs. Last weekend against Auburn, the Aggies gave away six runs in games two and three. Luckily in game two, Auburn gave unearned runs back to Texas A&M as the Aggies won a wild one, 11-9. Costly errors by Ty Coleman and Kalae Harrison led to five unearned runs in game three, and in the end, they were the difference in a 9-8 loss. It also cost A&M the series and forced the squad into an unenviable task of either sweeping LSU or hoping for a favorable outcome in the Missouri-Auburn series. This team has no margin for error — none. With the starting pitching in flux and basically three consistent hitters at the top of the lineup, it's hard enough to win SEC games playing clean baseball, much less overcoming a booted ball or a mental mistake.
At the plate, there's so much pressure on Ray Alejo, Will Frizzell and Austin Bost to deliver in every at-bat because run production in the lower half of the lineup is tepid. Logan Sartori has started to show signs of producing, and that certainly helps. For this lineup to be more consistent, somebody in the No. 7 through No. 9 holes must step forward and raise the blood pressure of the opposing pitcher. Last weekend, we saw that coaches will not allow Frizzell to beat them. That offers both opportunities and challenges. The big man will reach base this weekend, and that will give Bost and others behind him a chance to produce some runs. If Alejo and Sartori can find a way to reach base, that may force opposing pitchers to challenge Frizzell. Either way, the pieces around Frizzell must take advantage of the opportunities they get this weekend.
On the mound, the Aggies must get more than two innings combined from their game two and game three starters. At this point, I don't know who those will be, but if A&M expects to win this LSU series and find a path to Hoover, Rob Childress has to dial up something better than what he went with last week. The known quantities are Dustin Saenz, Bryce Miller, Chandler Jozwiak and Joseph Menefee. That won't get the Aggies through 27 innings, and it means the team must get 8-10 quality innings from a group that includes Chris Weber, Nathan Dettmer and Jonathan Childress. All three struggled last weekend but have shown brief stretches of effectiveness at times. Mason Ornelas and Alex Magers have really struggled in recent weeks, and their ability to give the staff an extended outing is in real question at this point.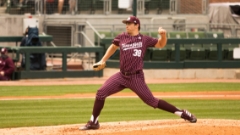 Angelina Alcantar, TexAgs
The fact that Childress left both Friday and Saturday starts in the TBD category indicates he's going to mix and match this weekend, hoping to find the hot hand. He'll need to find a couple to go along with his core of four somewhat-trusted arms to stay competitive on the hill.
Basically, to have a chance to extend this season past Saturday, the mission for this team is to play clean baseball, get a few hitters hot around Frizzell and get a couple of quality outings from some unlikely sources on the mound.
What's at stake this weekend
This will be short and to the point. To guarantee this squad moves on to the SEC Tournament, they must sweep LSU and knock the Tigers out of the tournament completely. Otherwise, we're back fighting with Missouri and Auburn for one spot, assuming the Aggies win two over LSU. Both teams have the tiebreaker over A&M, but the good guys have a one-game lead over Missouri. Since Missouri and Auburn play each other, the only scenario where Texas A&M advances (with two wins) is Missouri winning two out of three from War Eagle.
It gets much easier to figure out what happens if the Aggies lose the LSU series: The season is over. That will most certainly trigger a search for a new baseball coach that will begin a new era of Aggie baseball.
Never miss the latest news from TexAgs!
Join our free email list