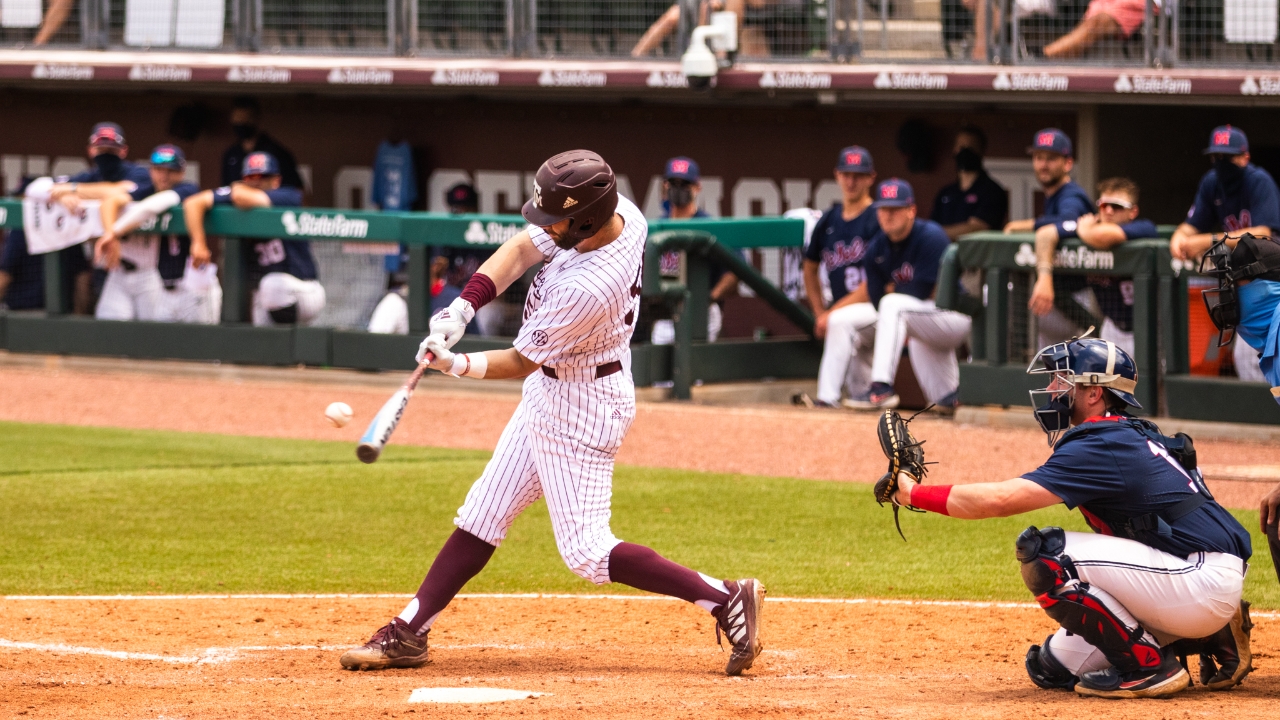 Photo by Angelina Alcantar, TexAgs
Texas A&M Baseball
Will Frizzell mashes his way to SEC Player of the Week honors
---
"If they didn't give it to Frizzell, they ought to stop giving it."
On Monday afternoon, the Southeastern Conference announced that Texas A&M first baseman Will Frizzell has been tabbed the league's Player of the Week (duh) following an awe-inspiring weekend at the plate in which launched hit five home runs, drove in 11 runs and lifted the Aggies to a series victory over No. 12 Ole Miss.
The big lefty's weekend started with a bang — literally — on Friday night as he crushed two home runs, including a walk-off moonshot on the first pitch of the ninth into Section 12, clinching a 9-8 victory.
Even in Saturday's 12-7 loss, Frizzell left the yard in a 3-for-4 outing that also included a double and three RBIs.
Then came Sunday's rubber match.
Ole Miss jumped out to a 2-0 lead in the first, but Lefty made sure that advantage was short-lived, hammering a two-run shot down the right-field line to tie the ballgame. It would not be the last of Frizzell.
With A&M trailing 5-2 in the seventh, Frizzell came to the plate with the bases loaded and two outs.
Would you pitch to a man who had already jumped the yard four times on the weekend? OR would you give him the Barry Bonds treatment?
Taylor Broadway decided to go after him, and the rest is history.
On an 0-2 fastball around the letters, Frizzell deposited a grand slam into the right-field bleachers, putting the Aggies ahead, 6-5, in a game they ultimately won.
To cap it off, Will celebrated with a "Frizzellian" (like "Herculean" but better, obviously) bat flip, sending Ole Miss head coach Mike Bianco into a fiery tirade.
Without Will Frizzell's dominance this weekend, the Aggies likely get swept. Instead, he willed (yes, pun intended) the Maroon & White to their first SEC series win since late March.
For the weekend, Frizzell finished 7-for-12 with five home runs, a double and 11 RBIs ... AGAINST A TEAM RANKED IN THE TOP 15. Those are video game numbers but better.
Through 50 games, Frizzell has belted 18 home runs — 14 against SEC pitching. With six games remaining, he could become the first Aggie to reach 20 in a single season since Daylan Holt clubbed a school-record 34 in 1999. Only three times in Texas A&M history has a player hit 20 or more home runs in a single season.
Opposing pitchers ought to stop pitching to Frizzell, even with the bases loaded. He will make you pay. That's a promise.
Never miss the latest news from TexAgs!
Join our free email list