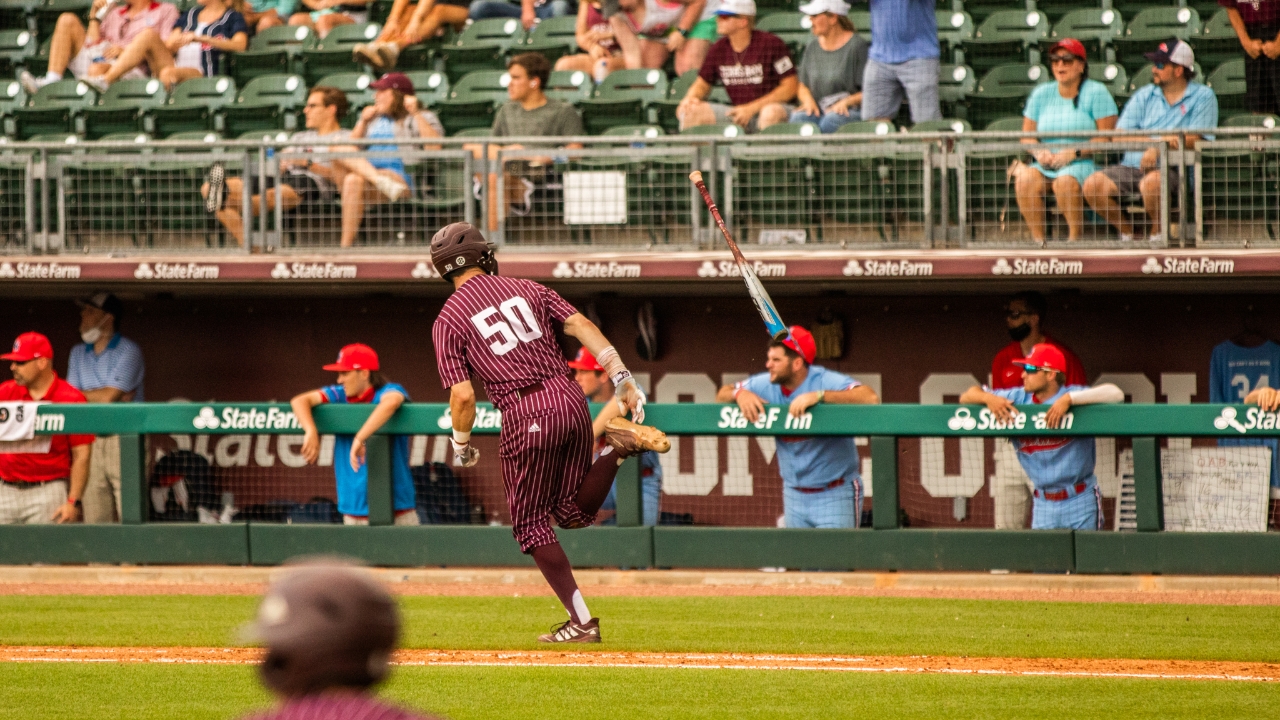 Childress
Frizzell
Jozwiak
Texas A&M Baseball
Frizzell's slam completes comeback, Ags take series from No. 12 Ole Miss
---
Game #50: Texas A&M 6, No. 12 Ole Miss 5
Records: Texas A&M (27-23, 7-17), Ole Miss (33-14, 14-10)
WP: Chandler Jozwiak (2-3)
LP: Taylor Broadway (4-2)
Box score
---
Where there's a Will Frizzell, there's a way.
Behind two Frizzell home runs — including a seventh-inning grand slam — Texas A&M pulled off the comeback, defeating No. 12 Ole Miss, 6-5, to take the series.
"We were just throwing punches back-and-forth," Frizzell said. "It felt really good to get the last punch on the last game."
Trailing 5-2 in the seventh, Mikey Hoehner led off with a double down the left-field line. Ole Miss head coach Mike Bianco then brought in Taylor Broadway, who promptly struck out Logan Britt and Kalae Harrison before walking Ray Alejo and Logan Sartori to load the bases, bringing Frizzell up.
"I kind of blacked out a little bit. A lot of juices flowing."
On an 0-2 pitch, Frizzell launched a grand slam to right-center field bleachers, giving A&M a 6-5 lead. He now has 18 long-balls on the year.
"I kind of blacked out a little bit," Frizzell said of rounding the bases. "A lot of juices flowing."
Following the celebration, Bianco angrily argued with the home plate umpire, Brandon Cooper. Bianco was later ejected in the eighth.
"The guys were excited. I don't know what happened," Childress said. "I'm sure something didn't sit well with [Bianco]."
The Rebels did not go quietly. With two on and only one out in the eighth, Ty Coleman replaced Sartori defensively at second, a move that proved to be genius by Childress.
"Sometimes you get lucky," Childress said.
Following an intentional walk, Calvin Harris grounded Harrison, starting an inning-ending 6-4-3 double play, punctuated by a wonderful stretch from Frizzell to keep his foot on the bag.
"Bringing Ty in was big for us. He's probably our best infielder," said A&M pitcher Chandler Jozwiak. "To produce that double-play ball was big for us."
Jozwiak recorded the final three outs in the ninth to nail down the victory and take the series.
"Somebody had to make Will Frizzell count for something," Jozwiak said.
Ole Miss jumped out to a 2-0 lead early before Frizzell's first bomb tied the contest. On the weekend, Frizzell finished with five round-trippers.
"[Frizzell] has had a special year," Childress said. "He's a rare breed of a great hitter with a great approach that has power."
Bryce Miller relieved starter Nathan Dettmer in the second and avoided big innings before departing in the seventh, keeping the Aggies in the ballgame.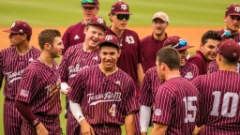 Angelina Alcantar, TexAgs
"We certainly stepped on our toe throughout the course of the game, whether it be offensively or defensively," Childress said. "For us to keep it close and get within striking distance, all you really need is one big inning."
The series win is A&M's first since taking two-of-three from Georgia in late March.
"We haven't won a series in a while," Jozwiak said. "To win it against that team, which they are an amazing team all the way around, it's huge for us."
Sunday's win might've just provided the jolt the Maroon & White need as they attempt to make an improbable run to the NCAA Tournament with just six games remaining.
"That's a momentum-gathering win for us with the week off, getting ready for Auburn," Childress said.
Never miss the latest news from TexAgs!
Join our free email list