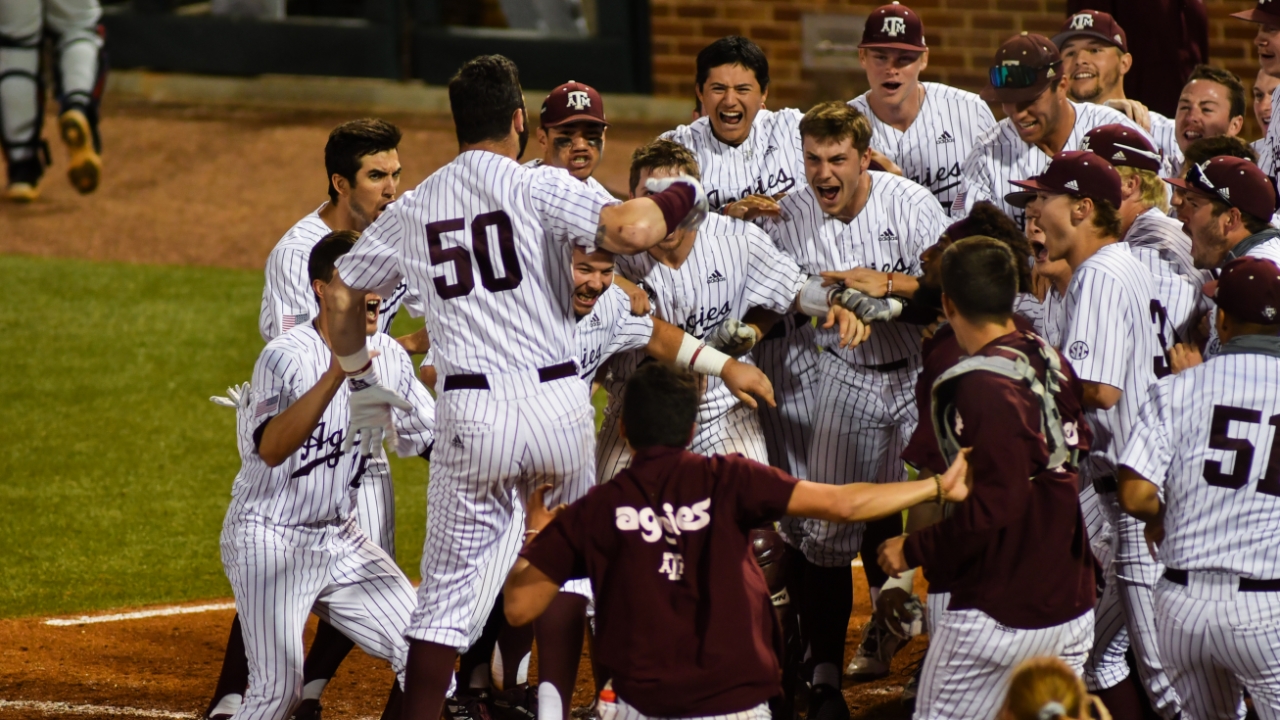 Rob Childress
Will Frizzell
Bryce Miller
Jordan Thompson
Texas A&M Baseball
Will Frizzell's walk-off bomb lifts Aggies to victory over No. 12 Ole Miss, 9-8
---
Game #48: Texas A&M 9, No. 12 Ole Miss 8
Records: Texas A&M (26-22, 6-16), Ole Miss (32-13, 13-9)
WP: Bryce Miller (3-2)
LP: Jack Doughtery (1-1)
Box score
---
It only takes one.
Tied in the bottom of the ninth, Will Frizzell blasted Jack Doughtery's first offering of the frame - a hanging slider - over the right-center field wall for a walk-off home run to lift Texas A&M over No. 12 Ole Miss, 9-8, in the opener of a three-game SEC series.
"It felt great," Frizzell said. "We've been at the door so many times, knocking on the door late in games. It felt really good just to knock one down."
As Frizzell made contact, the Aggies spilled out of the dugout to partake in the Olsen Magic.
"It's one of the reasons I coach... for them to get to enjoy a moment like that, I'm just very proud that they've stuck together and continued to fight together."
"It's one of the reasons I coach," said Texas A&M head coach Rob Childress of watching his team celebrate the win. "Things haven't gone our way in conference play. For them to get to enjoy a moment like that, I'm just very proud that they've stuck together and continued to fight together."
It was Frizzell's 15th home run of the year and first career walk-off.
"It was the best feeling ever," Frizzell said.
The heroic longball was Texas A&M's first walk-off home run since Bryce Blaum's ultimate grand slam in the 2019 Morgantown Regional.
"Everyone was out of that dugout in a snap," said outfielder Jordan Thompson. "It was crazy. We all bombarded home plate, just waiting for him. We knew right off that bat."
Earlier, Frizzell hit an opposite-field shot that just snuck over the wall in left for a two-run homer to give A&M a 5-4 lead in the fifth.
"He's a presence, certainly," Childress said of Frizzell. "He raises the other team's blood pressure. He's the one that's circled in our lineup."
The Aggies scored three more in the inning to take an 8-4 lead into the sixth, all five runs coming with two outs.
However, the advantage was short-lived as Hayden Leatherwood and Cael Baker hit back-to-back home runs to spark a four-run sixth, tying the ballgame.
"They have a very good program and a very good team," Childress said of the Rebels. "They're not going to go away."
Chandler Jozwiak entered in the seventh and retired the first six batters he faced in order before allowing a lead-off single in the ninth.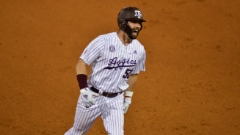 Jamie Maury, TexAgs
"[Jozwiak] was fantastic," Childress said. "When he's on the mound, things seem to be in control for our team."
With one out in the ninth, Bryce Miller struck out pinch-hitter Tim Elko. Then with runners on the corners and two outs, Miller punched out Baker, setting the stage for Frizzell's magic wand.
"I haven't been in the game in the ninth since last year," Miller said. "We had all the momentum, and we knew who was at the plate coming up."
In a game full of twists and turns, the Aggies found a way to win.
"There's no quit in them," Childress said. "They're going to give you everything they've got every day they take the field."
The Aggies' reward for a magical night is a quick turnaround and another date with the Rebels at Olsen Field on Saturday morning, and A&M takes a rare series lead into the contest.
"Winning the first game of the series is huge because you're in the driver's seat," Frizzell said. "It feels really good to be where we're at right now."
First pitch is scheduled for 11:00 a.m. CT and will be televised nationally on ESPNU.
Never miss the latest news from TexAgs!
Join our free email list