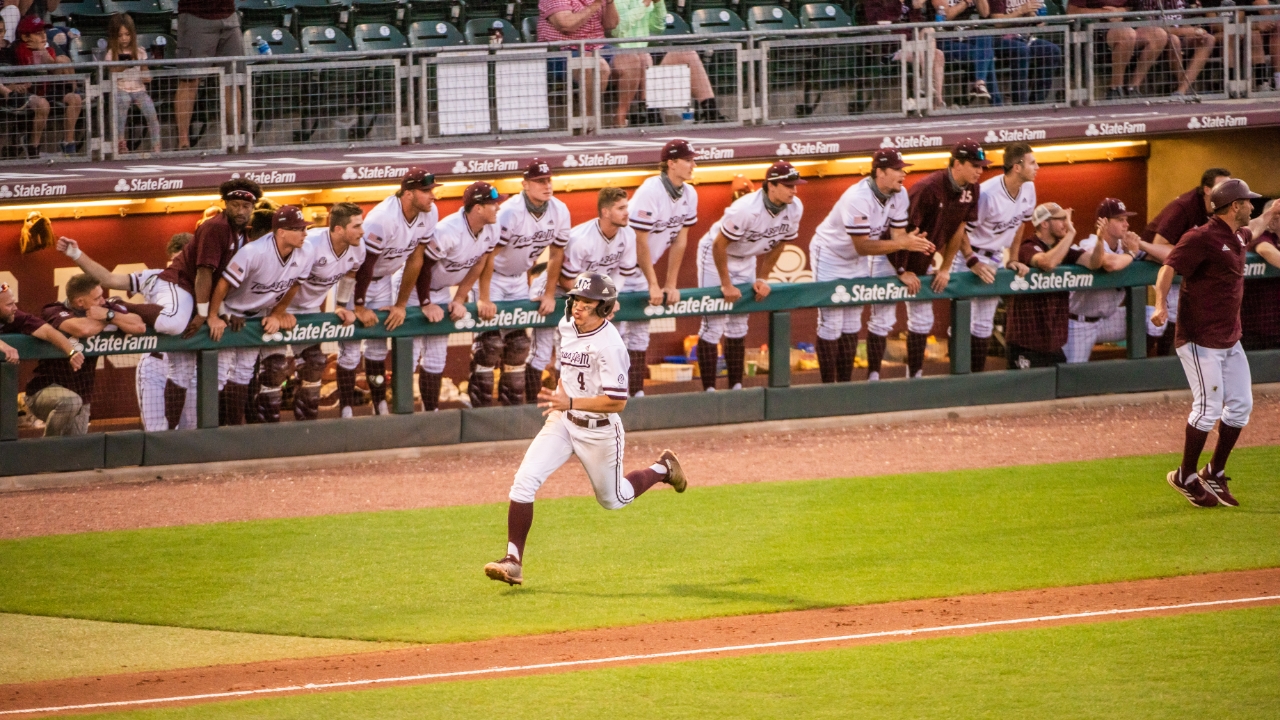 Photo by Travis Whitesell, TexAgs
Texas A&M Baseball
Series Preview: Texas A&M vs. No. 12 Ole Miss
---
Also included above is Diamond Talk with Gabe Bock, Ryan Brauninger and Scott Clendenin from Friday's edition of TexAgs Radio.
Who: No. 12 Ole Miss (32-12, 13-8 SEC)
Where: Olsen Field at Blue Bell Park – Bryan-College Station, Texas
When:
Friday: 6:30 p.m. CT (SEC Network+)
Saturday: 11:00 a.m. CT (ESPNU)
Sunday: 1:00 p.m. CT (ESPNU)
Pitching matchups
Friday: Dustin Saenz (LHP, 5-5, 4.04) vs. Gunnar Hoglund (RHP, 4-2, 2.47)
Saturday: Chris Weber (LHP, 1-2, 3.92) vs. Doug Nikhazy (RHP, 5-2, 2.09)
Sunday: TBD vs. TBD
Scouting Ole Miss
Ole Miss is good — real good. I can't believe I'm saying this, but they look even tougher on paper than their No. 12 ranking suggests. The Rebels are also getting hot at the right time. Last weekend, they swept No. 9 South Carolina and were dominant in the process. Ole Miss led for 26 of the 27 innings in the series and held a very potent Gamecock offense to just eight runs and 16 hits over the three-game set.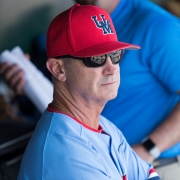 Brett Rojo-USA TODAY Sports
Starters Doug Nikhazy (ERA, 2.09) and Gunnar Hoglund (2.47) are the two workhorses in the starting rotation. They combine for 171 strikeouts. Hoglund's 96 punch-outs ranks fifth in the nation, and overall, Ole Miss' 11.8 strikeouts per game is third in the nation. Taylor Broadway is a capable closer (2.73) who leads the SEC in total saves (9).
At the plate, Ole Miss has one of the best offenses by the numbers hitting .304 as a team, which leads the SEC. The Rebels are in the top-five of every major offensive category in the SEC and rank second in the nation in hits. That production comes up and down the lineup. Opposing pitchers are under pressure from No. 1 to No. 9 in the order. The batting order includes seven batters hitting about .300, led by TJ McCants (.352) and Kevin Graham (.335). Consistent production is the name of the game for this bunch. Seven hitters have at least 27 RBIs. The Aggies have just two. There are no particular hitters to avoid in this lineup because they are all dangerous, and that's why facing this Rebel offense will be a challenge for Aggie pitching this weekend.
Texas A&M storylines to watch
The big news for this series came in the midweek press conference when coach Rob Childress announced that he was shaking up the pitching rotation significantly. Dustin Saenz remains in the Friday night spot despite seeing his ERA climb above the 4.00 mark (4.04) in his last start. Chris Weber has looked much better in his recent relief appearances, and that earns him the Saturday starting role against the Rebels. Bryce Miller will move back into the bullpen temporarily. If the Aggies have a chance to take a game early in the series, Miller could be utilized in a relief role. If not, he could still start on Sunday, which is why A&M's Sunday starter is officially "TBA". With Nathan Dettmer out of the weekend starting rotation, does he become a front-line resource or will he be further down the list of options?
Unfortunately, the fact that there are so many moving parts and question marks this late in the season certainly reflects the difficulties of the 2021 season. Most competitive SEC teams are sending out starting pitchers with ERAs in the 2.00s and low 3.00s, not the high 3.00s and 4.00s. A lot has been made about Texas A&M's struggles at the plate, but you can't overlook the subpar pitching output in 2021, either.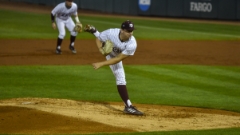 Jamie Maury, TexAgs
However, if Chris Weber can continue on his upward trajectory and solidify that Saturday starting spot and Saenz puts up a quality start on Friday, the coaches should be able to piece together a functional Sunday starter and bullpen among guys like Chandler Jozwiak, Joseph Menefee, Bryce Miller, Jonathan Childress and Nathan Dettmer.
At the plate, this Aggie offense still runs through Ray Alejo, Austin Bost and Will Frizzell. If A&M has any chance to put pressure on Ole Miss pitching, it has to happen with this trio. All three are hitting above .331, and the next highest average is nearly 50 points lower. There's that much of a dropoff between the top three in the batting order and the rest. Frizzell (13) and Bost (9) alone account for 40 percent of Texas A&M's home runs in 2021. That's an amazing statistic that shows just how much this offense relies on this group. It also shows why the unit as a whole is struggling. A good offense must have production up-and-down the lineup. For A&M, that means hitters like Logan Britt (.285) who have some pop must step up.
It will be very interesting to see if the staff starts Taylor Smith at catcher for a couple of games over Mikey Hoehner. Smith came to A&M with elite credentials, but he fell into a deep slump to start the season in February and found himself on the bench. However, with a few spot starts here and there recently, he has seen his batting average climb from below the Mendoza Line (.200) to .236. Hoehner has seen his average slip in recent weeks to .224. What makes Smith so intriguing is his power potential. In just 55 at-bats, he has five home runs. Nine of his 13 hits have been for extra bases. Despite his low .236 batting average, he's second on the team in slugging percentage at .600, just 15 points behind Frizzell. Here's another interesting comparison with Frizzell: Smith averages a home run every 11 plate appearances compared to Frizzell's one home run for every 13 at-bats. It will be interesting to see if Smith has done enough to earn an expanded role on the weekends.
Bottom line, the Aggies are facing one of the best offenses in the nation and one of the best strikeout pitching rotations in the nation. That's not a good matchup for Texas A&M on either side of that coin. A&M hitters need to extend at-bats, elevate Rebel pitch counts, put the ball in play and have one of your big three hitters or a Taylor Smith give the team a handful of big hits with men in scoring position. Ole Miss is top-heavy in pitching and not overly deep in the bullpen. The goal should be to extend at-bats against starters Nikhazy and Hogland and get deep into the Rebel bullpen. On the mound, the Aggies must get quality starts from Saenz and Weber so the coaching staff has enough bullets to fire on Sunday.
Easier said than done.
What's at stake this weekend
What's at stake, realistically? At this point, the only path to the NCAA Regionals is to qualify for the SEC Tournament and get on a crazy hot run in Hoover, win the whole thing and grab the automatic bid to the NCAA Tournament. Is that realistic? Certainly not, but that's all Aggie fans have to cling to for the rest of 2021.
Getting into the SEC Tournament will be a challenge. Only 12 teams get invited, and Texas A&M is tied at 5-16 with both Auburn and Missouri for last place in the league. The Aggies must finish ahead of both to qualify, and they lost the head-to-head tiebreaker with Missouri. That will be the compelling storyline next weekend as boys in Maroon travel to Auburn in essentially an elimination series. For now, Texas A&M can help itself before that series by winning a game or two in College Station this weekend against Ole Miss.
Other than the faint hope of winning the SEC Tourney, there's not much else at stake other than pride and playing the role of spoiler. However, this team represents Texas A&M, and Aggie fans want to see good, clean baseball, and a couple of upset wins over the No. 12 team in the nation would be a refreshing outcome in an otherwise disappointing 2021 campaign.
Never miss the latest news from TexAgs!
Join our free email list
PRESENTED BY