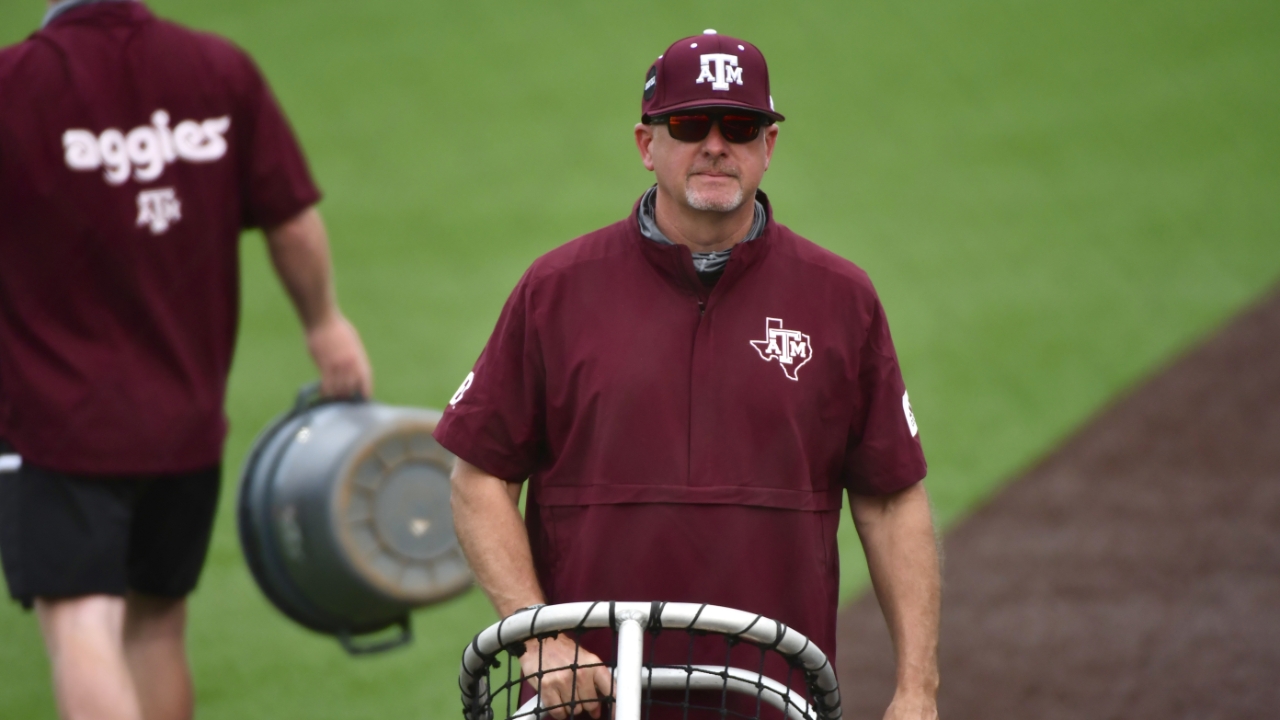 Photo by Jamie Maury, TexAgs
Texas A&M Baseball
Rob Childress, Aggie baseball still searching for answers heading into Ole Miss series
---
Key notes from Rob Childress interview
I haven't been to Globe Life Park, but I'm looking forward to it. I know our guys are excited, and it should be a lot of fun. We are thankful for the Texas Rangers allowing us to come in and play here on a Tuesday night. It'll be a tremendous experience for everyone. Getting to play in a stadium like this is a great experience and opportunity.

Texas-Arlington is .500 on the year, but they've played well of late. They're in first place in their division in the Sun Belt. They're good on the mound. They played a doubleheader on Sunday, so I hope the options will be limited for them out of the bullpen tonight.

Boone Montgomery is their leadoff hitter, and he's the one that makes them go from an offensive standpoint.

Tonight could be huge for all of us: Jonathan Childress and our team. We can't be going to the bullpen in the fourth inning on the weekend. With us playing a doubleheader on Saturday, we have some options out of the bullpen and a chance to do something a little different on the mound.

We were in some tough games this weekend. We had a chance to win that Friday game in the top of the ninth, but we strike out. They scored in the ninth to tie, and they beat us in the 12th. We made defensive mistakes in game one on Saturday. We give up three unearned runs and lose 3-2. In the second game, we made several mistakes, and it got away from us late. We would've had a chance to win or sweep the series if only we did the little things right.

Dustin Saenz was the aggressor and on the attack from the word go. He had a tremendous performance. Bryce Miller struggled with command, but he worked out of self-induced jams. We had to go to the bullpen early in that one and got a great performance from Mason Ornelas.

Offensively, Ray Alejo, Austin Bost and Logan Britt were great. Will Frizzell had a good day in the third game. We did some things.

Nathan Dettmer has struggled with his command. It's not just the walks, but it's also making a pitcher's pitch and not giving in. He gave up a leadoff double in an 0-1 count in his last inning that was out over the plate. That's the difference. He's a talented young man who has been thrown into the grease in SEC play.

We need to get through tonight and our 20th non-conference win. That's always a goal. After that, we need to take a strong look at our rotation and our guys in the bullpen. If that means leaving Sunday open and doing some different things with the bullpen, then so be it. Chris Weber is probably our hottest pitcher, and he'll be up tonight behind Childress.

The game will hopefully balance itself out, and it has been awful cruel so far.
Never miss the latest news from TexAgs!
Join our free email list